Do you want to earn passive income from your blog or from your website?
Are you confused about choosing the best affiliate program after looking at several affiliate programs over the internet?
Do you want to know the best affiliate programs to join in 2022?
If your answer is "yes" to any of the above questions, then this article is for you. This blog will help you to find the best affiliate programs to earn from your blog or website while sitting at home in 2022.
But before going to find out the best affiliate programs in 2022, we will see,
However, if you can't wait to get started, here is the list of the 27 Best Affiliate Programs in 2022.
What is Affiliate Marketing?
Affiliate Marketing refers to promoting a company's products on your blog or website & when someone buys a product from your website. The company will give you a commission for the sales made through your affiliate link & all you need to do is to encourage your readers to buy the product from the link.
For Example: If you want to earn as an Amazon affiliate. First, you would need to register for Amazon's affiliate program. After registering, you will get an Amazon affiliate's link which you need to use when writing about the products in your blog. So, if anyone purchases the product by clicking on that link, Amazon will give you a commission for that sale.
Now, Let's see the benefits of Affiliate Marketing.
Benefits of Affiliate Marketing
No Costs Involved:
If you have a blog with high traffic then there is no need for any investment. Coming to Operating costs, most of the companies won't charge you to become an affiliate to them.
Make Money While You Sleep:
Since your blog is on the web, it will be accessible to everyone 24*7across the globe. So anyone can visit your blog & click your affiliate link to make a purchase at any time from any part of the world.
Adding Extra Value To The Readers:
Apart from writing blogs, as an affiliate, you can write about product reviews, alternative products & product offers. So, you can add extra value to your audience by helping them in purchasing a product.
How To Choose An Affiliate Program
An affiliate program is a contract between a company & you where the company pays a commission for every sale that is made through the affiliate link.
Niche:
If you are starting a new blog, you need to stick to one niche as chasing two rabbits at a time may end up catching none of them. So, it is recommended to sign up for the affiliate programs that fall into your niche. For example, if you write about fashion tips, then affiliating cosmetics, apparel & beauty products will bring you more clicks as they fit into your niche.
Cookie Life:
When a user clicks on an affiliate link and visits a product page they might not buy it right away. They will check out the product, take some time to decide, and only then buy it.
Because of this, all affiliate programs have something called cookie life. This is the period of time until which the affiliate will be given a commission for a referral.
For example: Let's say the cookie life is 30 days, if someone visits your affiliate link today and buys the product within the next 30 days you will get your affiliate commission for the sale.
There are affiliate programs that have a cookie life of 90 days or even 120 days. So the more cookie life an affiliate program offers you have more chances of making a commission.
Commission rate:
Commission rate is the amount of money you will be receiving from the company when any sale happens from your affiliate link.
Ok, now that you know how to choose an affiliate program, let's look at the best affiliate programs in the market.
Best Affiliate programs in 2022
We have categorized the list of best affiliate programs under 10 groups like Hosting, SEO tools, etc. So, here is the list of categories that contain the best affiliate programs in the market,
Best Hosting Affiliate Programs
If you write about blogging tips or online business strategies, then registering for hosting affiliate programs will be fruitful to you as they fit into your niche.
Kinsta offers Premium WordPress hosting that ranges from $30 Per Month – $400 Per Month. Using Google Cloud & LXC software containers makes their hosted sites load so faster when compared to the other providers.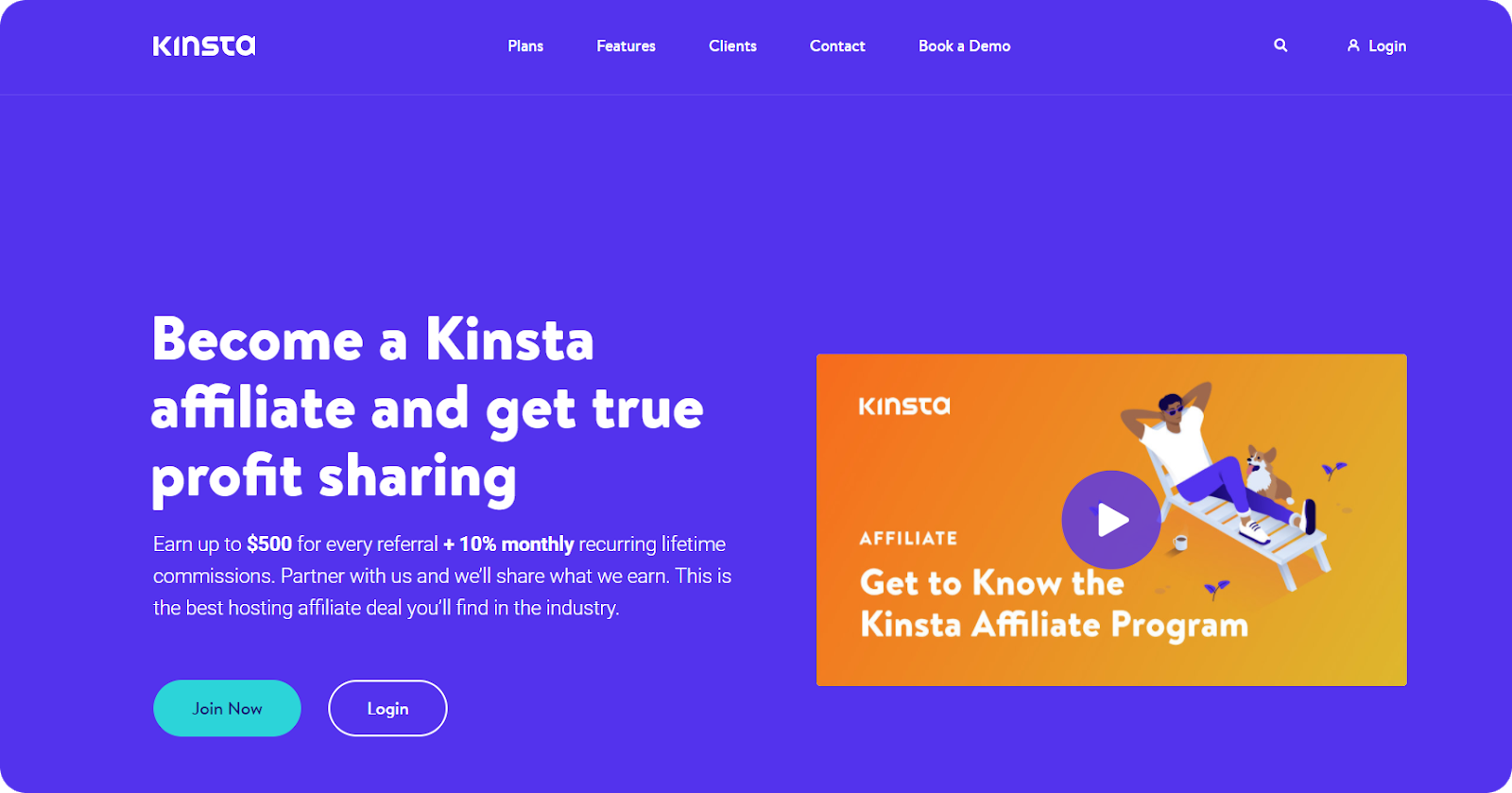 Commission: $50- $500 per sale + upto 10% recurring lifetime commissions
Cookie life: 60 Days
Their commission rates are very high & they also offer a decent recurring commission. You will get access to their private FaceBook group & expert interviews that will help you to learn more about affiliate marketing.
You may think Kinsta's audience is limited as it provides hosting only for WordPress websites but you know what, 37% of the web is built on WordPress & it's growing fast too. So, Kinsta's audience is not limited.
Dreamhost, known for its premium hosting services & uptime, is one of the leading hosting providers for all types of hosting solutions in the industry.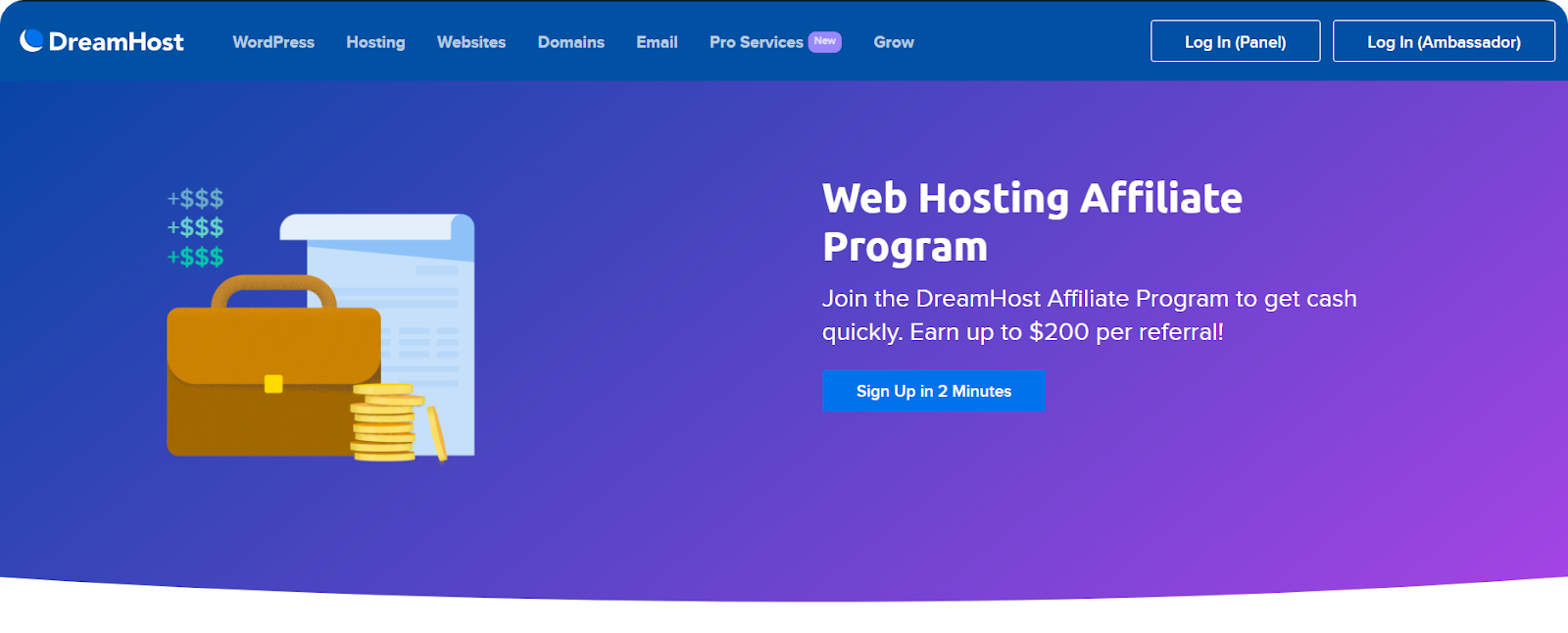 Commission: Up to $200 Per Sale
Cookie life: 60 Days
They provide $50 – $250 for annual sales & $15- $150 for monthly plans. As Dream host is good in commission rate & a well-known brand, the only pitfall in affiliating Dream host is that they process the payment after 97 days of the sale as they offer a 97-day money-back guarantee.
Affiliating a reputed brand's products will fetch you a good number of link clicks rather than affiliating a small company's products even though they are giving you more commissions.
When it comes to the web hosting industry, Bluehost is one of those reputed companies that is providing hosting solutions since 2003. Bluehost along with its other hosting companies is hosting more than 20 Million sites.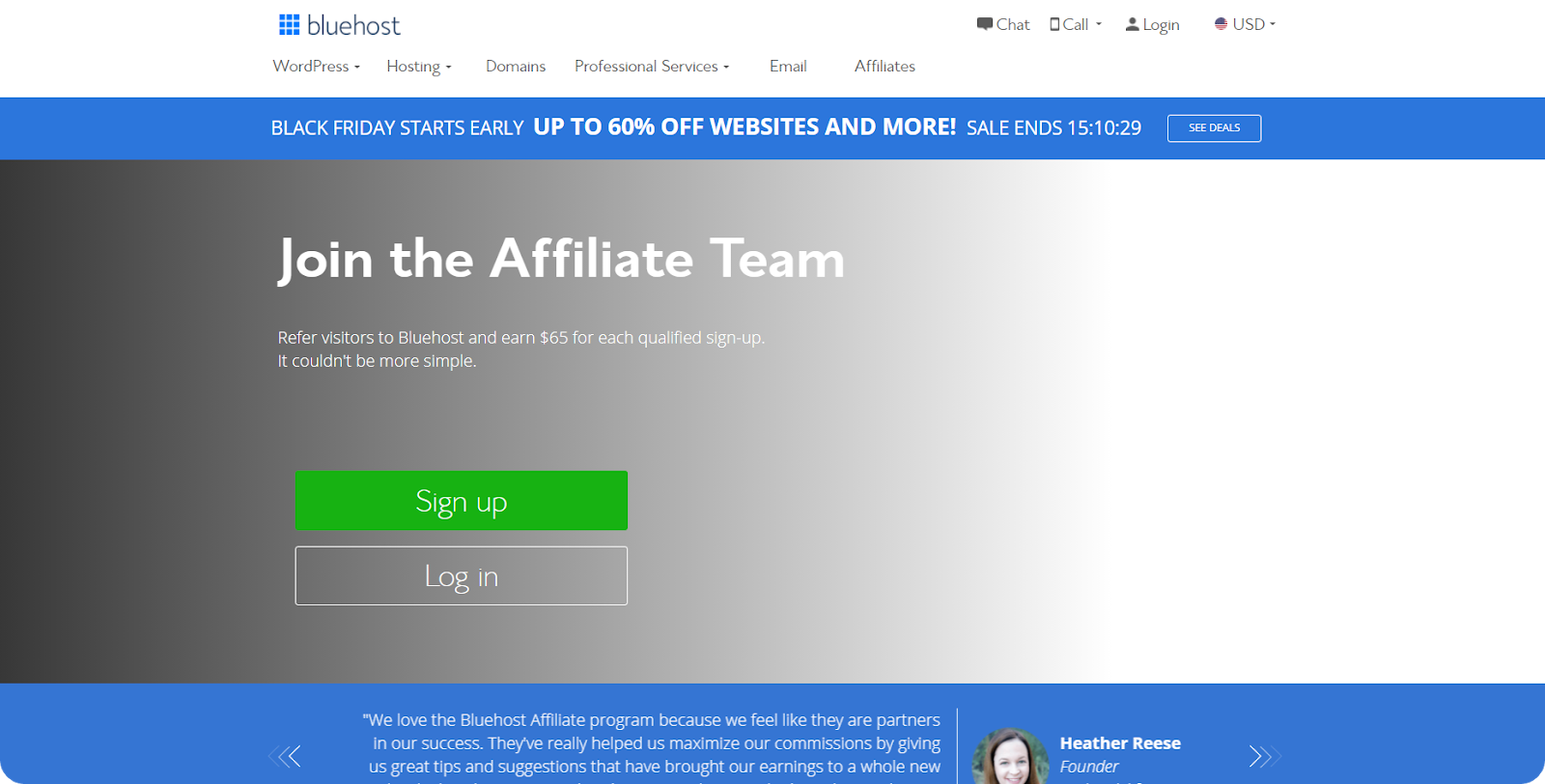 Commission: $65 per sale (They can go up to $120 if you're bringing more traffic)
Cookie Life: 60 Days
Bluehost offers various types of hosting services at different price segments with $3/ month being the least & $120/month being the highest. You will get a commission of $65, whenever any user purchases Bluehost through your affiliate link within 60 days.
Bluehost has paid more than $5 Million in commissions to its affiliates in last year alone, this shows how powerful Bluehost's affiliate program is in the affiliate industry.
Hostinger is well known for its cheaper hosting services & the free hosting server in the market. They offer various hosting services that includes Web hosting, WordPress hosting, Cloud hosting, VPS & Minecraft hosting.

Commission: 60% per sale
Cookie life: 30 Days
You can get a commission of up to 60% per sale which is great & a special affiliate manager will be given to you to analyze your performance & helps you to fill the purchase gaps.
A lot of newbies choose Hostinger in their early days as it gives them a lot of features in their lowest priced segments too. In addition to these, Hostinger has a higher conversion rate in recent times.
Best Email Marketing Tools Affiliate Programs
Constant Contact
When anyone says any powerful email marketing tool, then it is about Constant contact. Constant Contact is one of the most powerful email marketing tools with automating email campaigns, follow-up campaigns, and an amazing email template builder that increases the open & conversion rates.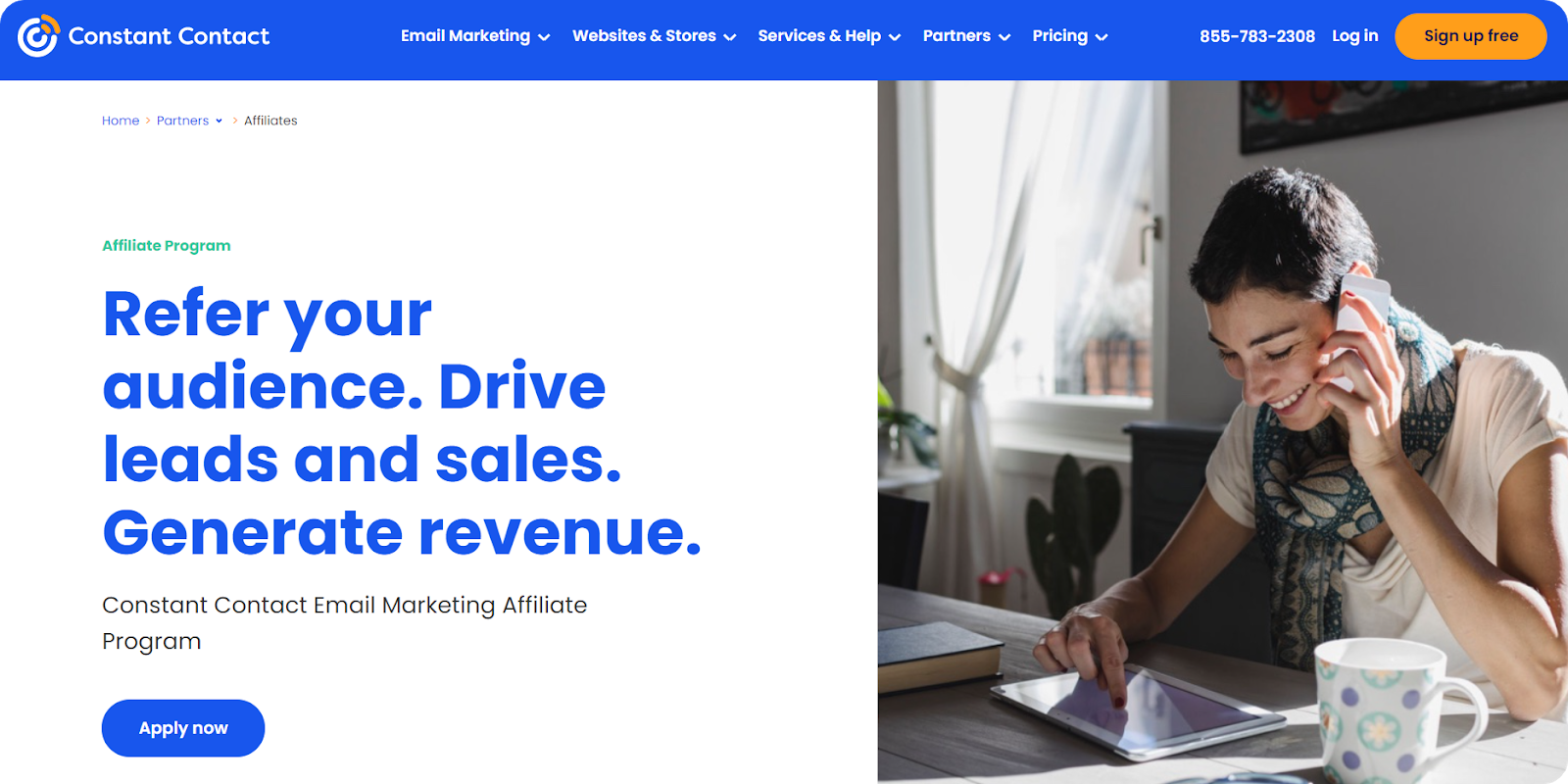 Niche: Email marketing
Commission: $5 for every free trial signup + $105 for every sale
Cookie life: 120 Days
You can earn a good amount of commissions with their exciting free trial commissions & you will get a tracking dashboard & premium support with their affiliate program.
Moosend is a growing email marketing service that offers all the tools you'll need to capture, nurture and convert your new email subscribers. Whether you are a beginner or a seasoned email marketer, you can create converting emails from scratch or use one of the beautiful newsletter templates to save time and effort.
Their platform is constantly growing, equipping users with robust features like the new landing page builder, subscription forms, team members, custom reports and more!
Niche: Email Marketing
Commission: 30% lifetime recurring commission
Cookie Life: 90 Days
You will earn a 30% lifetime recurring commission for every referral that buys a paid plan. Also, if your contacts upgrade their subscription, you will receive an extra commission. To top it off, you can earn $200 for 20 new referrals using the monthly affiliate challenges organized by Moosend.
To help promote your affiliate link, you can use a variety of pre-made resources (banners, logos, guides) to make the process easier.
Aweber is an email marketing tool that helps entrepreneurs & bloggers help in automating their email campaigns.
They are popular in the Email marketing industry with their AI smart template builder & AMP optimized emails.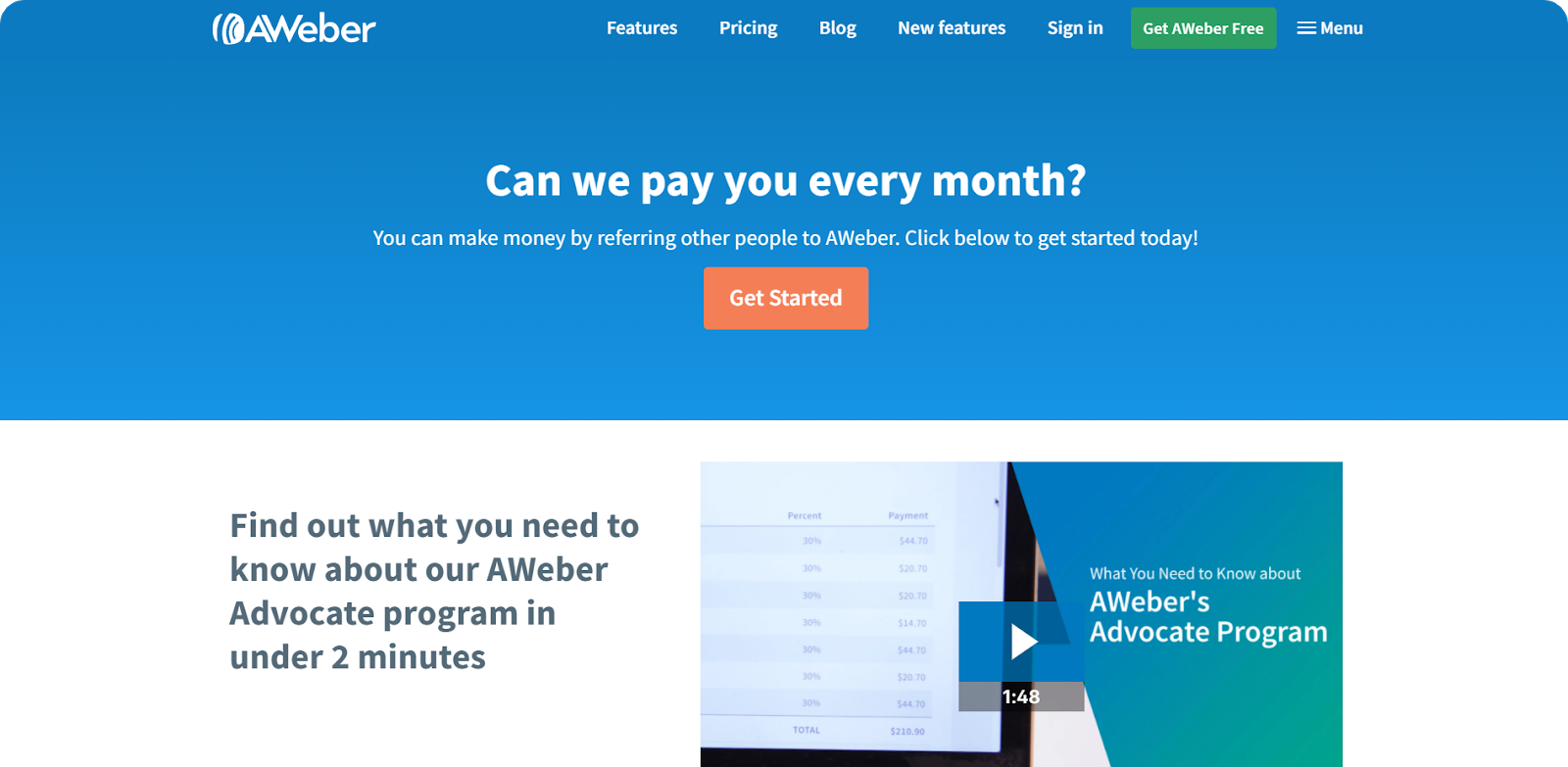 Niche: Email Marketing
Commission: 30% recurring
Cookie life: 365 days
Their cookie life is one year which is one of the highest in the affiliate industry. Their pricing plans range from $20 to $150 Per Month.
And also, the Aweber affiliate program can be registered from another channel, the CJ affiliate network where you can get up to $300 per account but cookie life is 45 days there.
Mailerlite as the name suggests they design lighter emails that load fast. Apart from email marketing tools they also provide automation tools, popup & survey tools that help entrepreneurs to know more about their online visitors
Mailer lite established its position in the email marketing industry with its convenient editor, regular reports on every campaign & streamlining features.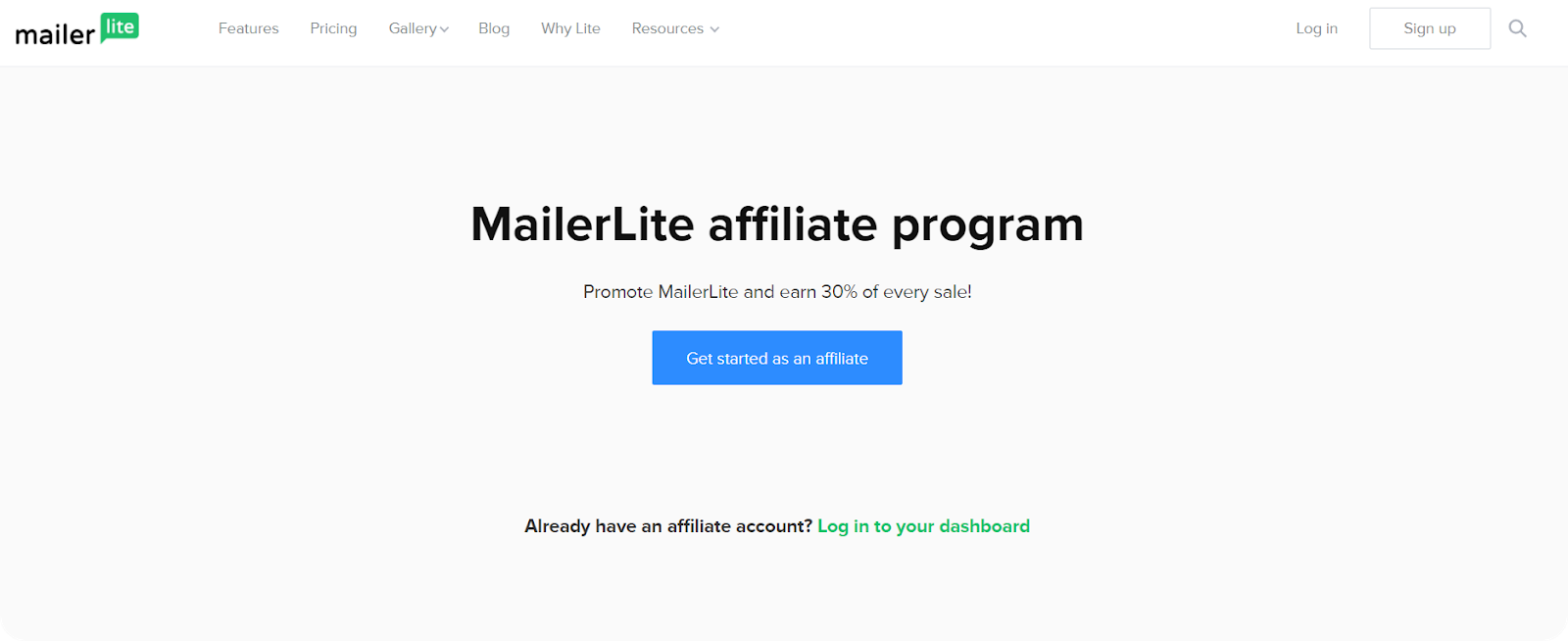 Niche: Email Marketing
Commission: 30% per sale (both initial & recurring payments)
Cookie life: 30 Days
Even though they have a small cookie life compared to Aweber, but you can get a good commission with their pricing structure that varies with the number of email subscribers for their users.
ConvertKit
Convertkit is a powerful Landing page builder & a popular automated email marketing tool. Convertkit is a favorite tool among the newbies due to its pricing, smooth drag & drop builder & easily creatable automated email responses.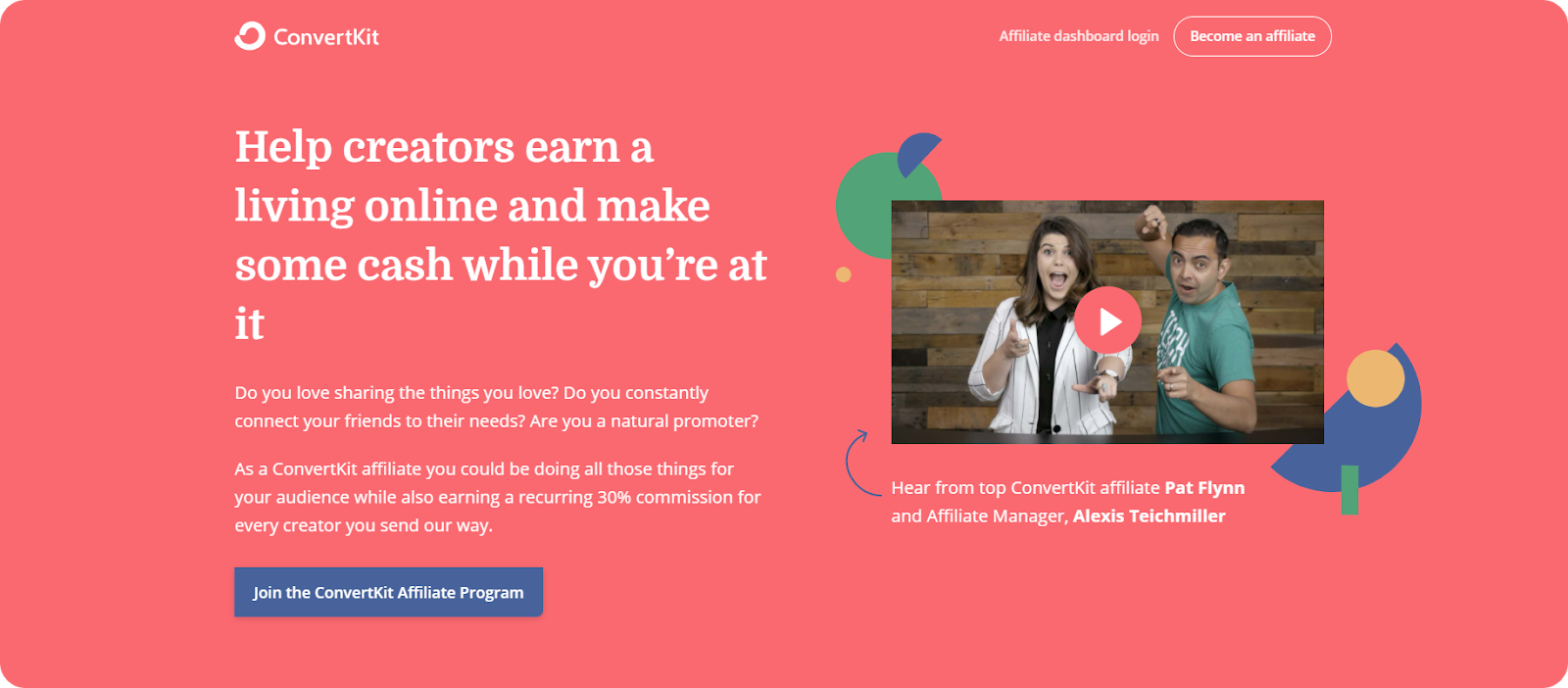 Commission: 30% per sale
Cookie life: 30 days
Convertkit software is available in both free & paid plans that start from $29 – $4000/month. To know the exact commission you get from referrals, you can use their sliding commission affiliate calculator.
As an affiliate, you can access the Pat Flynn course for free & webinars to design your funnels. You can also access their creatives to promote Convertkit's products
Best Website Building Tools Affiliate Programs
When it comes to building faster & high secured e-commerce websites, no one can beat the Shopify eCommerce website builder. They positioned themselves as the premium website builder in the industry with their unlimited premium integrations, high-quality features & customer-oriented support.

Commission: 200% per sale
Cookie life: 30 Days
You will get a commission of 200% that ranges from $58-$600 per sale if the user purchases any of their paid plans in 30 days which is pretty decent. Additionally, If you promote Shopify plus, you can get a commission of $2000 per sale which is huge.
Over the money, if you have an online store you will be getting premium priority support & access to the Shopify content.
To survive in the competition, every business irrespective of their industry wants to have an online presence to tell about them, to connect with their customers & to promote their businesses.
Wix helps those small business owners & personal brands to build a website without the involvement of any coding or programming.
A lot of content writers, artists, small business owners prefer Wix to build their online presence or to showcase their brand as they can create a website in just 10 minutes.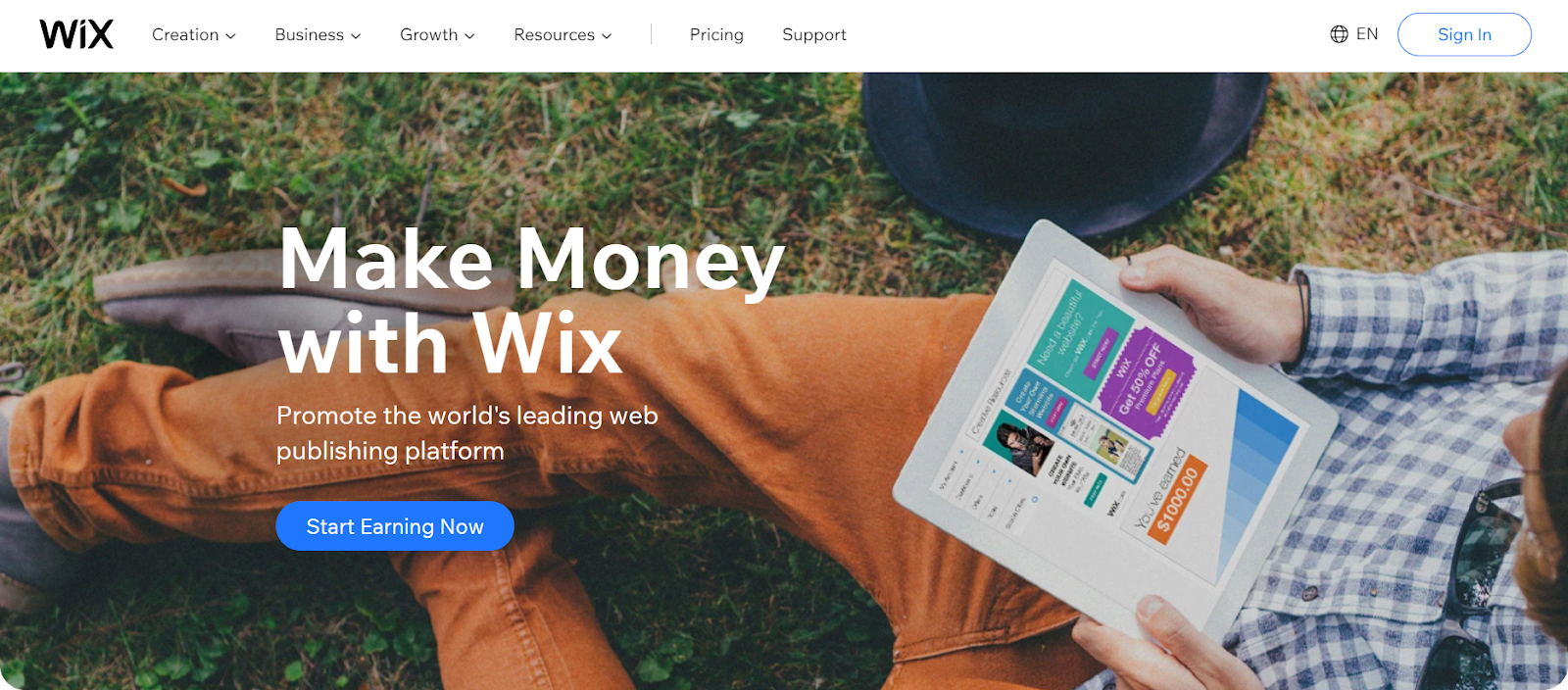 Commission: $100 per sale
Cookie life: 30Days
They have both Free & Paid plans that range from $5 -$25/month. Their commission rates are the best in the website builder industry. You will be getting a dashboard where you can track all your referrals & you will have access to their number of promotion creatives.
Due to its self-explanatory & non-technical features, Wix's customer base is increasing rapidly these days.
Best WordPress Affiliate Marketing Tools
Divi is the most popular & powerful WordPress theme which lets you create stunning websites with 800+ premade designs & a powerful WYSIWYG (What You See Is What You Get) website builder.
With Divi, you can have total control over your website's visual designs as it allows you to create, design & customize every part of your website in simple steps. Apart from the theme & visual builder, it also offers email opt-in popups & social media sharing plugins that help in growing your audience.
Additionally, Elegant themes offer Monarch theme which is well suited for bloggers & online publications.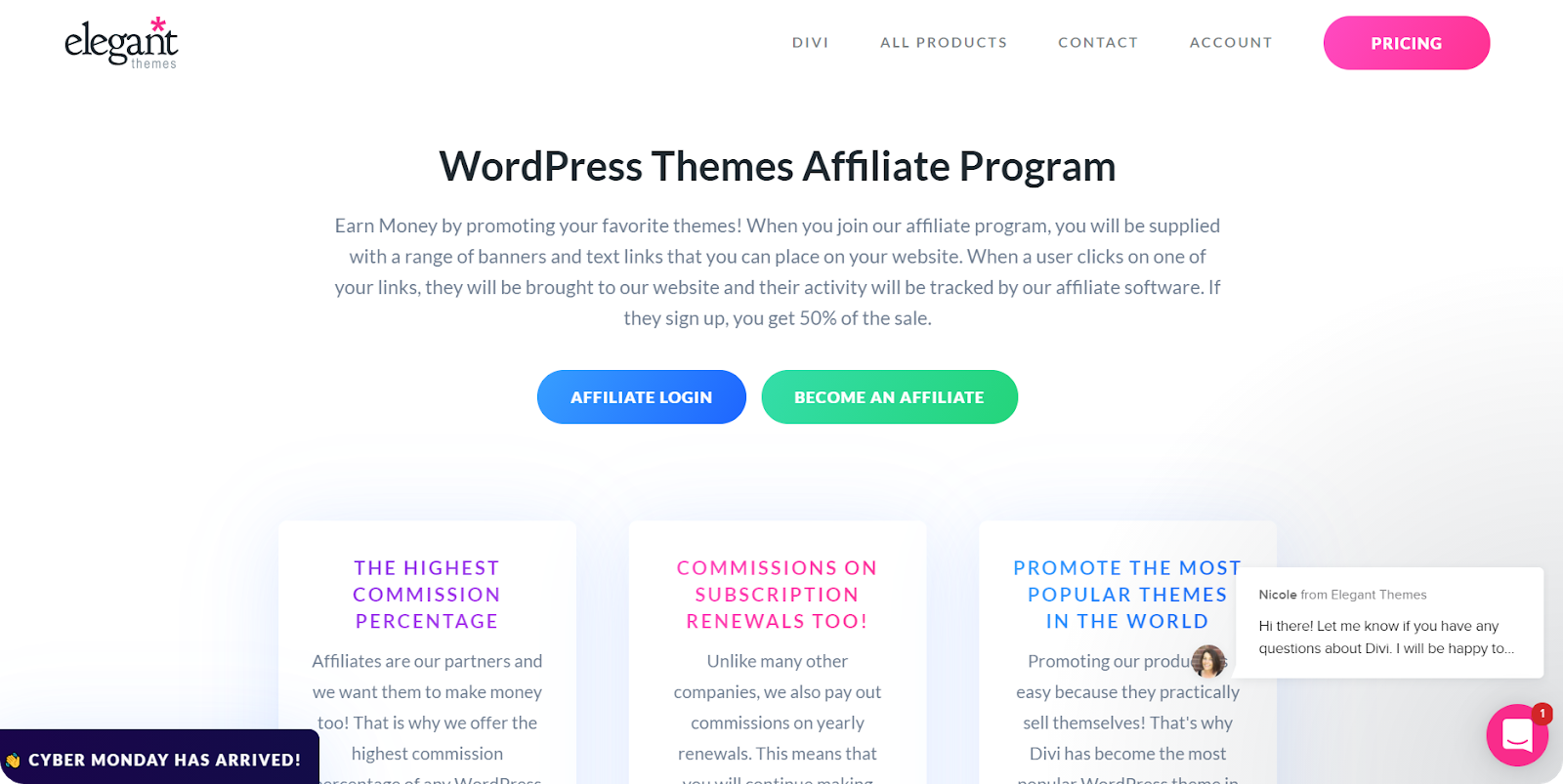 Commission: 50% Recurring
Cookie life: 180 Days
Elegant Themes is packaged as a membership plan where you will get access to all of their themes including Divi & plugins. Their membership plan comes at $67 Per year or $167 if you want to buy a lifetime membership. You will get a recurring commission of 50% for every sale made through your link within 180 days.
aThemes, a prominent WordPress theme manufacturer dominating the WordPress premium themes with its popular themes Sydney Pro & Airi Pro. Their themes are well known for their easy setup & translation ready features.
Apart from Sydney & Airi, they offer 6 other premium themes that are well suited for magazine, blog & business websites.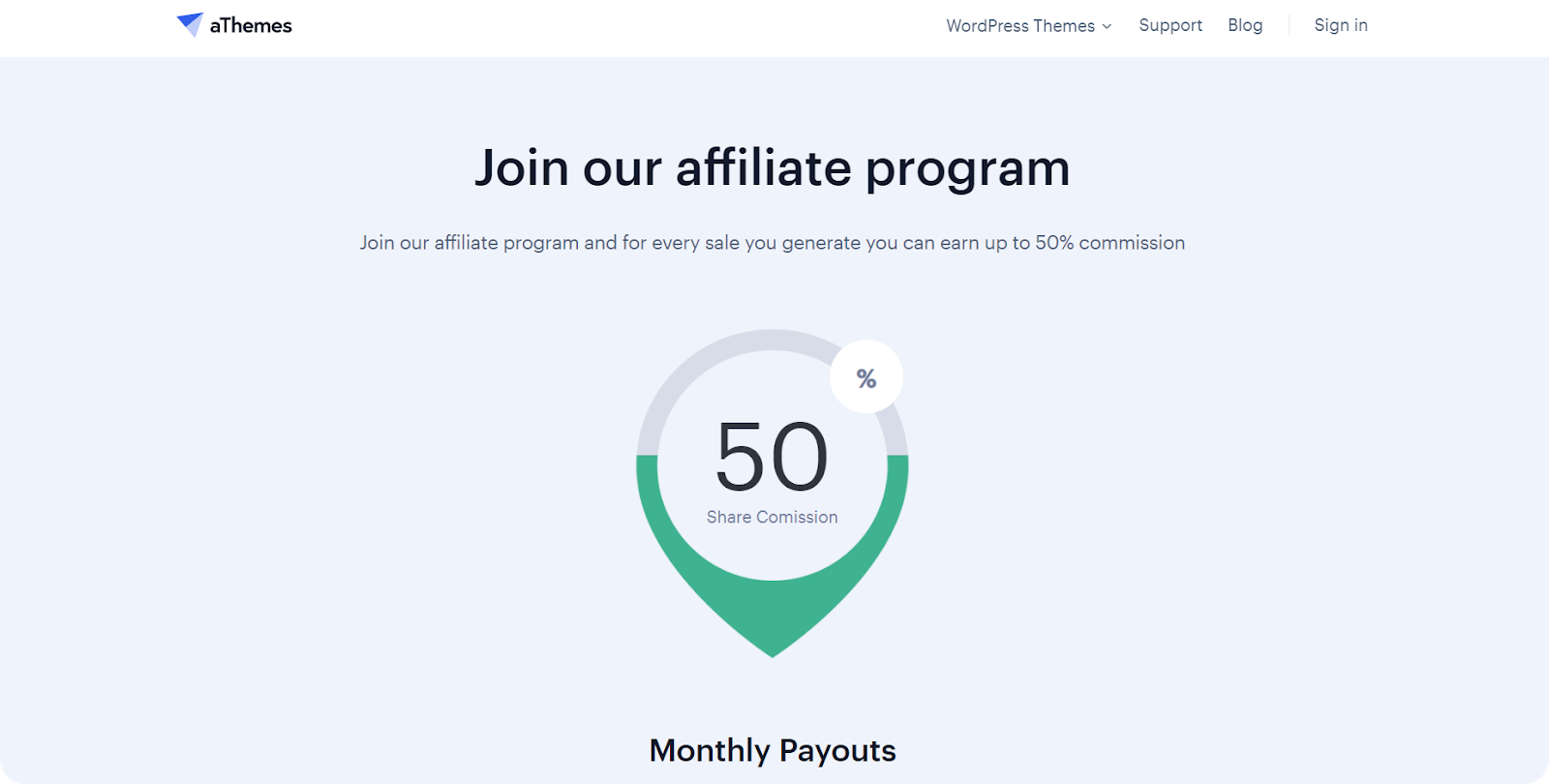 Commission: 50% per sale
Cookie Life: 365 Days
aThemes offers both membership plan & theme plan, where you can buy a theme at $49 or can purchase the membership at $174 where they can access all of aThemes' themes. You can earn up to $82 if any of your referrals makes a purchase from aThemes within 365 days.
Astra is the most in-demand WordPress theme with more than 1M downloads in just 2 years. Astra theme is famous for its pre-built design that is suitable for all types of websites. It is easily customizable & helps beginners to import sample sites which makes them create a website in less than 10 minutes.
Astra Pro is Astra's premium version that gives more widgets, more colour & typography options & also more starter sites when compared to the free version.

Commission: 30% Per Sale
Cookie Life: 60 Days
Astra Pro is priced at 3 segments, where $41 is the least & $419 being the highest, you can earn up to $125 per referral. Offering more starter sites, better design options & the popularity of the Astra theme pushes beginners to upgrade to the Pro version.
When it comes to drag & drop page builders in WordPress, no page builder can beat Elementor's features, flexibility & pre-built templates. Using Elementor, you can create a page from scratch just by dragging & dropping that widget from its library or you can import the page template & can edit the page, the way you want.
Elementor Pro is Elementor's premium version where you can get advanced widgets, Woocommerce shop builder & popup builder features too.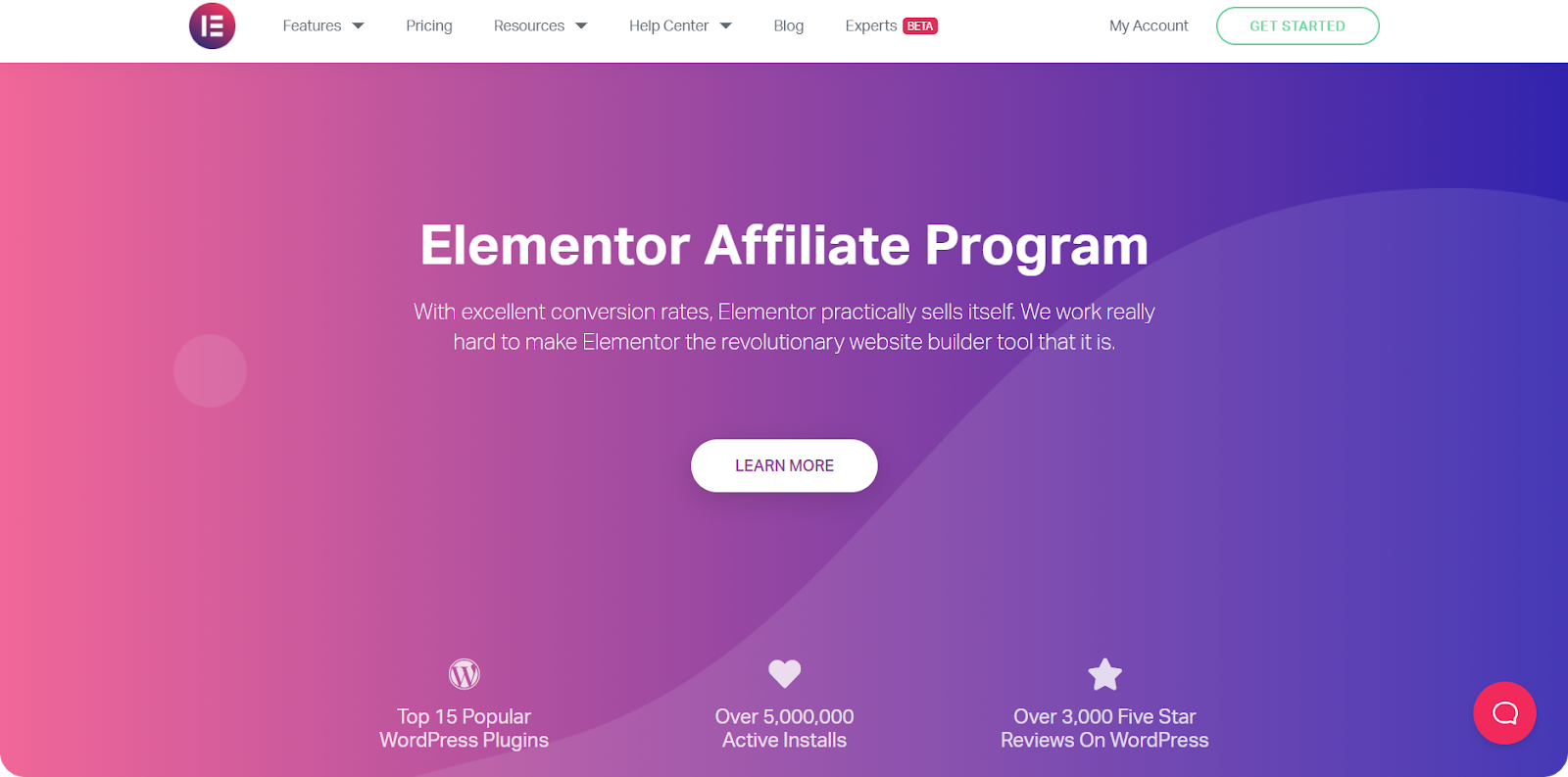 Commission: 50% per sale
Cookie life: 30 Days
Elementor Pro's prices range from $49 Per year to $199 Per year. If anyone purchases Elementor Pro using your affiliate link you will receive a commission of up to $99 within 30 days.
Best SEO Tools Affiliate Program
SEMRush
SEMRush, a popular SEO & competitor analyzer tool that helps digital marketers & website owners to increase their organic traffic & to scale their performances.
Niche: SEO tool
Commission: 40% per sale
Cookie life: 10 years
BERush is the affiliate program of SEMRush, that gives you a recurring commission of 40% per sale till your referral pays for the product. BERush uses a first cookie attribution model, which means you will get a commission if your referral cancels & repurchases in the span of 10 years.
If you write about SEO tips or digital marketing strategies, promoting SEMRush is the best option due to its long cookie life & first cookie attribution model.
The popular longtail keyword research tool KWFinder powered by Mangools SEO tools helps you to find long-tail keywords for your website, analyze their SERP results & backlink analysis.
Apart from the KWFinder tool, Mangools offer a SERP checker that gives SERP analysis, a SERP watcher that gives rank tracking, Link Miner that provides backlink analysis & a Site profiler that provides SEO metrics & insights tools.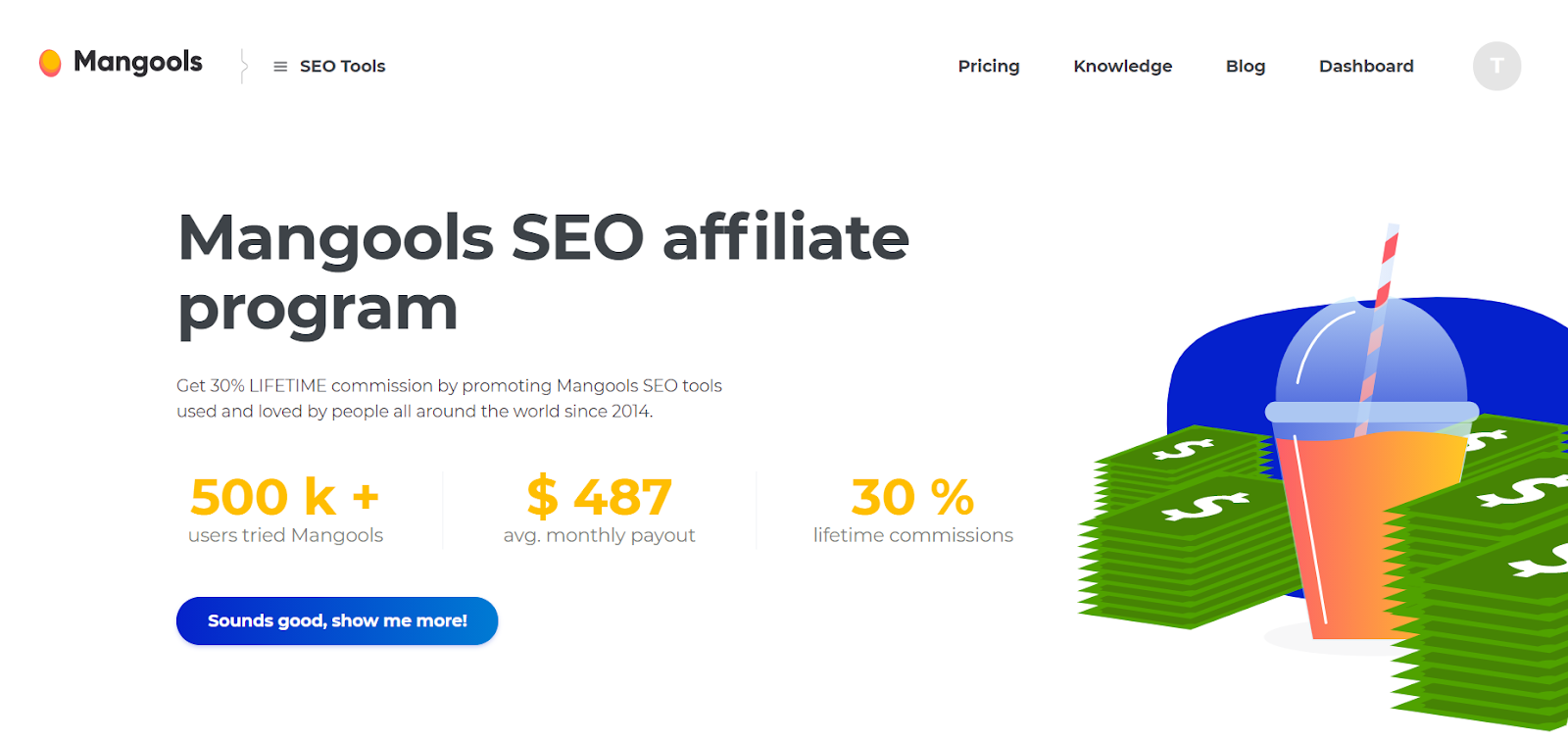 Commission: 30%
Cookie Life: 30 Days
As a Mangools affiliate, you can promote all of their SEO tools from $30 Per Month to $80 Per Month. If anyone purchases the tools from your affiliate link within 30 days, you will get a commission of 30% as long as he/she uses Mangools SEO tools. On average, a Mangools affiliate will earn up to $500 Per Month which is a high amount when compared to the other SEO tools.
Best Analytics Tools Affiliate Programs
Knowing what your audience needs are the most important aspect of any business. When it comes to online websites, Google Analytics is the powerful tool that gives information about how much time your reader spends on your website, where does he/she locate, how they visited your site & a lot of metrics that help every blogger/website owner to understand their customers & offer what they need.
But, in this competitive world, in addition to the customer's demographics, you would need to know the behaviour of the customer while he/she is browsing your website.
Smartlook is a powerful website recording tool that records your audience's moves on your site that helps you to know their exact behaviour and create content accordingly. Apart from the recordings, it generates Heat Maps that give information about where they clicked or scrolled on your site, Events that give you information about how they've used your features & funnels that gives you information about your customer steps till closing your website.

Commission: 20% Per Sale
Cookie Life: 30Days
Smartlook's pricing starts from $31 Per Month to $108 Per Month. You will get a recurring commission of 20% for every sale if anyone purchases Smartlook using your affiliate link.
Best Landing Page Builder Affiliate Programs
Leadpages
Every website owner or business owner wants a landing page for better conversions & a higher number of sales. Lead pages let you build amazing landing pages without requiring any technical skills.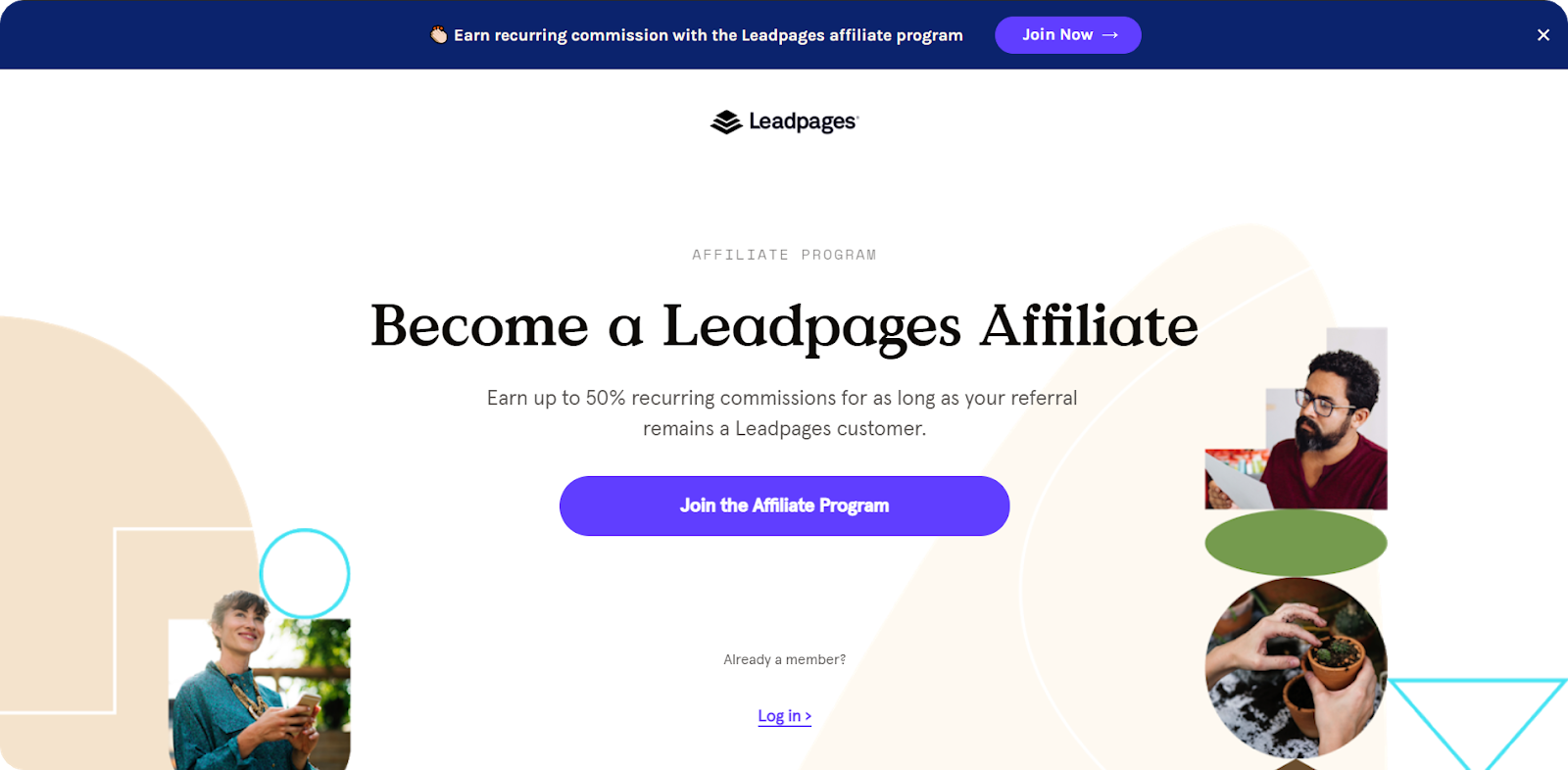 Commission: 40% – 50%/sale
Cookie life: 30 Days
You will receive a base commission of 10% for all the sales that are made through your link. You can earn an extra commission of 40% if you are able to drive new sales worth $50 or more in a month. Similarly, you can earn an extra commission of 50%, if you are able to drive new sales worth $50 or more in a month.
Leadpages offer their services at three slabs starting from $27 a month to $297 a month. With their premium pricing, it is easy to achieve $50 a month that will give you 40% of the commission.
Instapage is a perfect post-click landing page builder that helps you build unique landing pages for each target segment & track their performances with A/B testing & heatmaps.
Their robust page builder helps to get better conversions & you can create AMP optimized landing pages that load fast.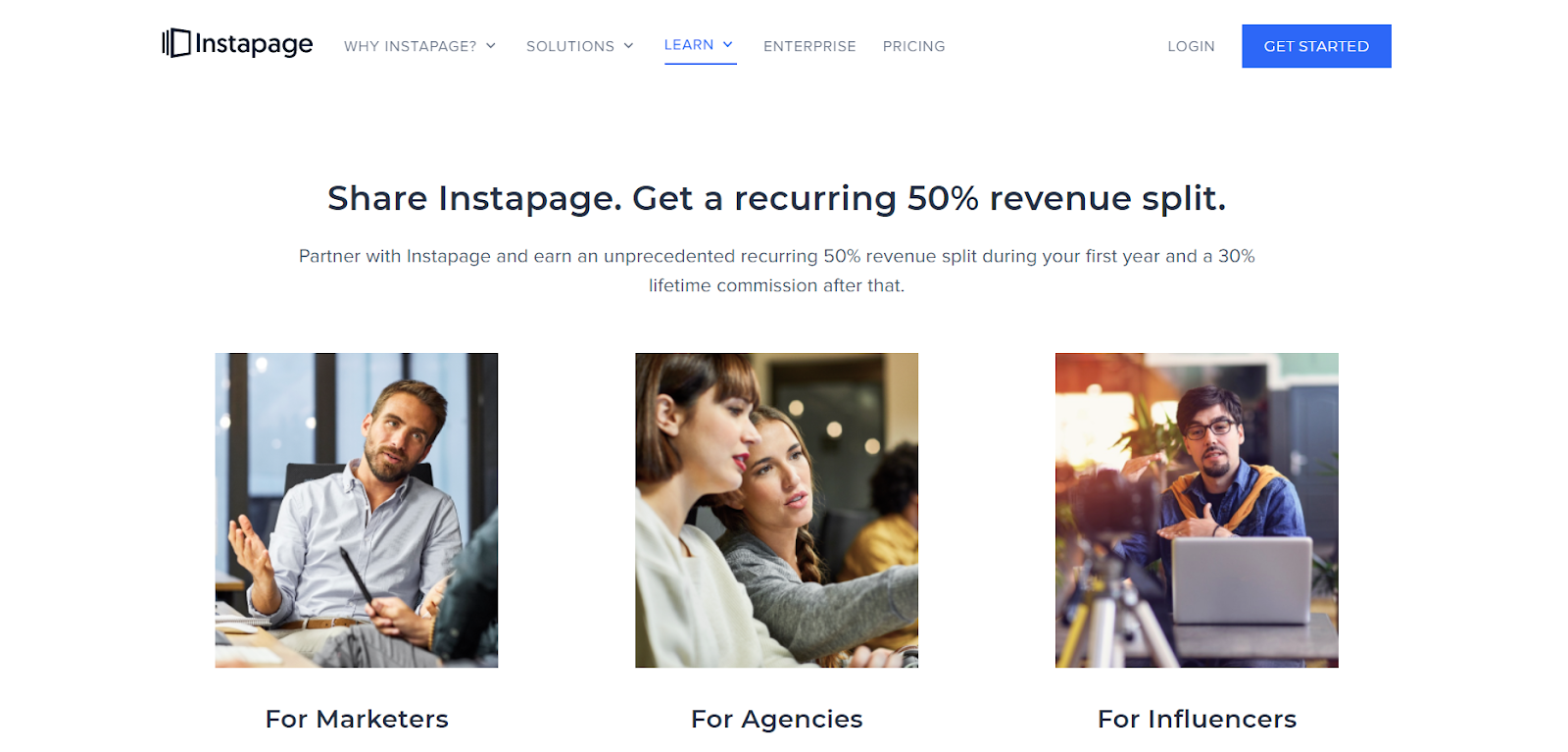 Niche: Landing page tool
Commission: 50% recurring revenue for the first year & 30% from the second year.
Cookie life: 120 Days
They offer two plans, one is a business plan that costs $149 & the other one is a custom plan. Having costly plans & lengthy cookie life, you can earn huge money with an average number of clicks.
Best Sales & Support Affiliate Programs
Pipedrive
Pipedrive is a sales-boosting CRM tool that helps business owners to manage leads, track the calls, emails & to automate repetitive tasks.
They can access Pipedrive from a mobile application & can analyze the performance.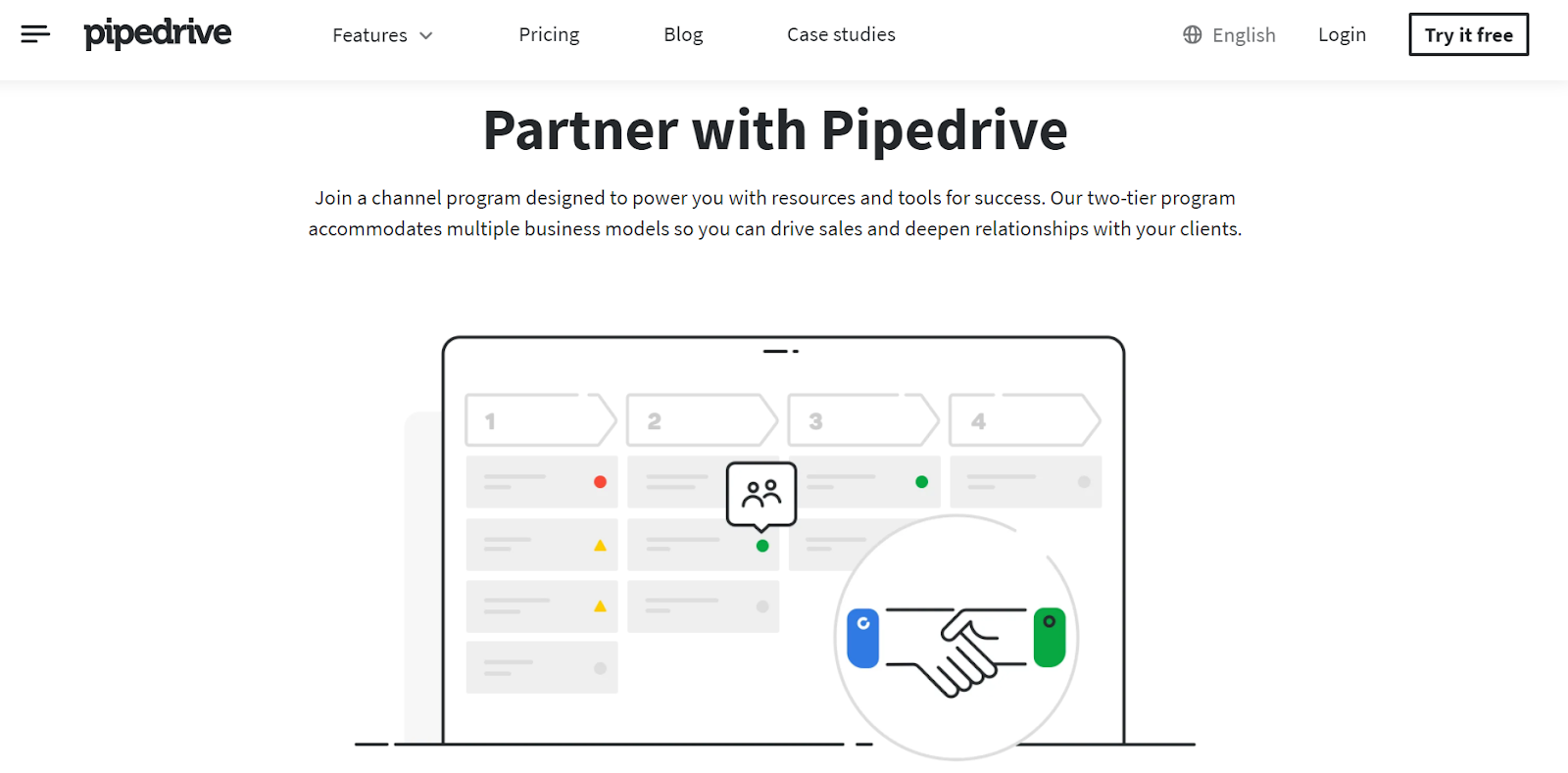 Niche: Sales tool
Commission: 33% per sale
Cookie life: Not given
They offer 4 different plans that range from $7 – $79 per month. Once a referral purchases any of their plan you will receive a commission of 33% in the first year.
You will get additional training about their products & access to their logos & creative banners.
Mobile Monkey
Mobile Monkey, a robust & efficient chatbot tool that helps businesses in connecting with their customers in real-time. They also help businesses in minimising their company's Facebook ad spend & lead acquisition through their smart Facebook ad tools.
Additionally, businesses can integrate all chat platforms in a single chatbot and also they can design & create the chatbot in just minutes with their drag & drop builder.
Niche: CRM tool
Commission: 20% commission
Cookie life: 90 Days
Mobile Monkey comes in both free & paid plans where the paid version ranges from $14.95 – $199 Per Month. You'll get a recurring commission of 20% when any of your visitors click on your affiliate link and purchase mobile monkey within 90 days. And also, apart from the blog, you can share the link on Twitter, LinkedIn groups, FB groups & communities. Plus, you can add the link in your Email signatures.
Live Agent is a powerful support tool for any business that helps in increasing customer satisfaction by solving their problems.
They provide ticketing software, call centre, live chat & knowledge base channels & can integrate seamlessly with other software.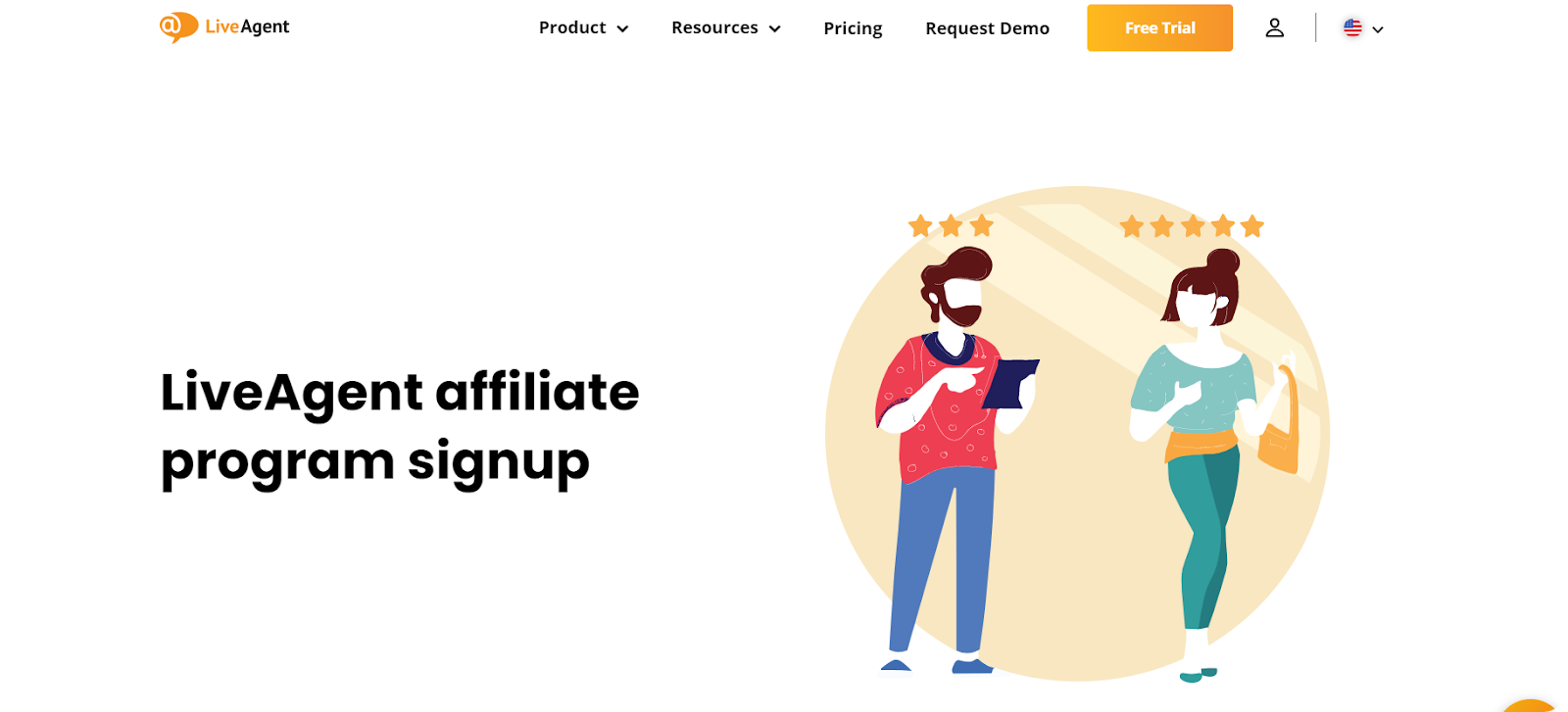 Niche: CRM tool
Commission: $5 for every sign up & 20% recurring commissions.
Cookie life: 90 Days
Live Agent has both free & paid plans that range from $15-$39 per month. You will receive $5 if a referral registers using your link within 90days & you will get a recurring commission of 20% of the lifetime the referral uses the Live Agent.
Best Affiliate Programs By Graphic Design Tools
Adobe
Adobe is a dominant leader in the designing industry for several years. They have various products for photo designing, video editing, logo making, video effects & whatnot. Adobe is capable of generating a revenue of 9.3 Billion dollars. This shows the dominance of Adobe in the Designing market.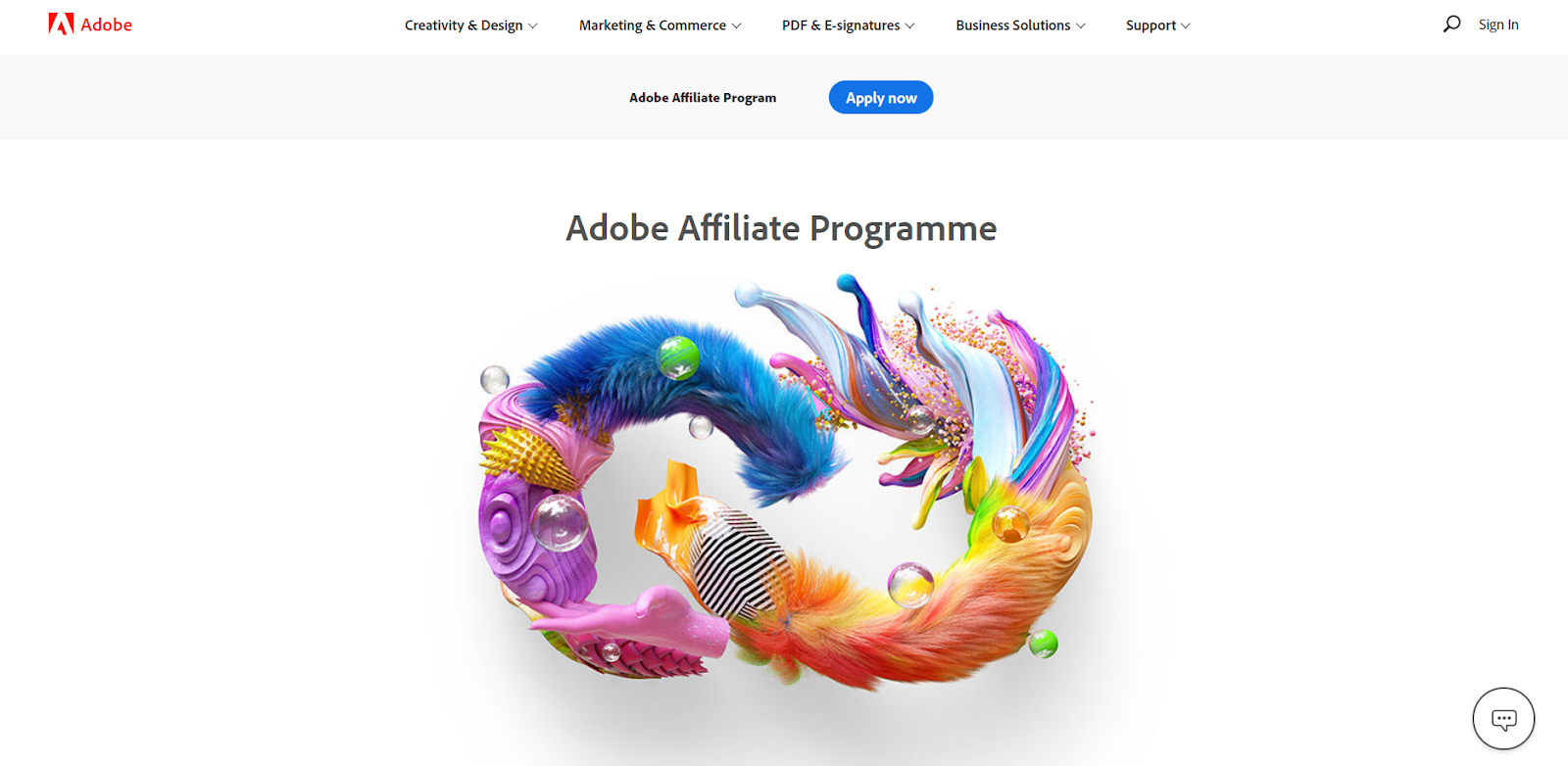 Niche: Designing tools
Commission: 85%of the first month(monthly payment for creative cloud), 8.33% of the first year(Annual payment for creative cloud), $72 for adobe stock.
Cookie life: 30 Days
As an affiliate, you can promote their Creative cloud, Document cloud & Adobe stock. You will receive a commission of 85% of the first month if your referral purchases a monthly subscription of creative cloud or document cloud or if he/she purchases an Annual subscription you will receive 8.33%.
If your referral subscribes to their Adobe stock you will receive a commission of $72 & the commission model is the same as Creative cloud if he purchases the Adobe stock assets.
Note: Adobe stock & Document cloud are only available in specific countries.
Canva
Although Canva is new to the designing industry, it gained a lot of popularity in the last 2 years. A lot of social media Influencers & microbloggers use Canva for designing their posts, banners & logos due to its easy to use editor, hundreds of templates & infinity features.

Niche: Graphic designing tool
Commission: $36 per sale
Cookie life: 30 Days
Canva is available in both free & paid versions. Their pro plan is priced at $12.95 Per Month or $120 for a year. If your referral purchases a monthly subscription you will get a commission of 100% of the sale i.e. $12.95 or if your referral purchases an annual subscription you will get a commission of 25%of the sale i.e. $30. If your referral signup for trial, you will get a commission of $6.
Due to its gaining popularity & low-level priced products, promoting Canva will bring you good commission.
Best E-commerce Marketplace Affiliate Programs
Fiverr is the biggest platform for freelancers to sell their services online. At Fiverr, one can get freelancers for logo design, website development, graphic design, video editing, social media management & marketing, data entry, etc.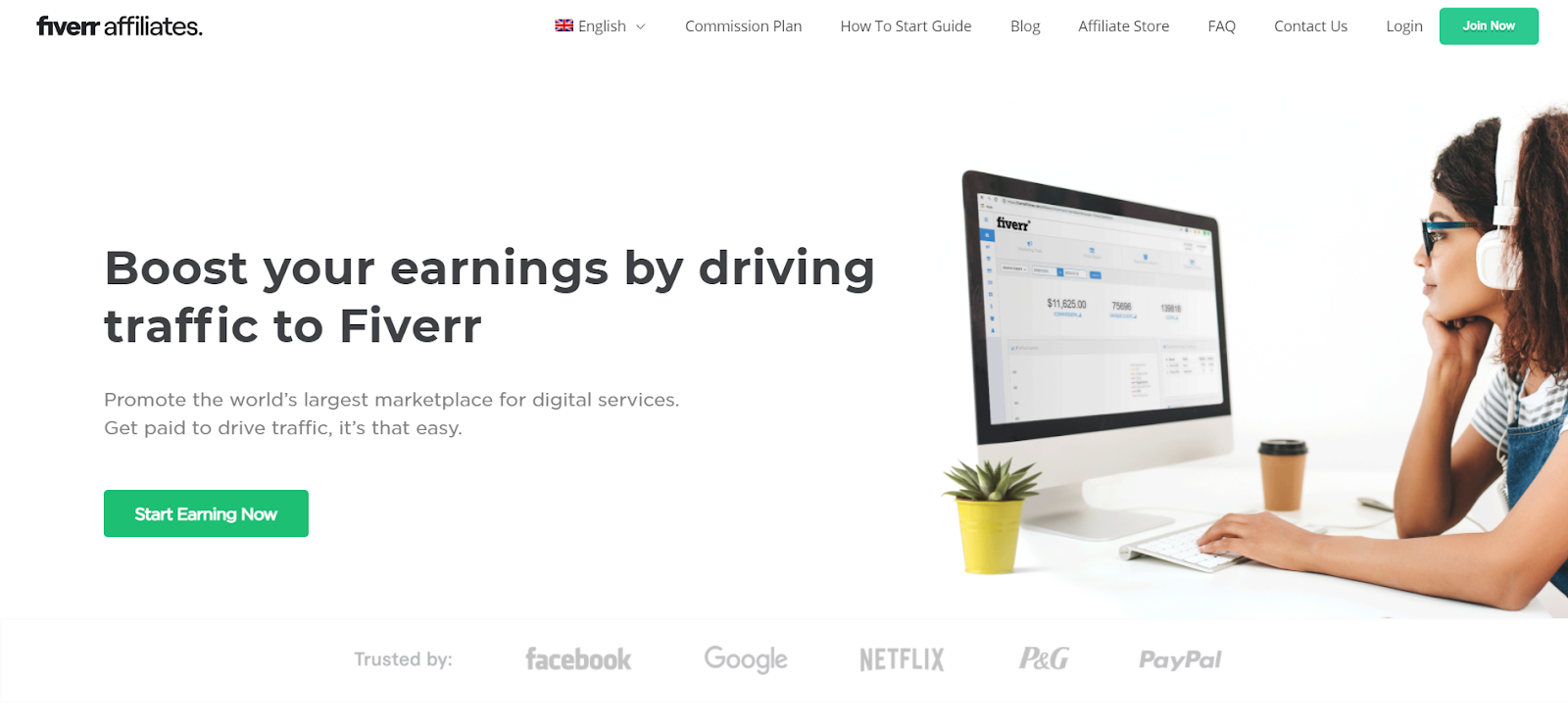 Niche: Marketplace
Commission: $150 per sale or $10 per sale+ 10%
Cookie life: 30 Days
They follow a hybrid model for commissions where you can get $150 per sale or you can get $10 & 10% commission on the sale. As an affiliate, you can promote more than 3 million digital services in over 250+ categories.
Apart from freelancing services, you can promote Fiverr's other services such as
Fiverr learn, an online course platform, where you can get 30% of the commission when anyone purchases a course from your affiliate link.
Fiverr business, a business solutions software where you can get $100 + 10% revenue share
And .co, freelance tools platform where you can get 50% of every sale purchased from your affiliate link.
Amazon
Amazon needs no introduction, but do you know, you not only can spend money in Amazon but also earn money as an Affiliate.
They have vast product categories include electronics, home appliances & accessories, fashion, cosmetics, packaged food, jewellery, books, sports, outdoor accessories, DIY, tools, luggage & bags, etc which will be apt for any niche

Niche: eCommerce
Commission: 1%-10%
Cookie life: 24 hrs
If anyone purchases from your affiliate link, you will receive a commission of up to 10% based on the product category. In order to receive the commission, your referral should buy the product in 24 hours or should add the product to your cart & purchase the product in 90 days.
In addition to the physical products, you can also promote their digital products such as Prime Video, Audible, Amazon business.
Conclusion
And that sums up the list of best affiliate programs for 2022. Most of these affiliate programs are free to join & easy to sign up for.  While promoting your affiliate links, we recommend you to go through the affiliate program's Terms & Conditions for their link sharing policies.
As already said, choosing an affiliate program is so crucial in affiliate marketing as your earnings depend upon the affiliate program's commission & cookie life.
And also, Website traffic plays an important role in affiliate marketing as it is proportional to the number of link clicks on your website. But, getting visitors to your website might be a bit tough for beginners. To ease the process, check our blog on How To Increase Traffic To Your Blog.
Apart from affiliate marketing, there are 6 more ways that can help you to make money using your own blog. To know more about those ways, check our blog on 7 Proven ways to make money on WordPress.
So, to begin with, all you need is a Website. And, creating a website is not that difficult as you may think. In fact, you can create a stunning and beautiful WordPress website in less than a week. Yes, that's all the time you need! And the best part is you need not have any coding skills and don't want to watch long and boring videos.
We've designed a complete Advanced WordPress course that helps you to create your first WordPress website in less than 7 days.
So, what are you waiting for?
Enroll on the course and create your dream website!
Frequently Asked Questions (FAQs)
Which affiliate program is best for beginners?
While there are several affiliate programs out in the market, here are the ones we recommend for beginners starting their affiliate marketing journey,
How can I start affiliate marketing with no money?
In case you already have a website, starting with affiliate marketing requires no extra money. All you need to do is choose a particular niche and apply to affiliate programs that fall under that niche. And that is how you can start affiliate marketing with zero money.
And if you don't have a website yet, we recommend you create a WordPress website to start affiliate marketing.
What website should I make for affiliate marketing?
If you don't have a website already, then creating a WordPress website will be the ideal solution to start affiliate marketing. With WordPress, website creation is made simple even if you are an absolute beginner. So once the website is ready, all you need to do is choose and apply for an affiliate program.
What are the benefits of affiliate marketing?
Affiliate marketing has always been one of the go-to methods of generating revenue from blogs. Here are some of the many benefits of affiliate marketing,
Generates passive income
Adds extra value to the readers
Requires no extra cost to set up
Learn the Top 5 ways to Monetize your website