WebSpaceKit, a relatively new WordPress hosting provider, has been creating some buzz lately in the hosting scenario, especially in India.
So, in this blog, we're going to see,
Is it really the fastest WordPress hosting provider in India?
Is it really the Best Hosting Provider in India?

How well does this new hosting provider perform compared to the well-known hosting providers?
So we decided to test the 'WebSpaceKit – The Fastest WordPress hosting in India' for a couple of months and come up with the answers ourselves. Here are the areas we will look into,
Pricing & Plans
How many hosting plans are there, and what's the price range?
Website Speed
How fast and responsive are the Web Space Kit's servers?
Security
How secure will the website be with the WebSpaceKit?
Updates & Backups
Does WebSpaceKit take care of software updates and website backups?
Customer Support
How does WebSpaceKit's support help in case of queries?
So, we will be taking a detailed look into the WebSpaceKit features in this review. However, if you can't wait any longer, here is a quick summary of the WebSpaceKit review, including our verdict!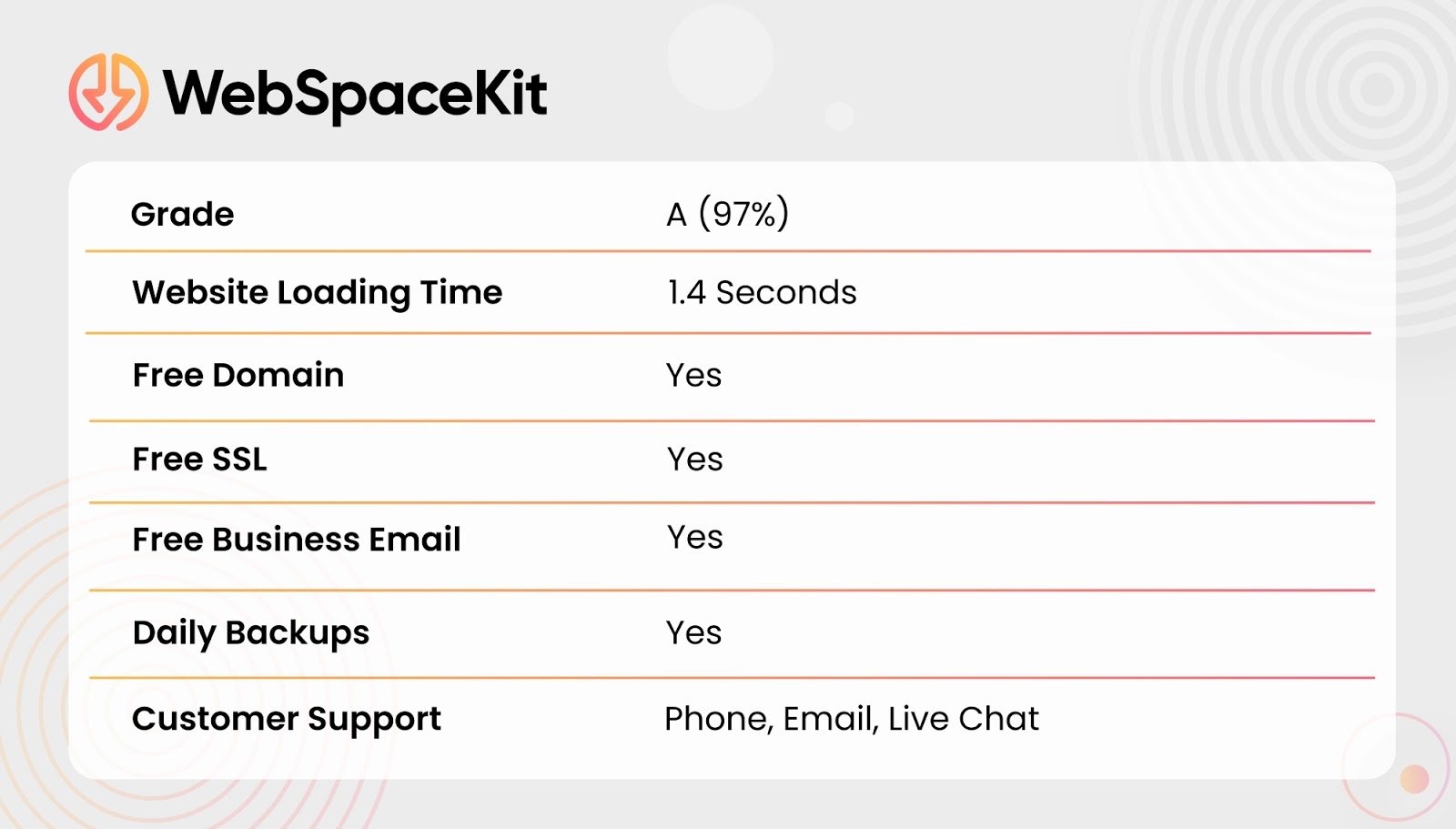 Final Review: WebSpaceKit surpassed our expectations and proved to be the Fastest WordPress hosting provider in India. So, we would highly recommend WebSpaceKit for anyone starting their WordPress websites.
With the verdict out of the way, let's get into the details.
About WebSpaceKit
WebSpaceKit is a new hosting provider based out of India that is specifically built for WordPress websites. With WordPress-specific hosting plans, WebSpaceKit is growing to become one of the fastest hosting providers in India.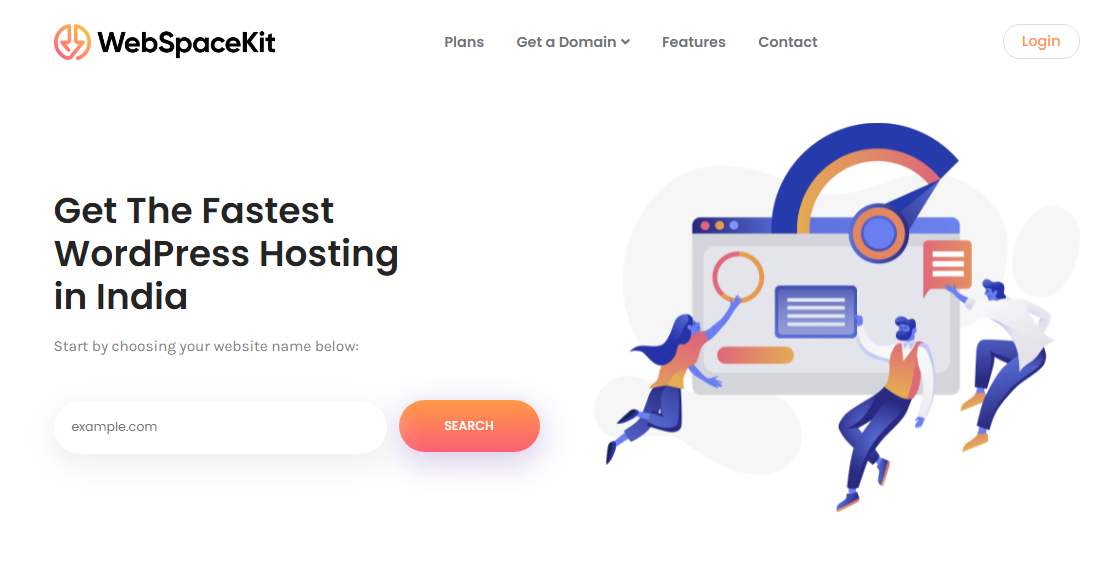 WebSpaceKit Pricing & Plans
WebSpaceKit comes with four different Managed WordPress Hosting plans, namely, Starter, Pro, Business, and Geek, starting at just ₹199/month.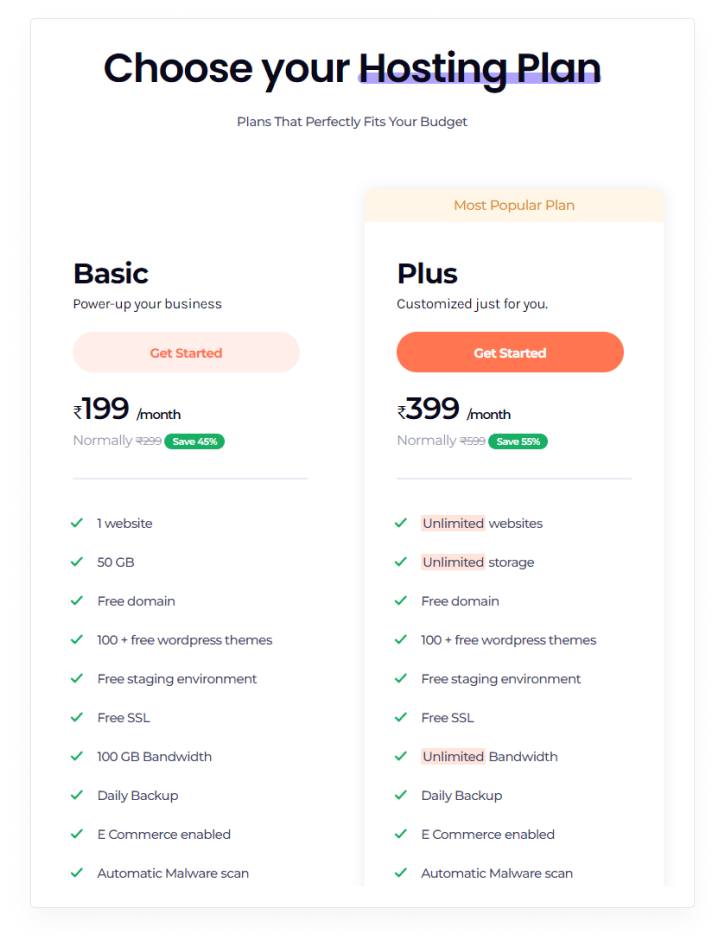 Along with Free SSL, WebSpaceKit also provides a Free domain with all four plans. The hosting plans differ in features like the number of WordPress installs, the amount of disk space allotted, and the number of visits to your website.
With 3 WordPress installs and 15 GB disk space, beginners and even small businesses can start with the rightly named Pro plan to create professional websites. So, we went ahead and purchased the popular Pro Hosting plan to create a test website.
Is WebSpaceKit the Fastest hosting for WordPress websites in India?
And what we have been waiting for! Let's now check whether WebSpacekit is the Fastest WordPress hosting in India using two tests,
Speed Test
Website Speed is one of the most important factors to consider before choosing a hosting provider. So we wanted to check the speed and performance of our test website hosted with WebSpaceKit.
We used a tool called GTmetrix to perform a speed test on the website and find out whether WebSpacekit is truly the fastest WordPress hosting in India.
And the results were just outstanding!
Our website got Grade A with a performance score of 97% on the GTmetrix test.
A GTmetrix grade shows how well the website has performed overall, reflecting how well-built it is and how fast it loads for the visitors. And obviously, Grade A is the best in business!


And coming to website loading time, our test website fully loaded in just 1.4 seconds, with LCP taking only 1 second.
In the Speed test, Largest Contentful Paint (LCP) is the time taken by the largest content element on the page, be it an image or heading, to become first visible to the user.


In the GTmetrix result, you can see the different timestamps that denote the entire process of our website getting loaded. Equipped with the state-of-the-art Nginx server and NVMe SSDs, there is no wonder that the whole website loads and becomes interactive for visitors in less than 1.5 seconds.
So, a GTmetrix speed test shows us that WebSpaceKit is one of the Fastest Hosting providers operating in India.
Server Response Time Test
But the website loading time isn't just enough to measure a hosting provider's success. So, we wanted to test the Server Response Time for our website. Server Response Time is the time taken by the hosting server to respond to website requests from various locations across the world.
We used a tool called Bitcatcha to measure our Server Response Time. So, what does it do? It mimics 10 requests for our website from various locations globally and checks how much time the server takes to respond to each one, measured in milliseconds.
And here is how Web Space Kit's server performed,

Again, that's quite impressive! With servers located in India, our website obviously got the lowest response time for Mumbai in just 4ms. Singapore comes second with taking only 70ms.
So, if the target audience for your website is in India or other Asian countries, there is no doubt that Web Space Kit is the ideal choice for your websites.
And thanks to the powerful Nginx Servers, all the locations across the world, be it the US, UK, or even Canada, all have a server response time under 1 second!
From the test results, with super-fast websites having a server response time of less than 1 second, WebSpaceKit is the Fastest Hosting Provider in India.
Now that we know how Web Space Kit performs let's also review the other important features to look out for in a hosting provider,
Security
One crucial thing that sets apart a hosting provider from the rest is how secure they keep your website. Security is one of the deciding factors for website owners, and WebSpaceKit scores well there too. For starters, WebSpaceKit provides free SSL with all their hosting plans.
And, with the cutting-edge CageFS technology, your website is protected from hackers and all types of attacks. With CageFS, your website files and user information are enclosed into one and concealed from the other users, thus preventing any forms of attacks on your website.

Updates & Backups
Talking of security, a crucial part of keeping the website secure is regularly updating the files, be it WordPress core files or the themes and plugins used. WebSpaceKit makes it really easy on us as it takes care of all the updates by providing Automatic software updates.
And just in case, a backup is always essential for websites. WebSpaceKit provides daily backups of our website using JetBackup. It creates backups of the website every day with backup points for you to restore the website in case of any unfortunate events.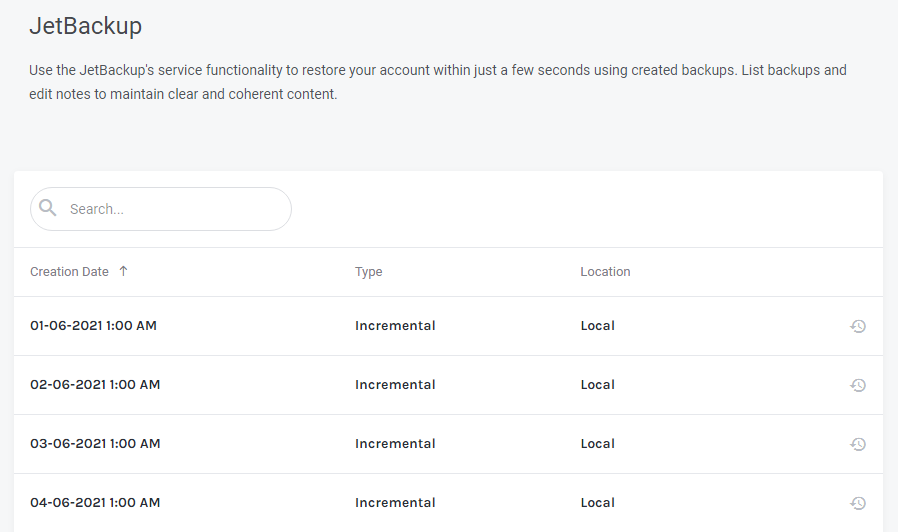 Customer Support
Customer support is always crucial when it comes to hosting providers, as you never know when you need the help of a professional. WebSpaceKit seems to understand this well as they provide support via Phone, Email, and even Live chat.
Other than this, they provide a knowledge base that answers the frequently asked questions for common queries. Also, WebSpaceKit has a ticket-based support system allowing us to open a support ticket right from the dashboard.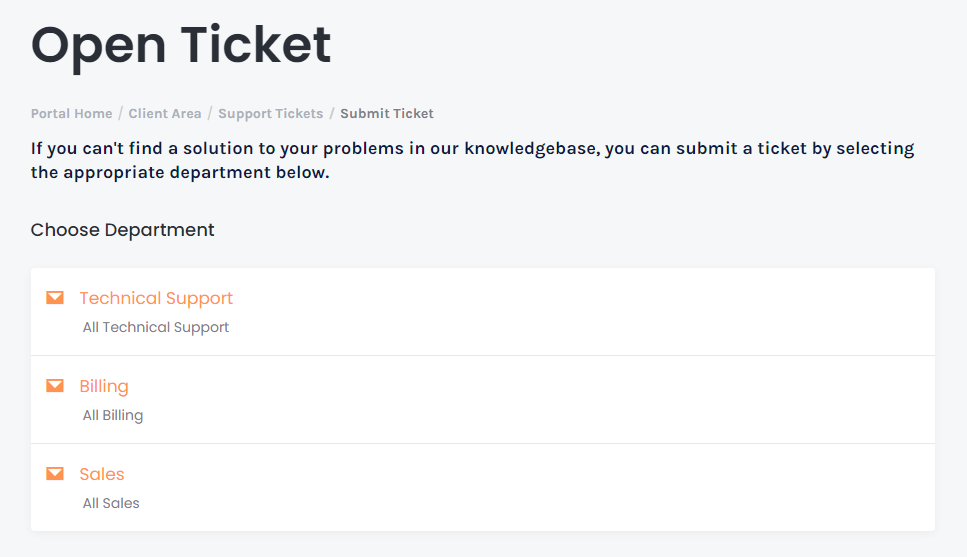 And that is WebSpaceKit when it comes to major hosting features like Price, Security, backups, and Support. Check out how good its features are when compared with other hosting providers in the market.
What we liked about WebSpaceKit
Though WebSpaceKit performed exceptionally well in a lot of factors, there are a couple that really stood out for us,
Website Loading time
Website loading time is so crucial that it has the potential to either make or break a website. With a website loading time under 2 seconds, WebSpaceKit is the fastest hosting provider in India we have worked with. And how they have achieved this is fascinating,
They have strategically placed their super-powerful Nginx servers in India and Singapore, targeting the websites with the most traffic from India. Also, Redis Object Caching on all their servers ensures the shortest loading time for visitors.
Object caching saves the most requested queries in the cache instead of querying the database every single time.
Easy to setup
WebSpaceKit is extremely easy to set up, even for absolute beginners. Everything is pretty much simple, from choosing the right hosting plan to setting up your hosting account.
With one-click WordPress installation on your website, all you need is to choose a hosting plan and domain of your choice. And once WordPress is installed, everything can be easily set up within a couple of clicks.
Beginner-friendly dashboard
Most beginner website owners think that working on a hosting provider's dashboard needs some sort of technical expertise. But when you host with Web Space Kit, you get a beginner-friendly dashboard that gets you started in no time.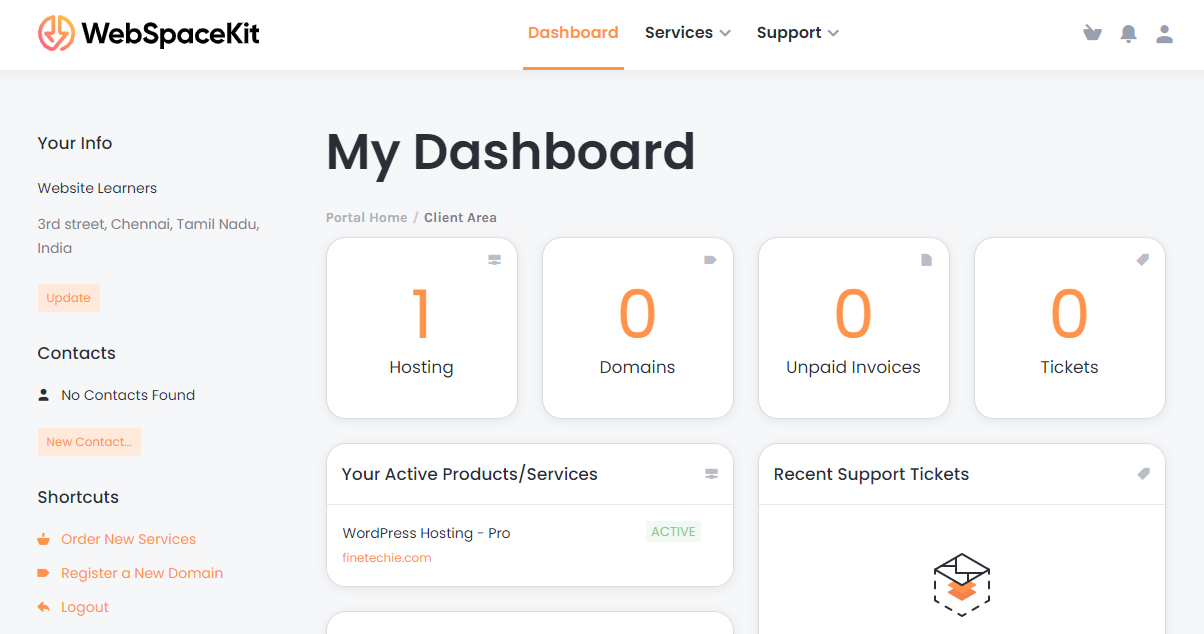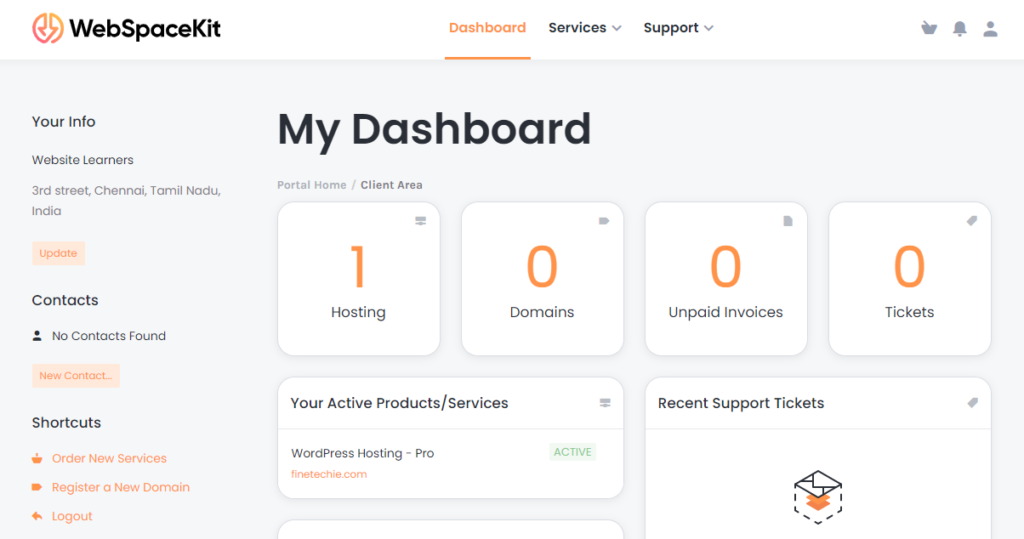 With the WebSpaceKit dashboard, you can easily manage your domain, hosting plan, and account features like Backup and support ticket right from the WebSpaceKit dashboard.
What we didn't like about WebSpaceKit
And in one place where we believe WebSpaceKit can do better,
Limited resources
The one thing we noticed right before purchasing the hosting is the features that come with it. Having seen the other hosting providers, WebSpaceKit doesn't have "Unlimited" disk space or an unlimited number of websites. This feels different from the usual sight of seeing 'Unlimited storage' in the other hosting providers.
But, when we did some research with other hosting providers, we found that no hosting provider provides truly unlimited services, and it's 'Unlimited' only on paper. They all have it mentioned in the terms and conditions, showing that there is no such thing as unlimited hosting.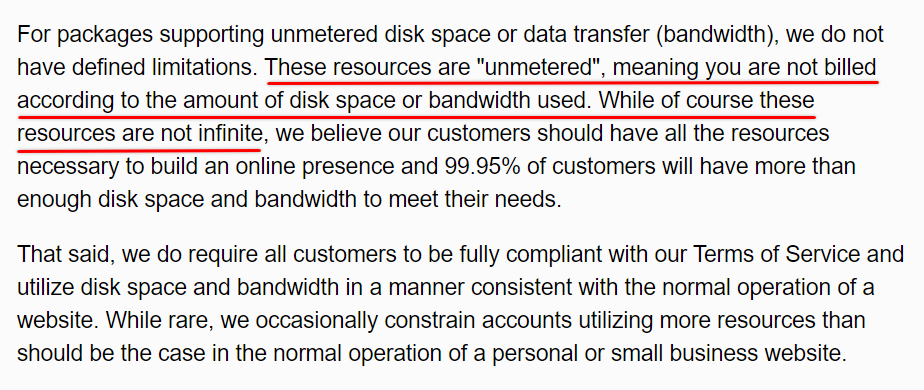 Is WebSpaceKit the Best hosting provider for eCommerce business?
eCommerce websites, in general, look for website speed as the website loading time may impact a potential sale. And that is why we believe WebSpaceKit will be the best hosting website for eCommerce businesses, considering the speed it offers.
Next to speed, eCommerce business owners need their website to be secure on the Internet. Again, WebSpaceKit, with its cutting-edge CageFS technology, ensures the eCommerce website is safe from all sorts of security threats.
And with WebSpaceKit, it's quite easy for business owners to create an online store in no time. They have scalable hosting plans that can be upgraded as the business grows.
Why do we think WebSpaceKit is the best in India?
Well, it's the fastest WordPress hosting provider in India!
Can't argue with that, can we?
WebSpaceKit primarily has its servers in India and Singapore, thus targeting the website market that has the most traffic from India and other Asian countries. With super-fast website loading time, WebSpaceKit stands out from the other prominent hosting providers that lack website speed when it comes to the Indian market.
And that is why WebSpaceKit looks like the ideal option to host websites in India. Moreover, WebSpaceKit's affordable renewal price is just icing on the cake!
How does it fare with the other Hosting providers?
Until now, we have seen the hosting features with respect to only WebSpaceKit. It's time to look at it in comparison with the other hosting providers. Here is how WebSpaceKit holds up with the other hosting providers,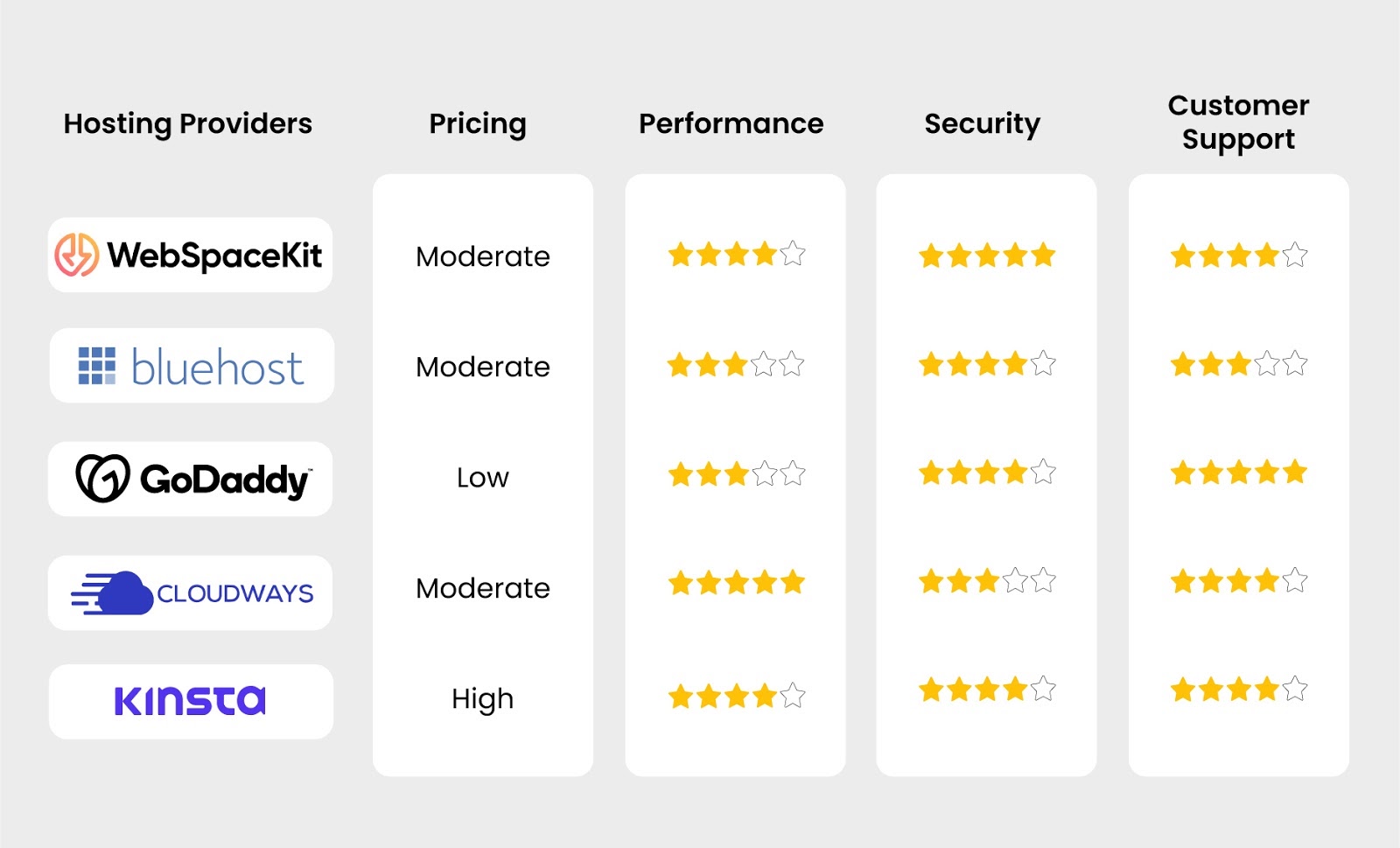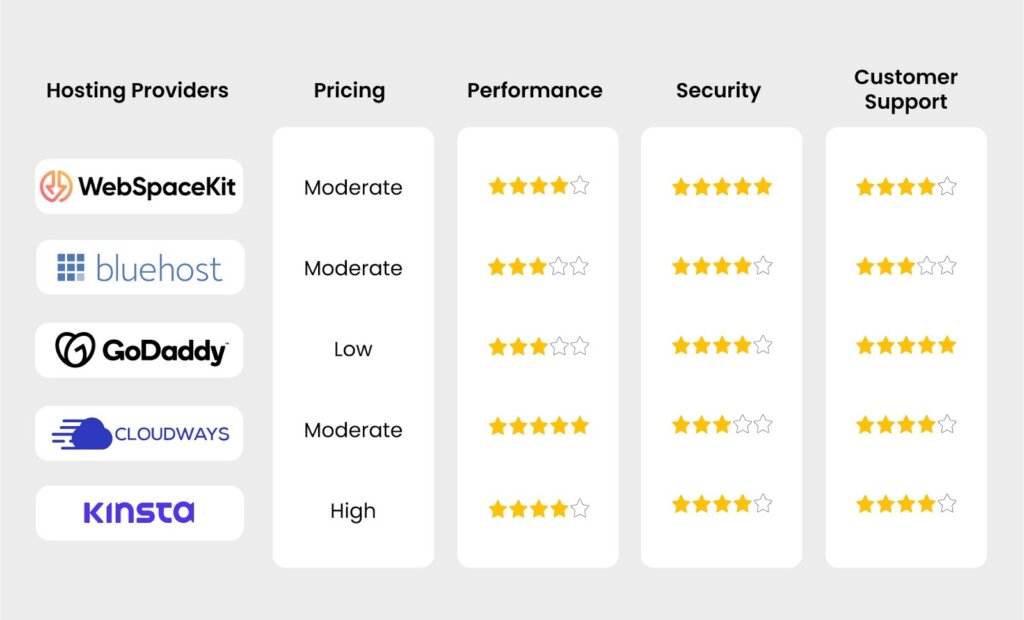 Reviews
Not just us, even some of our subscribers migrated to WebSpaceKit lately. And after hosting their websites with WebSpaceKit for a while now, here's what they have to say,


So, just like us, our subscribers too, seem to like the performance and services of the new hosting provider, WebSpaceKit. You can check out more such reviews here.
Our Verdict
As WebSpaceKit is quite new in the hosting scene, we were a bit sceptical at first, but WebSpaceKit has proved to be too good to be true. With websites loading under 2 seconds, will WebSpaceKit be the Fastest Hosting Provider in India?
Well, with super-fast website loading time and affordable hosting plans, we believe that WebSpaceKit is all set to become the best hosting provider in India.
So, Purchase Domain and Hosting from WebSpaceKit right away.
After purchasing domain and hosting, check our article on How to Create a WordPress website in 2022 for further instructions on creating your own website.
If you already have a website, check our video tutorial on how you can migrate your website to WebSpaceKit.
And for more such tutorials on customizing your WordPress website, subscribe to our YouTube channel.
Frequently Asked Questions (FAQs)
Which is the fastest WordPress hosting provider in India?
With a full website loading time of just 1.4 seconds, WebSpaceKit is the fastest WordPress hosting provider in India; we even tested it. They have achieved this by strategically placing their servers in India, Singapore, and Europe.
Which Web Hosting is good for beginners?
Absolutely. WebSpacekit, with its WordPress optimized servers, and super-fast servers, makes it really easy for beginners starting out in WordPress website creation. And by providing a Free Business Email along with Free SSL and Domain, they make it easy for beginners on a budget.
How important is Server location for my website?
The server location of your hosting provider is quite important as it directly affects the data transfer speed on your website. The closer the server, the faster the data transfer will be, giving us fast-loading websites.
That is why WebSpaceKit primarily has its servers in India and Singapore, thus ensuring super-fast websites in India and other Asian countries. For the rest of the world, WebSpaceKit has a data centre located in Europe.
Can we register domain names with WebSpaceKit?
Yes. Along with hosting your website, WebSpaceKit also has provisions for registering new and unique domain names. You can check for availability right within the website and purchase the domain name of your choice.
Who is WebSpaceKit good for?
WebSpaceKit, with its affordable hosting plans and beginner-friendly setup, is rightly suited for people beginning their website journey. Also, it will be suitable for website owners who want to migrate to a better-performing and faster hosting provider.
And targeted towards the Asian countries, anyone who wants the most traffic from India can benefit from WebSpaceKit's powerful Nginx servers located in India and Singapore.
Does WebSpaceKit offer a Money-back guarantee?
Yes. WebSpaceKit offers a 30-day money-back guarantee where you can get a refund of your purchase in case you don't like the services. However, with blazing-fast websites and affordable renewal prices, we don't think that's happening.
Does the WebSpaceKit provide 24×7 support?
Yes. To assist its users in setting up or managing their website, Web Space Kit provides customer support via Phone, Email, and even Live chat. They have WordPress experts working 24/7 resolving customer queries.
Which is the best hosting site for starting a new blog?
WebSpaceKit. Because they have the right set of hosting plans for beginner bloggers starting on a budget. Also, be it speed or security, WebSpaceKit has got it all to be the right fit for blogging.
Apart from that, the Web Space kit has amazing SEO features that will make it easy for your blog to rank higher in the search results.
Which one is better, Web Space Kit or Bluehost?
Bluehost has been around for a while and is widely used by various websites. Web Space Kit, even though it's new, is growing to be one of the favorites in the hosting market.
Though both are unique in their own ways, if your website has the most traffic from India, then Web Space Kit has the potential to be the Bluehost alternative, considering the super-fast website loading time.
How do I build my own WordPress website using Web Space Kit?
All you need to do is choose a unique domain name and a hosting plan from Web Space Kit. And after creating your account, your WordPress website will be live on the Internet. Then you can choose the desired theme and use plugins to build your website.