Do you keep writing content on your website but still get no engagement?

Do people visit your website, but don't convert?

And, do you want more people to take action on your website?
Then there's this one thing you need to focus on to hit the mark.

The Content!
'Content is the King!'

How many times have you heard those words?

Well, it doesn't matter even if you got bored with that phrase, but it still holds true in 2022!
While everyone creates content, one way or another, what matters the most is the quality of the content.

Because quality website content can make the visitors stay on your website longer and even make them come back again and again, making them potential customers. So, you need to focus on how to write content for website if you are looking to improve conversions from your website.
But, before going into the 6 Golden rules on how to write better website content, let's first understand how writing amazing content for your website is essential.
Perks of Quality Website Content
Website content refers to any text, visual, or even audio-visual content you have published on your website. This can include website copywriting (writing copy for sales), product description, or blog posts. Each has a unique intent, like generating leads to engaging and retaining the visitors on your website.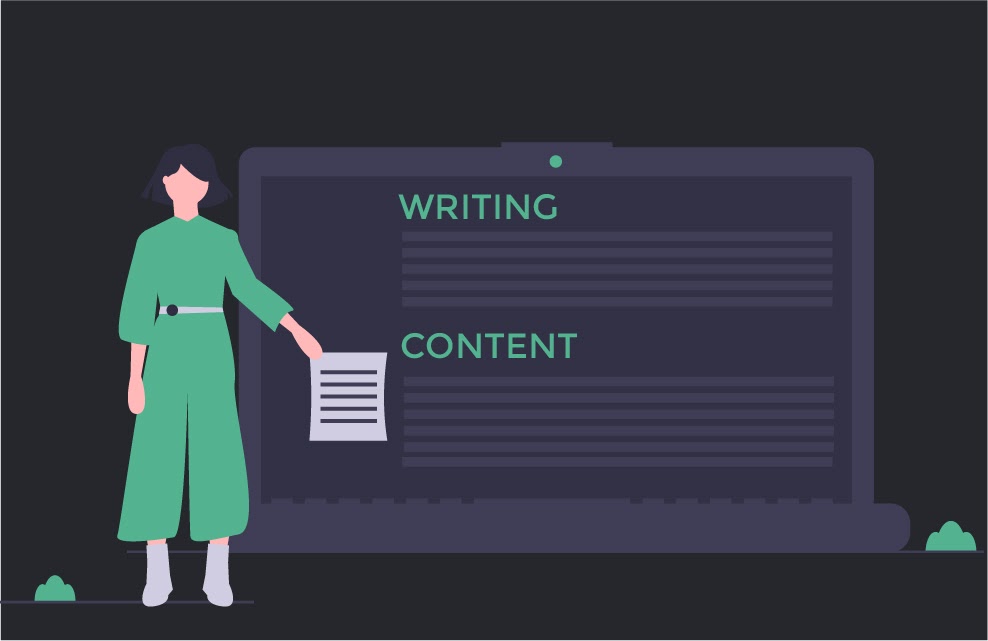 Your website content will speak to your visitors and establish whether you use your website solely to provide information or sell a product or service. Along with that, we also have a couple of reasons why website content is important.
More audience & Better ranking
Quality website content makes more and more people visit your website. And when your website gets more clicks and visits than your competitors', your content appears more relevant than theirs, so search engines will reward you with a better rank.
This way of optimizing your web content is one of the widely used strategies in Search Engine Optimization (SEO), which is important for your website to do well on the Internet.
Better website content also plays a major role in improving the conversions from your website. For example, the product-specific content on your website that includes product description, reviews, and even FAQs plays a massive part in convincing the customer and driving more sales.

With growing brand identity over time, more people will trust your website and like to do business with you, thus improving your website's overall conversions.
Without producing quality content on your website, it is quite hard to establish and promote your business on the Internet. So, to set you up with better website content and thus establish your business online, here are the 6 Golden Rules you can follow to create better content for your website.
6 Ways to Improve Website Content
Though your brand value may initially drive visitors to your website, at the end of the day, the content you publish is what retains them on your website. So, these are some of the ways you need to produce content and retain visitors on your website,
Know your audience
As a website owner, content you put out is ultimately for your website's visitors, you need to keep them in mind in every step of your website content writing process.

What kind of content do they like to see?

When are they the most active on my website?

How can I drive more people from this set of visitors?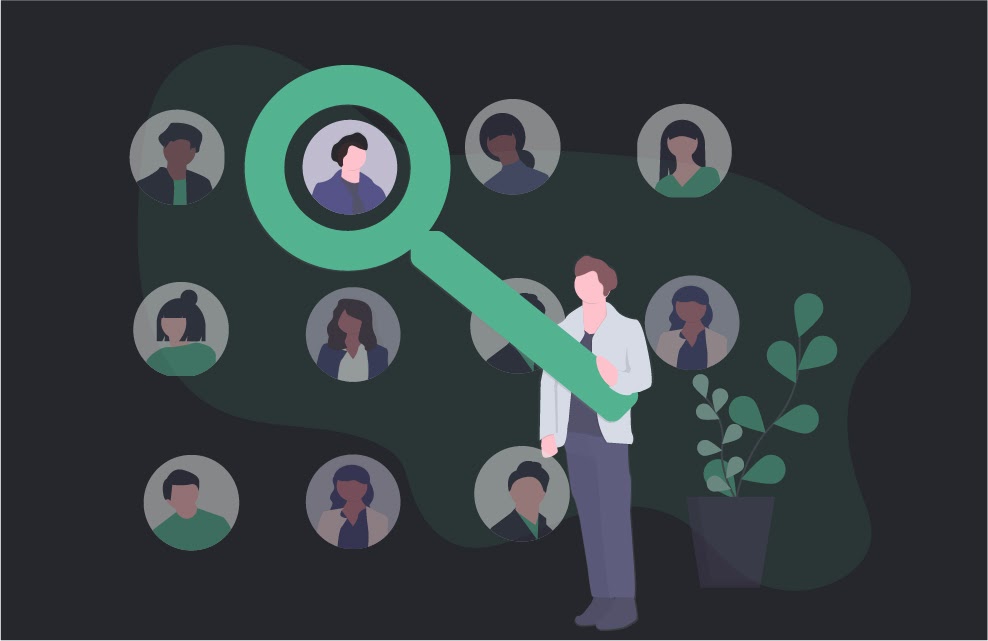 With questions like these, you first need to understand who your audience is, what they are looking for, and how you can provide answers to their questions. Every website has its own set of audiences, and all that matters is to deliver the content they look for.
Knowing your audience is the key to getting more people to visit your website, which will drive more traffic and thus generate more revenue for your website.
Structure your content
Internet audiences, especially millennials, have short attention spans, so you need to strategically put out your content to give out the maximum information in a short time. You can do this by following a method of writing called the Inverted pyramid style.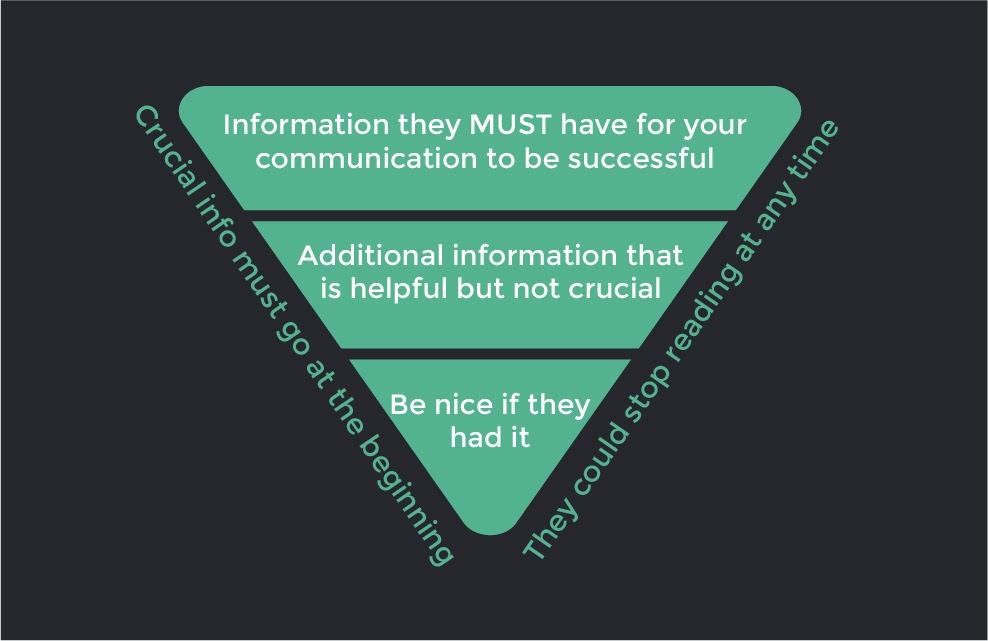 Inverted pyramid style means that you put out the most important content right at the top of your page, followed by less important information and so on. This is a pretty common practice in newspapers, where they arrange the news in descending order of importance, with the important details put out in the first paragraph.
This writing style gives out maximum information in a short span of time and helps the viewer decide whether it's the right website for them and whether they can proceed with the rest of the content.

Make it skimmable
Every single Google search on the internet is a question of one sort or the other. People on the Internet are looking for answers. In fact, quick answers. So, let's face it! No matter how long and well-researched your article is, most of them are going to skim and scan through your content. (Hope you are not skimming through this right now!)
73% of people admit to skimming blog posts, while 27% consume them thoroughly.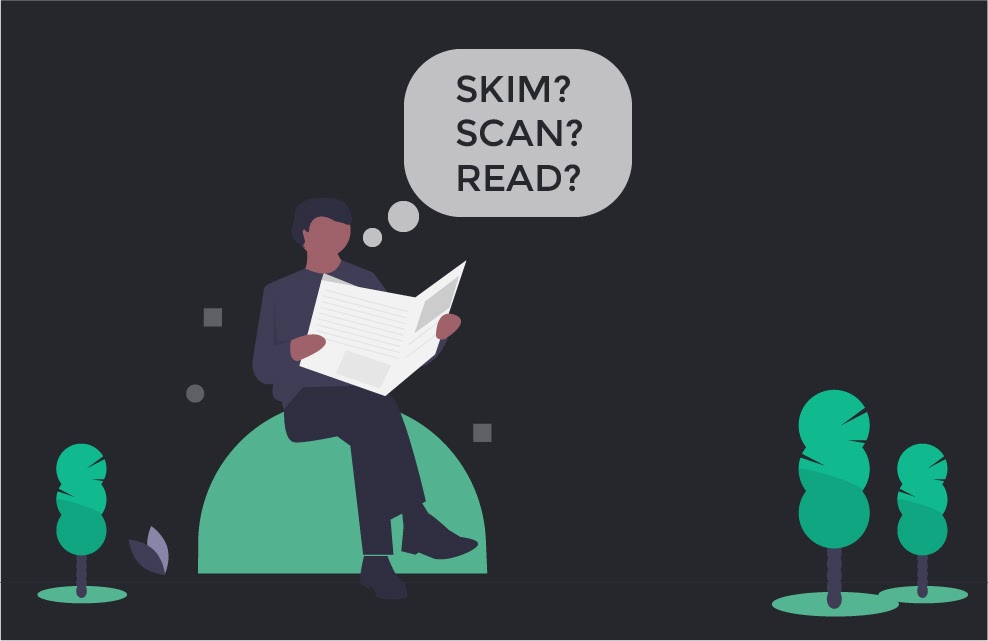 So, you need to provide them with answers and make the answers easily skimmable and scannable as well. This way, they don't miss out on the important points in the article. There are several ways by which you can make your content easily skimmable like,
Writing Short Paragraphs
Adding Text styles
Lists instead of Paragraphs
So, one of the easiest ways to make sure your visitors don't miss a point when skimming is to create a table of content. With a list of all the things discussed in your content, your visitors are not bound to miss anything. Check our video tutorial to learn How to create a Table of Content on your WordPress website.
Write for Everyone
No matter who the target audience is, you need to treat them like beginners looking for answers. So, while writing the web content, you need to make sure that your website visitors get the answers they are looking for, and not end up bewildered by your vocabulary skills. ('Bewildered' is fancy, we better stick with 'Confused')
Also, prefer not to use jargon that's only familiar to the professionals, always keep things as simple as possible. Start with explaining the tough terms in the simplest of words, because the simpler your content, the more your website traffic is.
To make sure your website content is clear and readable by an average visitor, you can make use of a brilliant online writing assistant like Grammarly. It provides a readability score and comes with amazing suggestions to make further improvements to the written content.
Considering how important Grammarly is for content writers, we made a quick tutorial on How to Use Grammarly and Improve Website Content.
Make it actionable
You need to have call-to-actions (CTAs) on your website content to make the website content actionable. A call-to-action can be a button, image or even a set of words that make visitors take action. CTAs are to make your visitors do something, as a next step in the process.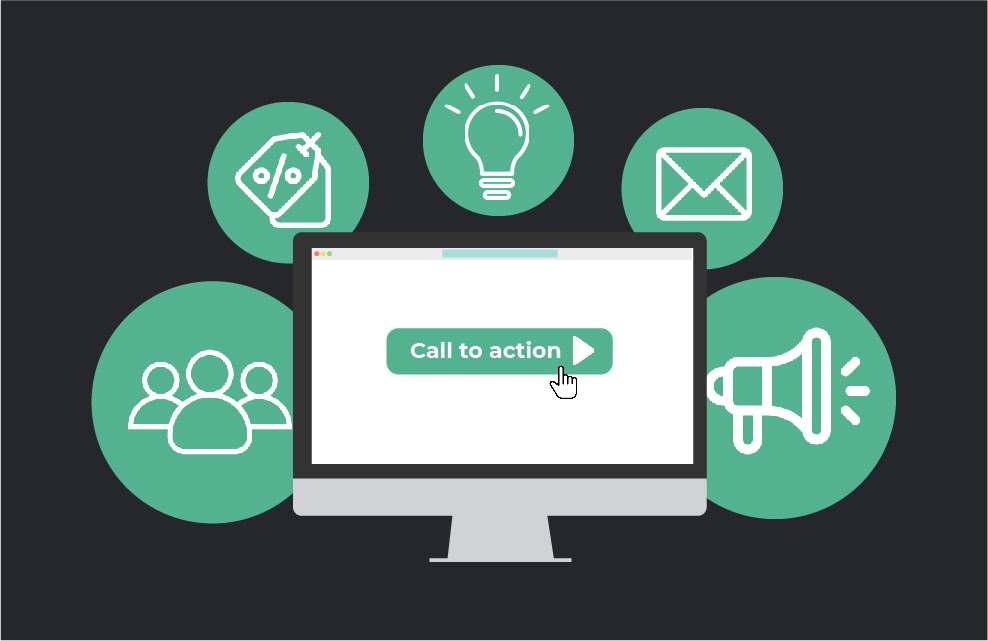 These CTAs can be as simple as a word saying 'Sign up' or 'Download', or a dedicated button that a visitor can't miss. You can have these CTAs redirect to a specific and detailed blog post or video, or any web page that resonates with that particular user intent.
By using such CTAs on your content, you not only tell your visitors what to do, but you also tell them how to do things, by making them take action. This makes your content stand out from others who don't go that extra step in providing information.
Keep it updated
You can keep producing new content weekly, but it will not matter if you don't get back to the old content after you publish it. Because website content is not something you write and then leave for it to do its work. The content can drive traffic soon after publication, but over time, the traffic may decline.
To avoid that and generate consistent traffic to your web content, you need to keep the content updated. You need to provide the visitors to your website with only the latest information by keeping up with the market's updates and trends. A week-old article may become outdated in this current scenario.
And a regularly updated web page is the one preferred by Google and other search engines. They look for 'fresh' content, so a year-old blog post you have recently updated is fresh, over an un-updated month-old blog post. You need to update your web content to get a better rank on the Search engine results.
Conclusion
So, a well planned-out and fresh content, with regular updates can do wonders to your website. Imagine your website is a car, then the content is the fuel that drives your car. So, well-written web content can generate more conversions from your website and thus increase your business revenue.
But, writing content is not just everyone's cup of tea. It's not easy to write informative content and also manages to hook the visitor to your website. And, over time, it can be tiring to write quality content along with having to focus on your business.
Like many website owners, you can outsource website copywriting and website content writing tasks to freelancers. This way, you need not worry about the content you put out, and can solely focus on your business. In fact,
33% of Fortune 500 companies turn to freelance sites to outsource their work.
It is easy to find writers on the Internet, but who you need are proficient writers. The ones that can generate leads via writing a copy. The ones that can create maximum engagement using the blog posts. And that is where Fiverr comes in. An online marketplace where you can hire from thousands of freelancers to do the job for you.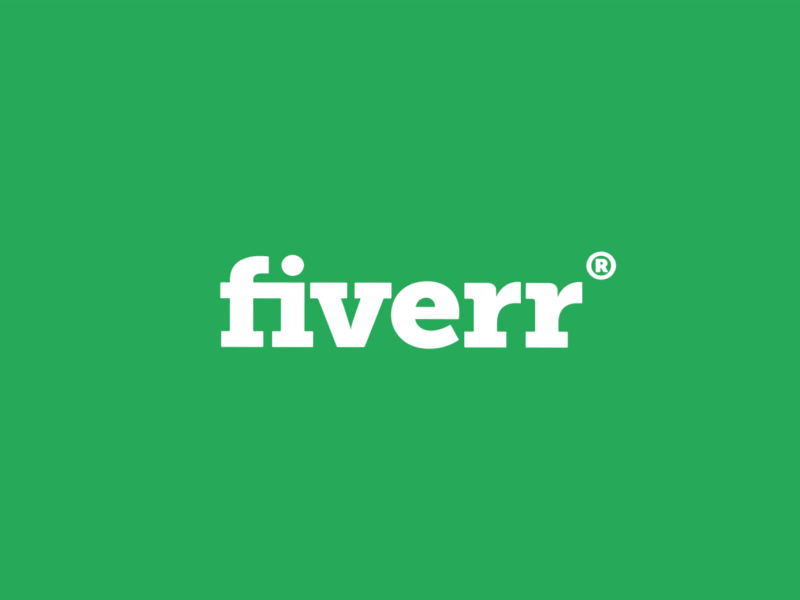 With Fiverr, you can hire any type of service for your website like website content writing, website copywriting, graphic design works, and even social media marketing. So, as a Fiverr buyer, you can purchase the necessary gig from a freelancer, and get the job done in a matter of days.
So, do you want more people to engage with your content?
And do you want an increase in conversions from your website?
Well, you don't need to break your head over it anymore. Fiverr has got your back!
So, do you want to work all on your own?

or

Make use of a fantastic freelance service like Fiverr to produce engaging website content for your visitors?
Frequently Asked Questions (FAQs)
What is good content for a website?
Any content that makes the visitors stay on the website, and makes them come back from time to time is good content. Good content increases the organic traffic on your website and eventually results in more conversions.
Website content includes everything that's displayed on the website, from texts to images to videos. So anything that engages the visitors and retains them on the website is good content.
How do I come up with quality web content?
The main purpose of quality website content is to engage the visitors and convert casual visitors to potential customers. And here are some ways by which you can come up with quality website content,
Know your website audience
Structure your website content
Make the content actionable
Regularly update the content
What are the three tips for website content?
The three basic tips that can go a long way in creating quality website content are,
Properly structure your content
Make the content scannable
Keep the content updated regularly
Which is more important to a successful website: content or design?
Both. Website content and website design should complement each other to provide an engaging as well as visually pleasing experience to the visitors. It is important to find the perfect balance between the two instead of solely focusing on one, ending up giving a bad user experience for the visitors.
Why shouldn't we duplicate website content?
While it's quite easy to duplicate and copy content from other websites, it will end up hurting your website ranking in the long run. Search engines will always look for unique content and then rank them on the search engine results page.
So, having the same content as your competitor adds no value and your website may even end up getting no organic traffic from the search results.
What should be on the first page of a website?
The first page or homepage of the website is crucial because that's where the visitors will land when they access your website. First and foremost, you need to have your logo at the top of the website, along with an easy-to-use navigation menu.
And considering it's the home page, include content that sums up the purpose of your website/business. And also include necessary images and other media that enhances the user experience for the visitors.
Learn the Top 5 ways to monetize your website