Comment sections are the most underrated things in the whole digital marketing or blogging industry. A lot of bloggers don't give much attention to comment boxes. Instead, they give attention to popups and social sharing widgets which serve social sharing or email notifications.

But in reality, comment sections are gold mines which are untouched by many. And, It serves a lot of purposes to your blog or website.
Advantages Of having Comments on your blog:
They can increase your blog's engagement factor, which will significantly improve your SEO.
They can improve your Keyword Density ratio, which I'll help you rank on better positions on Google's SERP.
Comments help to build relationships with your readers which in turn make you understand them more.
Additionally, Commenters might post their queries. This helps you to find content gaps and write new content.
So, Do you want to improve your blog's SEO?
Do you want to interact with your readers more?
Do you want new content ideas without much effort?
I know that your answer would be "Yes", then you need to encourage your readers to comment on your blog. But, you can't do that with this WordPress' default comment section.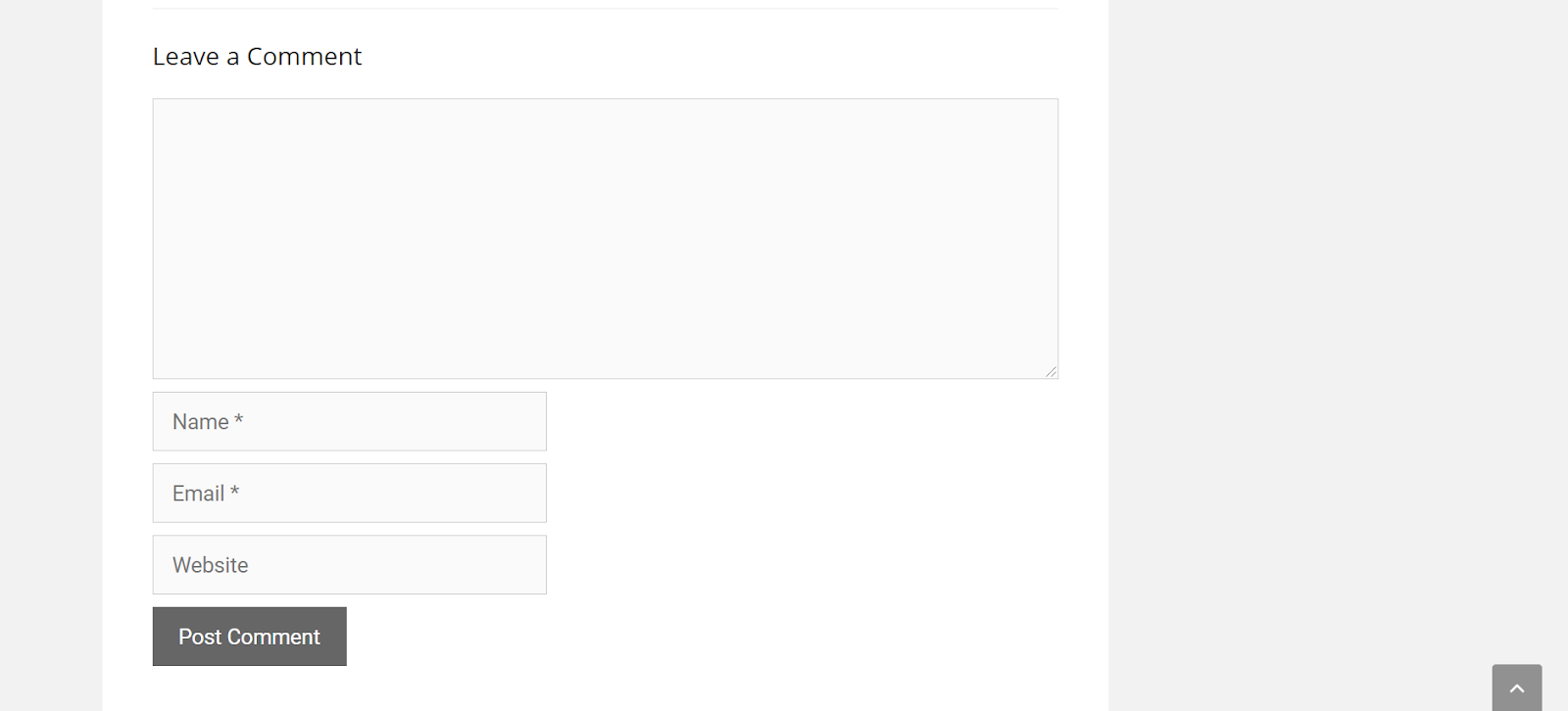 What do you feel?
It is so boring and pretty basic. Isn't it?
To encourage readers to comment, you need to transform a boring Native comment section's design to something more attractive like this.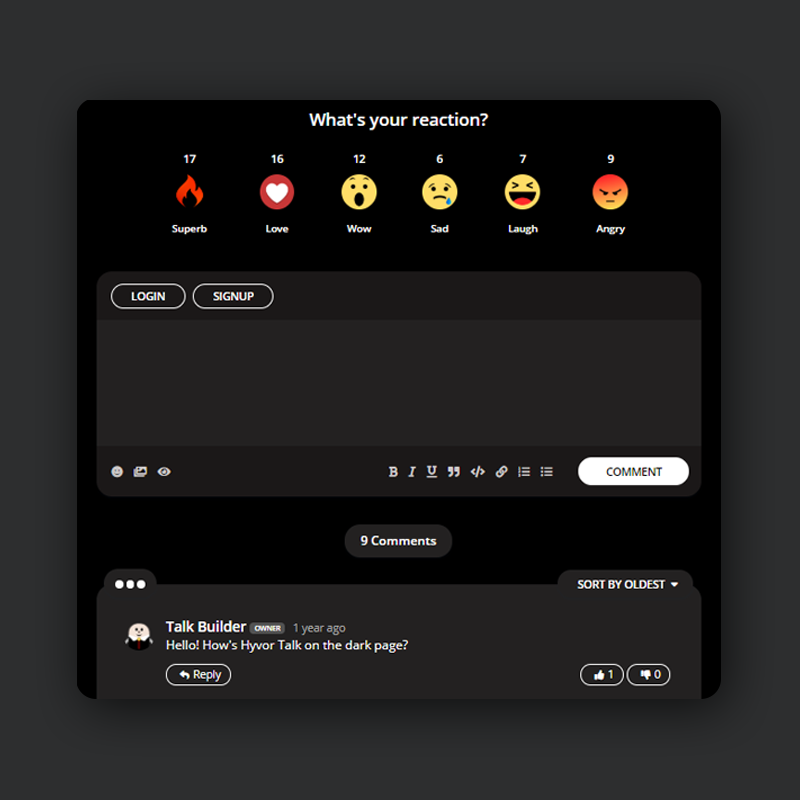 And, Do you also want to make the commenting process easy and simple like this??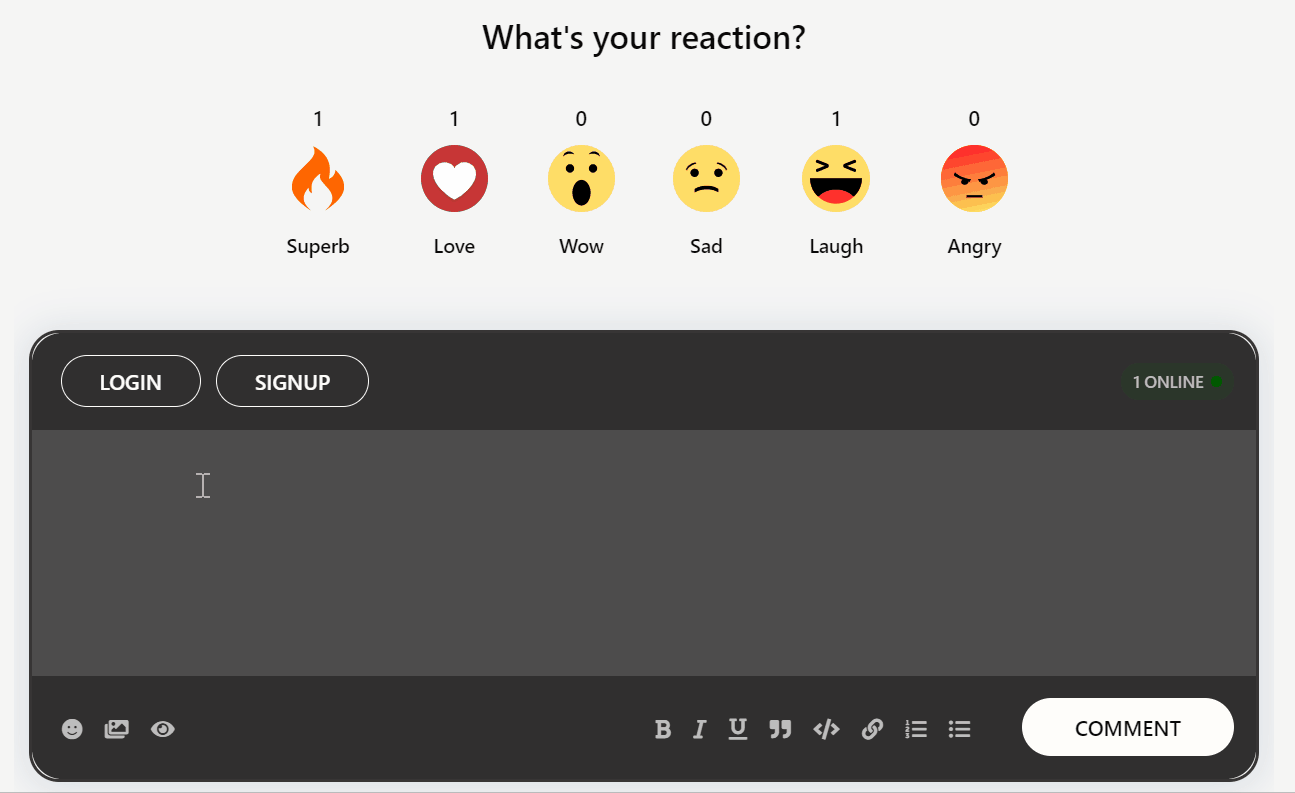 If so, then you need to use WordPress commenting plugins that enhance your comment sections.
There are more than 100+ commenting plugins, but finding a plugin that comes in the budget, highly secure and highly engaging is difficult.

And also, it is a lengthy process as you need to install every plugin and test it.
But don't worry!
We did all the research work for you. We have used the top commenting plugins, analysed them and came to a conclusion.

Out of all the plugins, We liked the Hyvor Talk Commenting Plugin that lets you add powerful features to your comment section of all the Plugins.
Now, You might be wondering why we liked Hyvor Talk out of all 100+ commenting plugins, Right?
In this blog, we'll discuss Hyvor talk, its features and How Hyvor talk is better than other commenting plugins.
The Hyvor Talk commenting plugin makes it easy for bloggers and website owners to add attractive and highly engaging comment boxes on their website. There are more than 2000+ comment sections on blogs/websites powered by Hyvor Talk.
With Privacy as its main feature, Hyvor Talk comment sections will never track your visitor's data.
With this budget-friendly plugin, You can easily change your comment section's design and make it compelling for your visitors to comment. And also, Hyvor talk's rich features make your commenters revisit your site.
So before deciding why we feel this is the budget-friendly plugin for your website, we'll first look into Hyvor Talk's features.
Hyvor Talk Features
Fast Loading
For the sake of an attractive and engaging comment section, Do you want to slow your website?
No, Right?
Even the Hyvor talk developers don't want that, that's why they've created a default Lazy load option in their commenting plugin. That means that your comment section will load only when your visitors scroll till the comment section.
It won't load in the beforehand, so there wouldn't be any effect on your website's loading speed.
Very Thoughtful !!
Fully Customizable
One of the main reasons bloggers/website owners want a commenting plugin is to customise their comment section and make it attractive. So, the visitors notice it and comment on the blog.
With Hyvor Talk, you can customise your comment sections as you want. You can change the box colours, border colours, text colours and button colours too.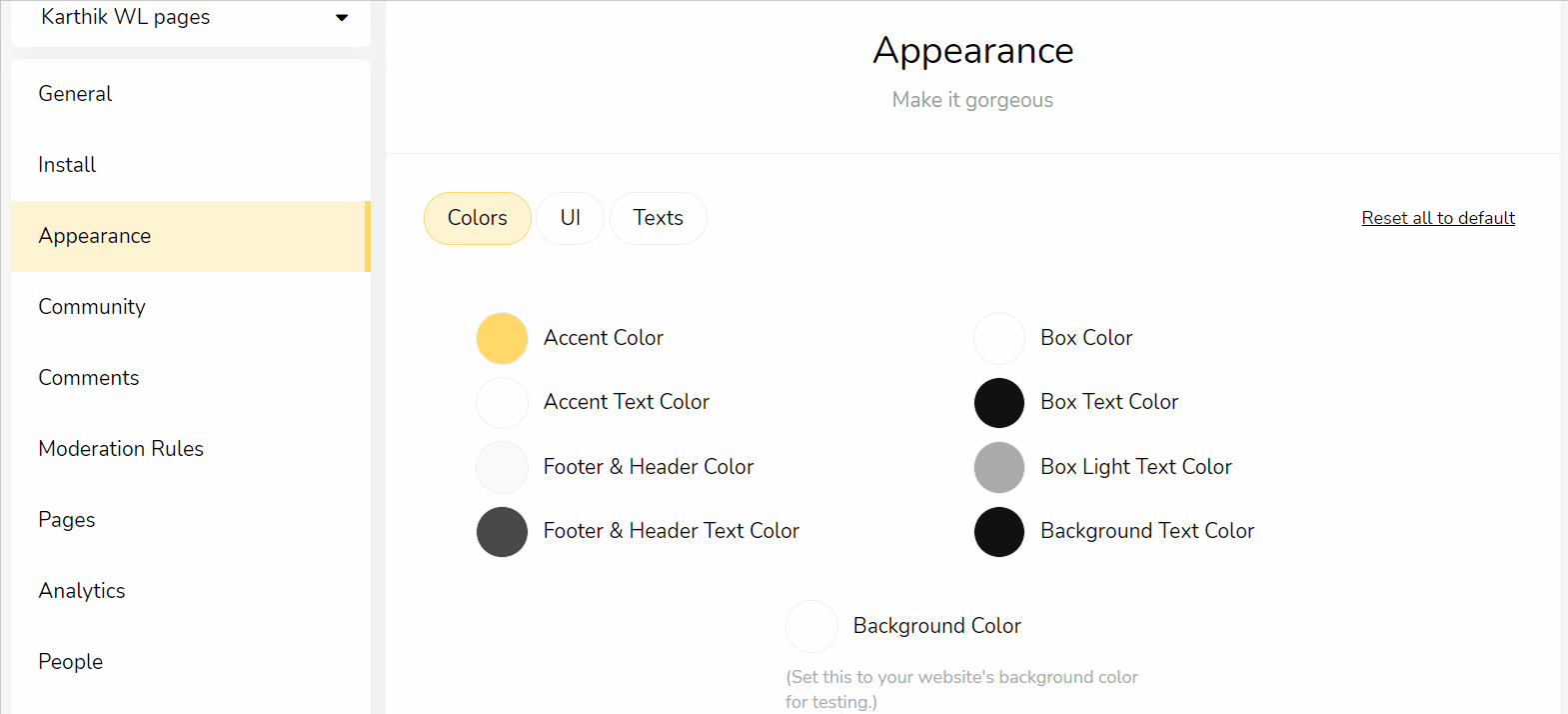 Additionally, you can add borders and shadows to the box to add a popup effect and stand out from the content.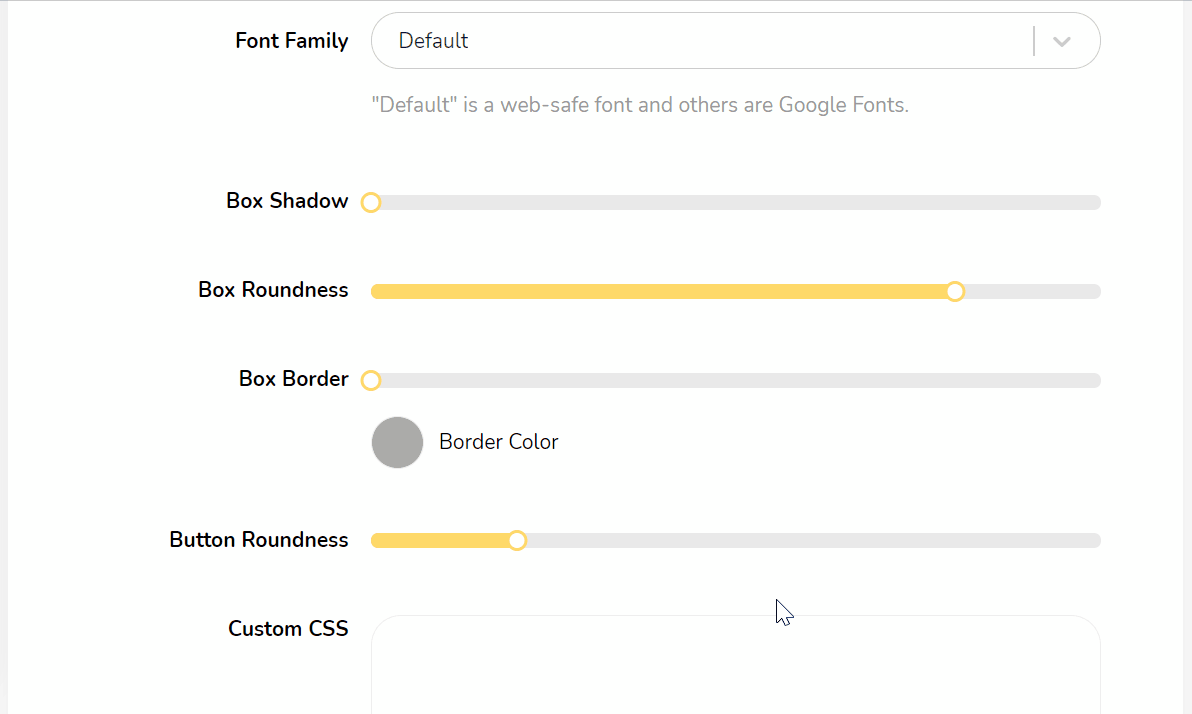 Furthermore, if you want to add some custom design to the comment box, you can add the CSS code too in the CSS section.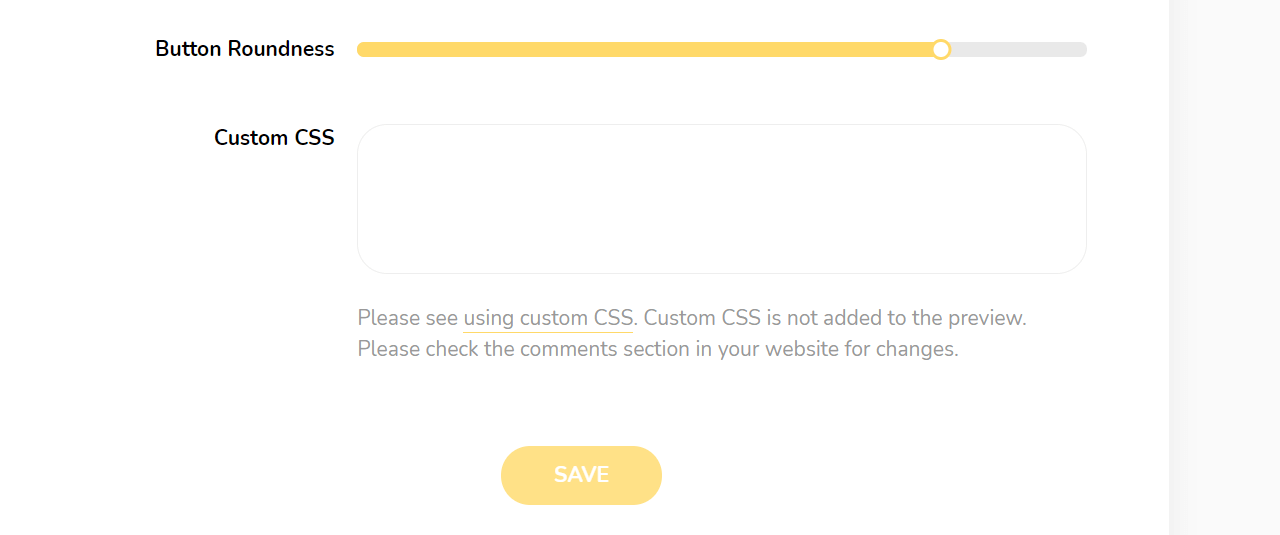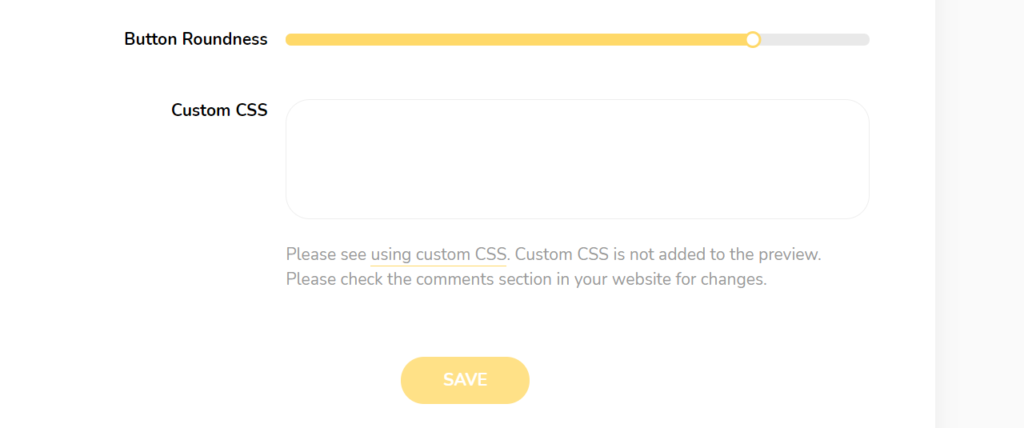 Plus, you can add placeholder texts and catchy lines in the comment boxes to encourage your visitors to comment in the comment boxes.
Overall, you can super transform your plain comment section into a stunning and highly attractive comment section that your readers will notice quickly and comment on your blog.
Easy login
Most of the visitors might not comment on WordPress blogs due to its lengthy commenting process. They need to fill their details before commenting, so some visitors feel unsafe to give the details to the website/blog owner.
Using Hyvor Talk, your visitors can comment as a guest if they don't want to provide their details to anyone.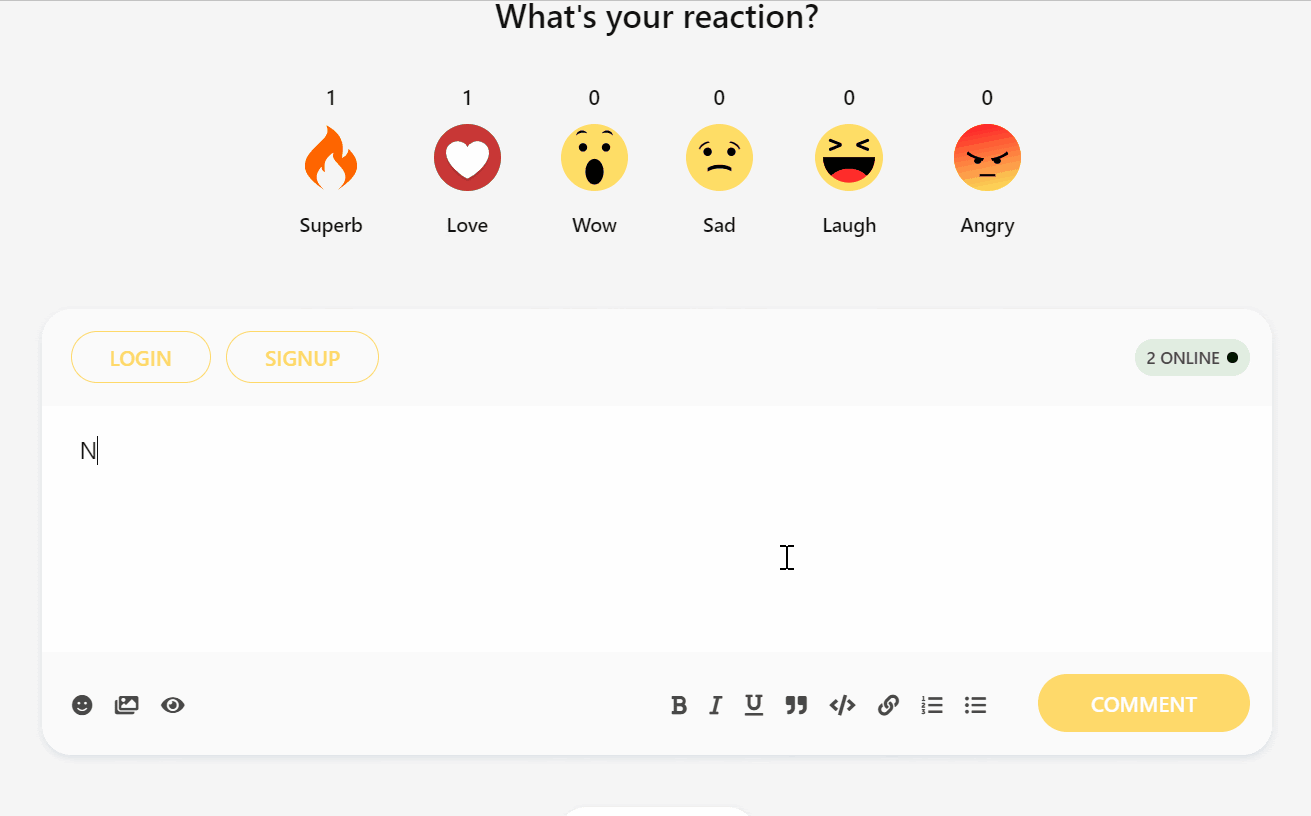 See, Isn't the process straightforward?
And also, you can add a single sign-on option that makes the commenting process short and simple. Your visitors can comment by using Hyvor Talk accounts. They need to create an account in Hyvor Talk using their social Login or filling the form.
Once they logged in, they can comment on any blog that uses Hyvor Talk without much mess regarding the login process. As Hyvor Talk is a most secure platform out there, your visitors need not be frightened to share their details.
Reactions to the comments
Hyvortalk helps you to add a reaction widget to your comment sections. Reactions are an instant way of commenting and Millennials like it.

For instance, If your visitors are in a hurry, they can add a reaction to how they feel about your article instead of commenting. The best thing about the reaction widget is that there is no need to log in.

With this easy to add an attractive reactions widget, your visitors will be more interested in adding them on your blog. This action increases your blog's engagement factor. So, the chances of your blog ranking better on SERP will improve.
Welcome to 2022 !!!
Email Notifications
Email Notifications are a great way to encourage your commenters to revisit your site. For example, if you commented on any blog and someone replied to your comment. You wouldn't know that, right? There should be some notification to you regarding a reply to your comment.
With Hyvor Talk, your commenters will get email notification when someone replies to their comments. So, they revisit your site, which in turn increases your website's traffic. And also, as they've seen the reply, they may reply again to that reply and the conversation might go on.
Voting
Won't you feel happy, if someone supports your comment by liking your comment? Great, Right?
Hyvor Talk allows your visitors to upvote the comments they like. It encourages your commenters to share their opinions more. And also, if you want to add a dislike comment button, you can enable the downvote option.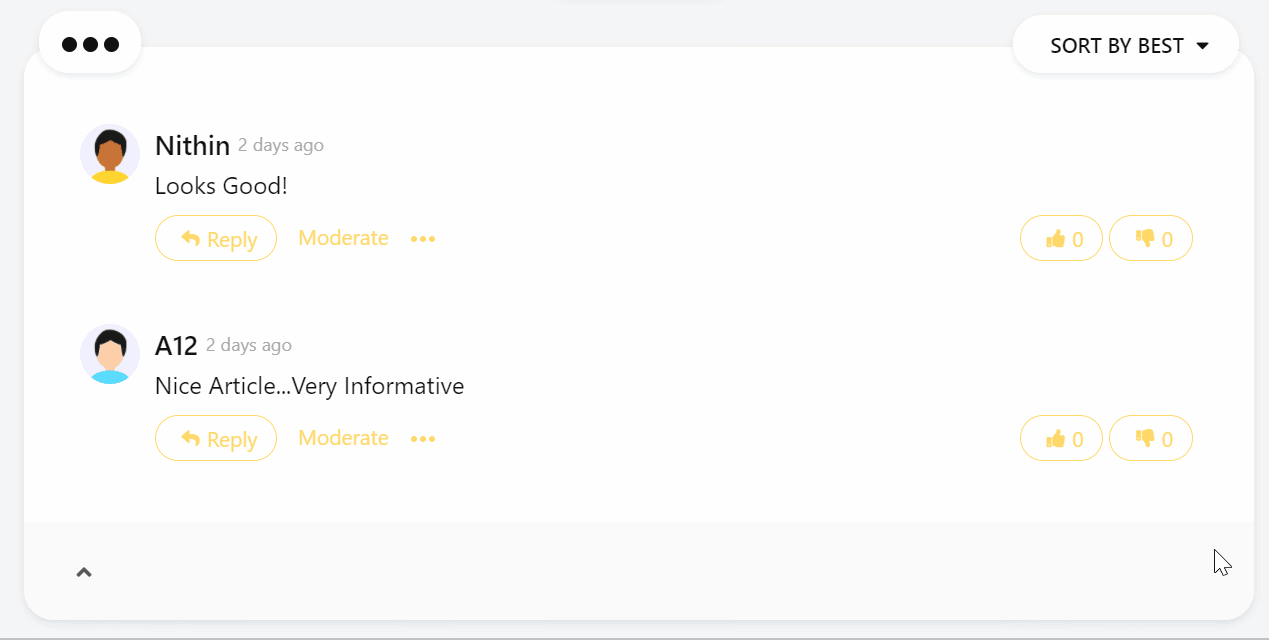 Features for Publishers (Bloggers/ Website owners)
Apart from the features that attract your customers, Hyvor Talk reduces your manual workload through its backend features for publishers. Like Analytics, weekly reports, Spam filtering, Multi-domain support etc.
Analytics and Weekly Reports
Hyvor talk doesn't stop at commenting functionality, and it also gives you analytics. It displays all the comments, moderation reports, and page views data in the console dashboard.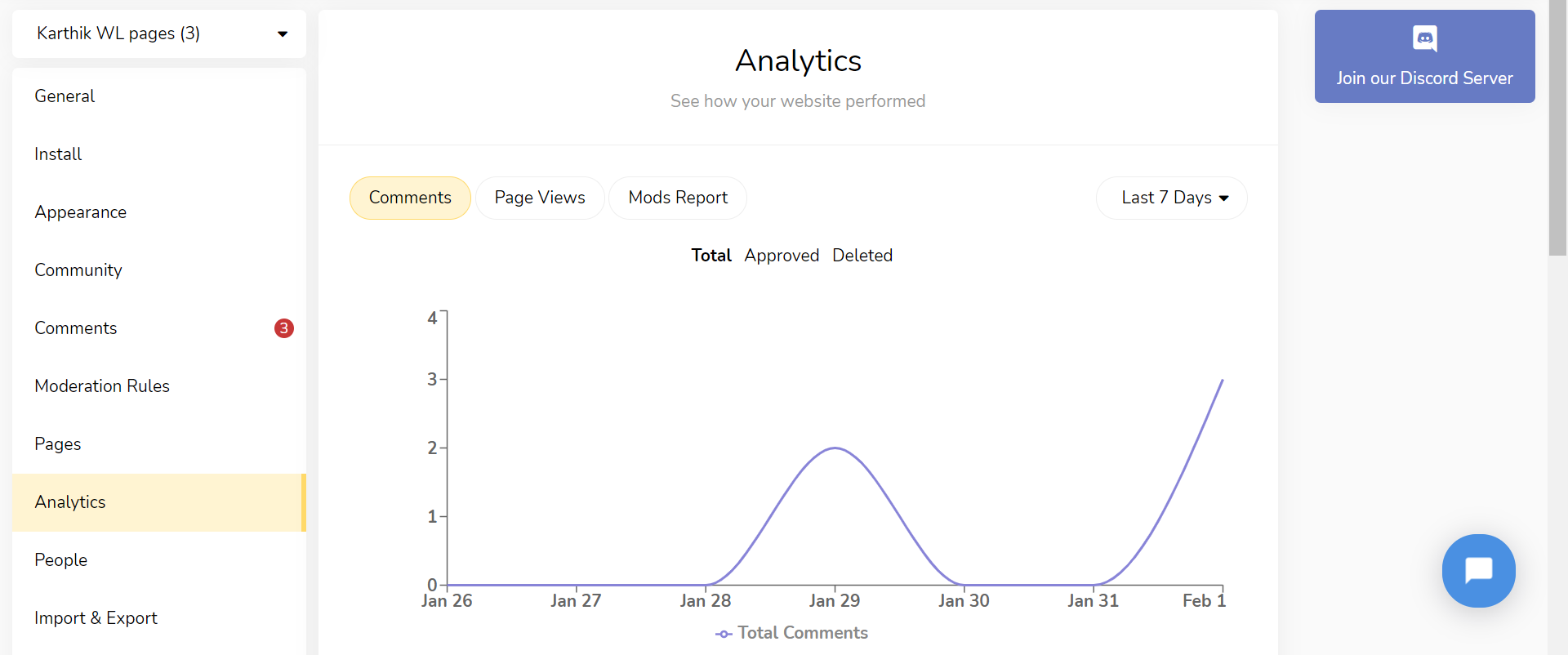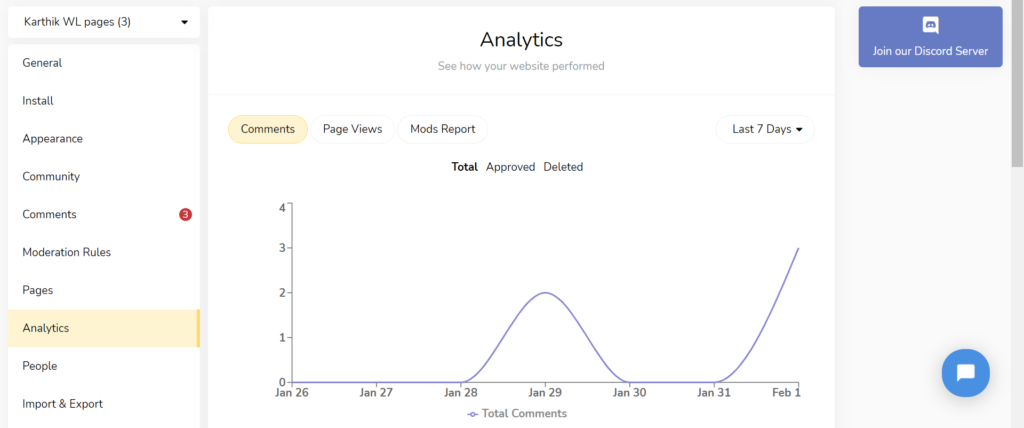 On top of that, it also sends a monthly report to the admins' email inboxes.
Isn't it great?
Spam Filtering
The only downside and the most annoying thing of having a comment section is spam messages. Spam messages make the comment section lengthier and also it frustrates your readers; thereby, they leave the blog without commenting. So, one needs to keep an eye on Spam comments and remove them manually.
Isn't this a monotonous and hectic task, Right?
This makes some of the website owners/bloggers turn down the comment sections on their blogs. Some of them use Third party Spam protection plugins.
But with Hyvor Talk comment sections, you won't experience that. This plugin comes with inbuilt spam detection that filters spam comments. While detecting spam comments, it considers various factors such as user reputations, links used in the comments. So, this plugins' spam detection is accurate and perfectly reliable.
Additionally, you can add your own rules for comment moderations. That means you can add the words that you feel spammy so that the comment will be marked as spam by Hyvor Talk
Multi-Domain Support
With Hyvor Talk, the options are never limited. You can add the Hyvor Talk comment section on unlimited websites. And the best thing is you can manage all of them in a single console dashboard.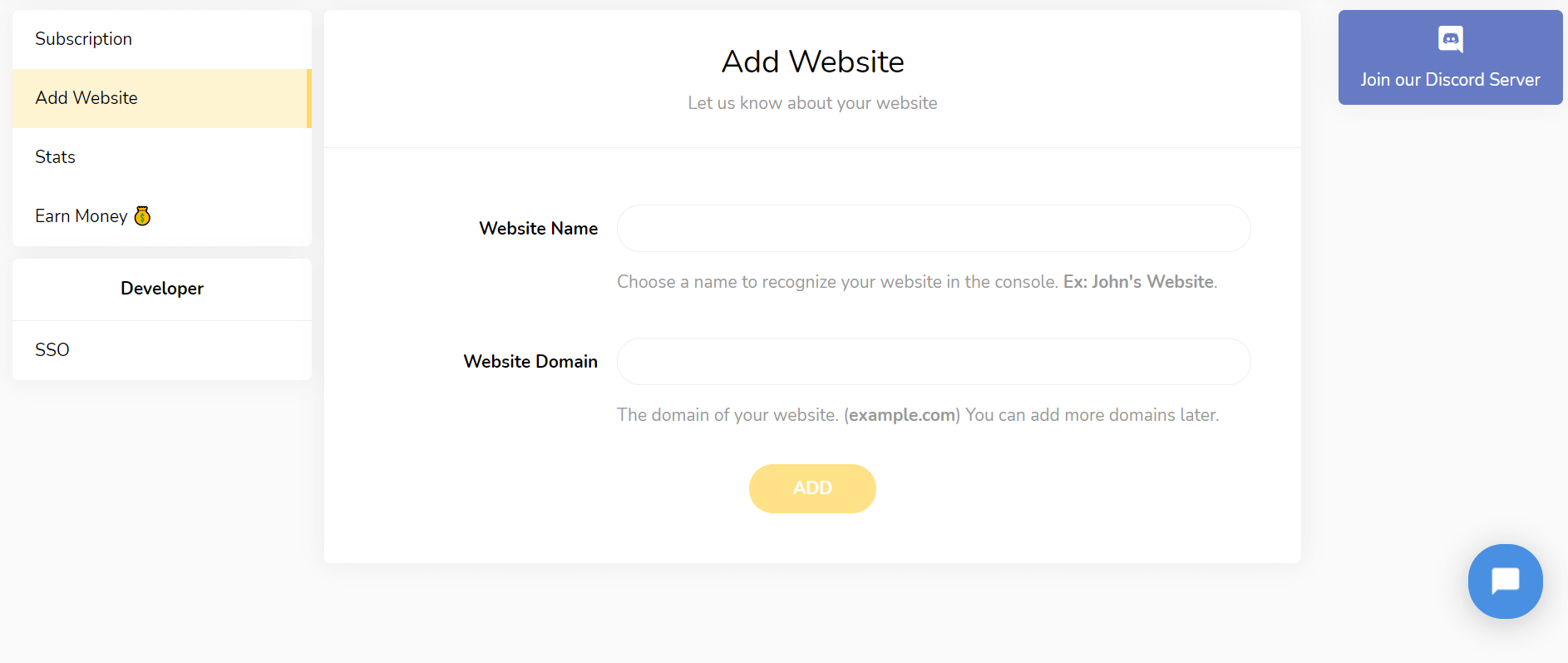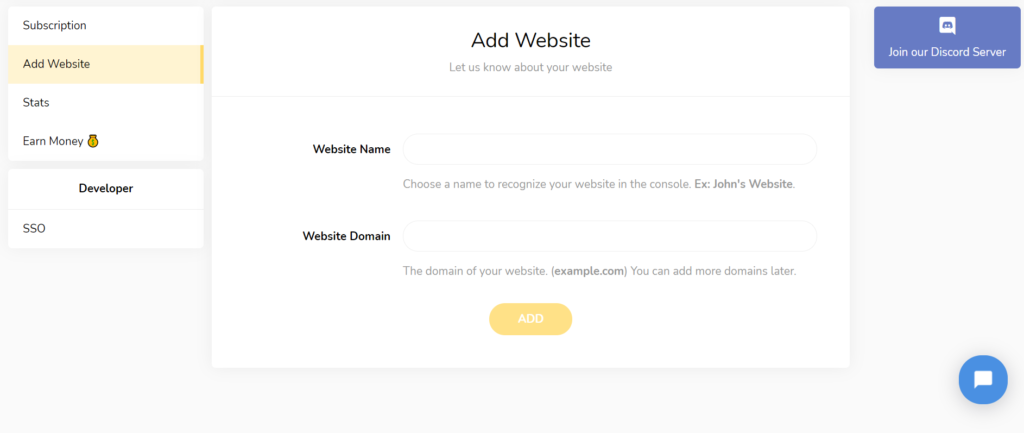 Although two comment sections share the same console, you can manage them individually. You can add different designs to these comment sections, create different spam rules, and add different functionalities.
You can be well organised.
Multi-Language:
As said already, Hyvor talk gives you unlimited options for your comment section. Hyvor Talk supports more than 15+ languages for comment sections. So, You can change your comment section languages. And also, if your preferred language is not available, you can translate it. Plus, If you translate any language, you'll get a special discount on their premium plan.
Isn't it Amazing?
Mini Features
Apart from all these features, some other mini-features that'll encourage your visitors to comment more.
Comment Count: Displaying the comments count on the comment section will drive more visitors to comment on your blog. With the Hyvor Talk plugin, you can show the number of comments in the comment section
Mentioning: Hyvor Talk allows mentioning in comments. This means that your commenters can mention other users in their comments. This will bring new visitors to your blog and thereby more traffic.
Image and GIFs: While commenting, your visitors can insert images or add image URLs in the comments. And also they can share GIFs in the comment section.
With features like reactions widgets, nested comments, Single sign-in option for commenting, Email notification for commenters, text formatting options for comments etc., this plugin enhances your user engagement and boosts your SEO. Features like spam filtering, weekly reports and analytics, multi-language support and infinity customisation option, ease your work as a website owner.
Now without any delay, we'll see the reasons why Hyvor Talk is the best commenting plugin for your WordPress website.
Reasons Why we liked Hyvor Talk
Privacy
Privacy is the main worry in 2022 for anyone, and you should be responsible for your visitors' data. The first and biggest reason to use this plugin is privacy-focused and highly secured.
Some of the other plugins, track your visitors' data & sell it to third parties as a part of their monetisation process. But when it comes to Hyvor Talk, it is safe & secure. It doesn't track your visitors' data. It won't place any ads or affiliate links on your website.
Unlimited Features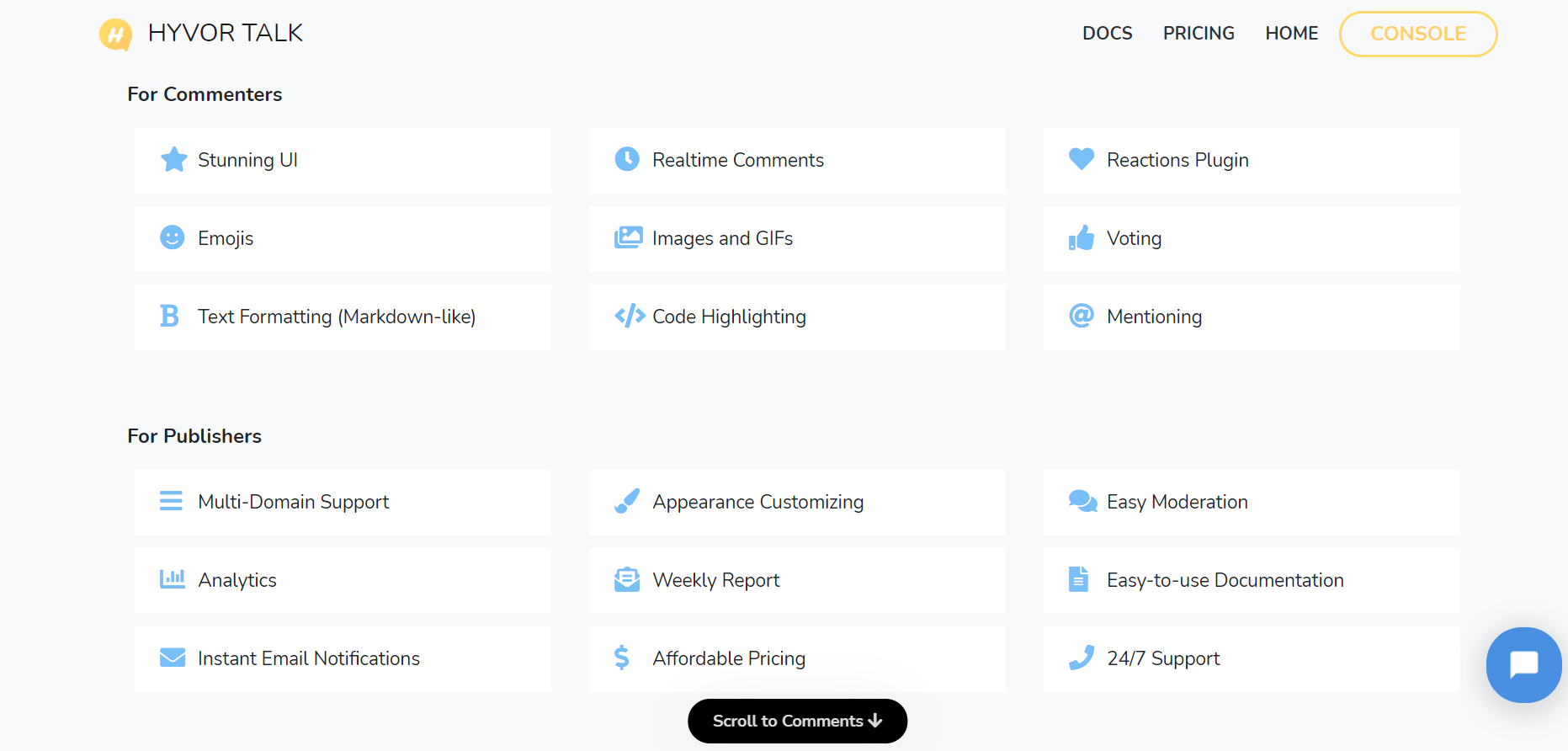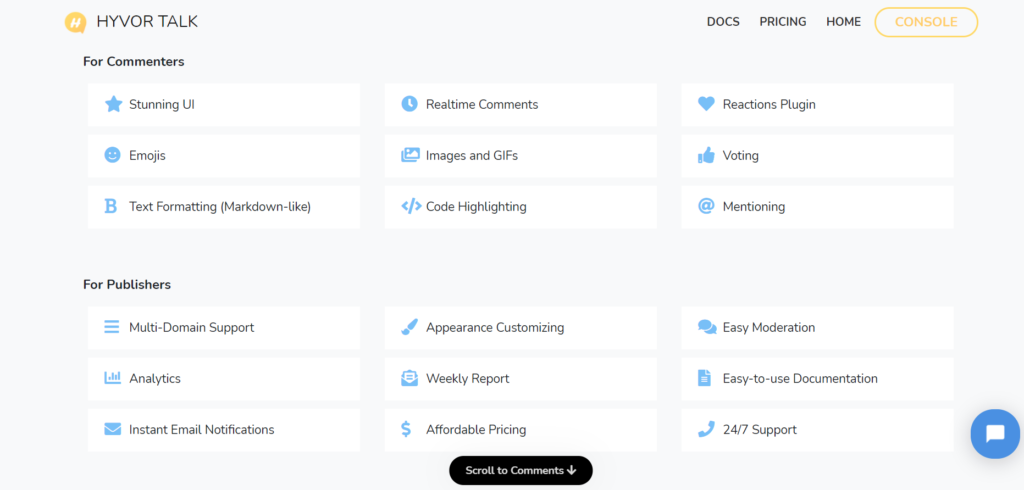 First things first, Hyvor Talk gives you plenty of features for most of the websites/blogs. These features push your visitors to comment more and make your commenters revisit your blog and reduce your manual work.
Easy Installation
Installing Hyvor talk on your WordPress website needs no technical knowledge; it is so simple and short. All you need to do is install the plugin and connect it to your Hyvor Talk account. So, you can add the comment section without any stress.
Easy to Use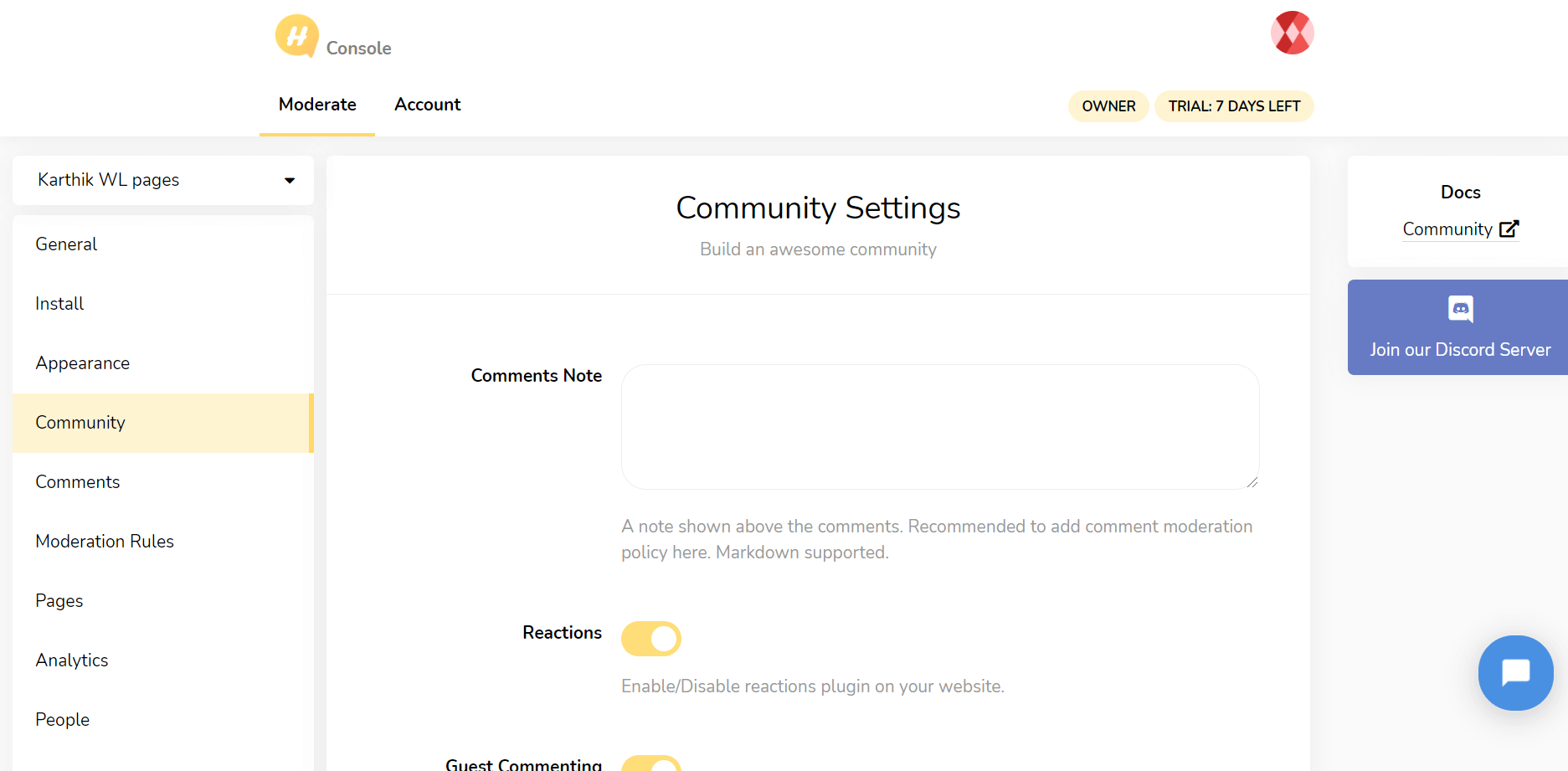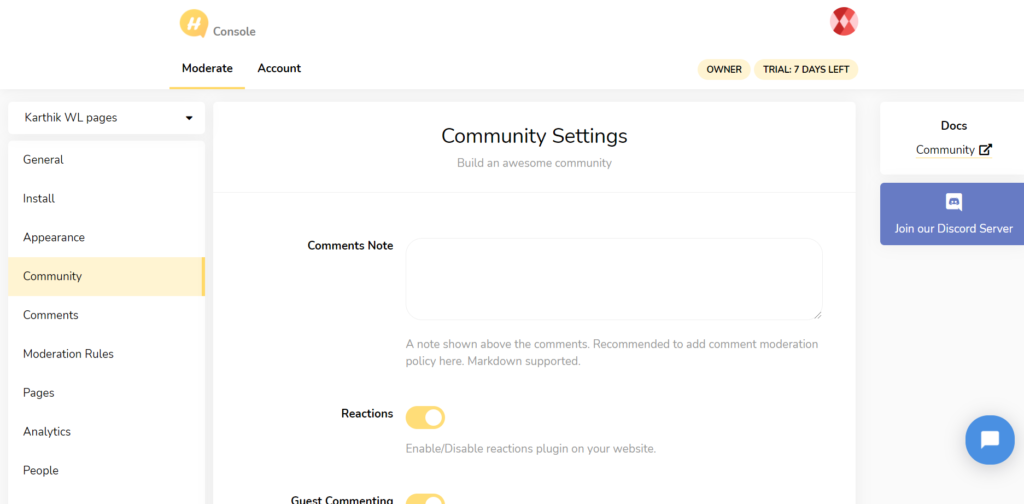 Hyvor Talk Console Dashboard
This plugin is beginner-friendly; you can easily enable/disable any features you want. You can also easily customise the comment section just by changing the colours or shadows without the need for HTML programming. If you are stuck anywhere in configuring or developing this plugin, you can make use of the easy to understand and simple documentation from Hyvor Talk.
Affordable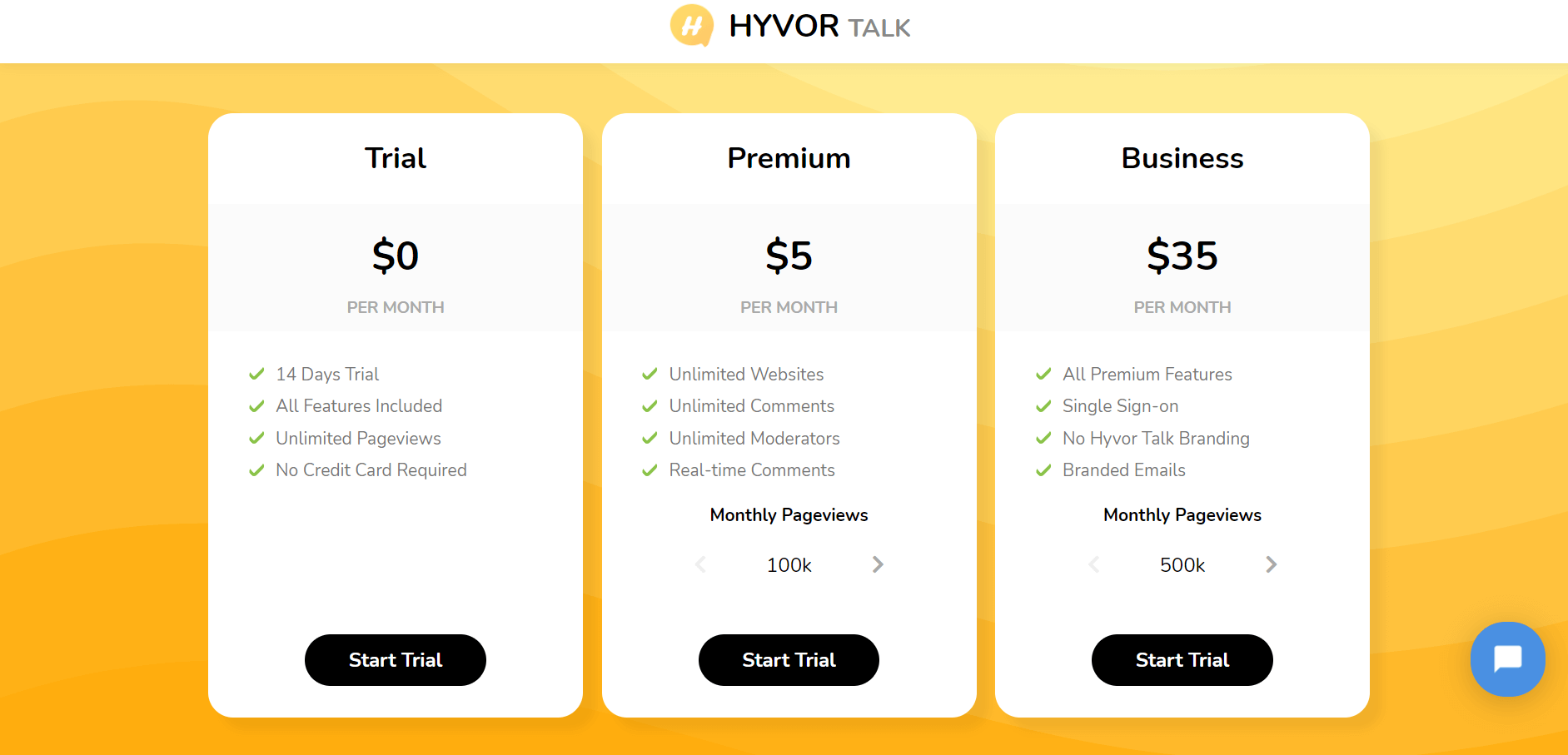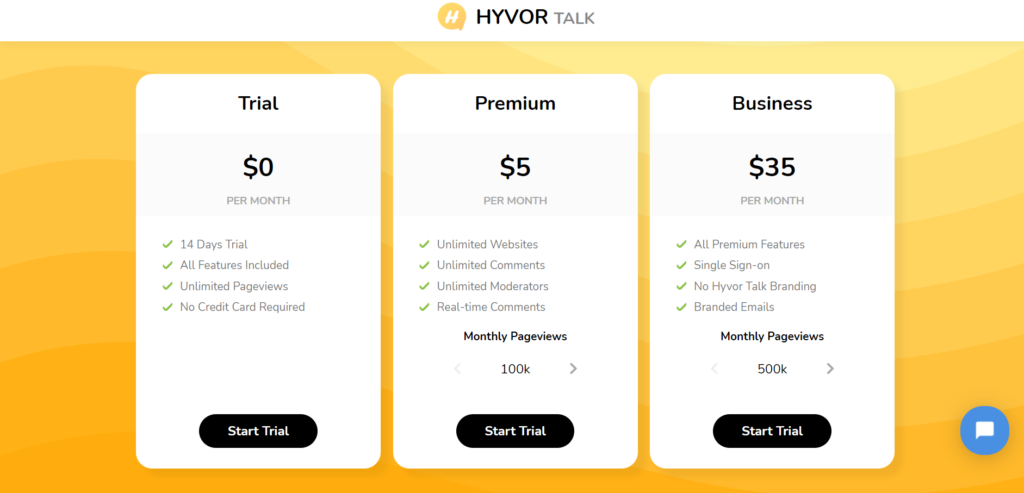 Hyvor Talk's premium plan ranges from $5 – $35 Per Month. You can use Hyvor Talk on unlimited websites in its low tier segment too. With these kinds of features, secured software and unlimited websites option, Hyvor Talk is affordable and worth what you pay.
Hassle-Free Import and Export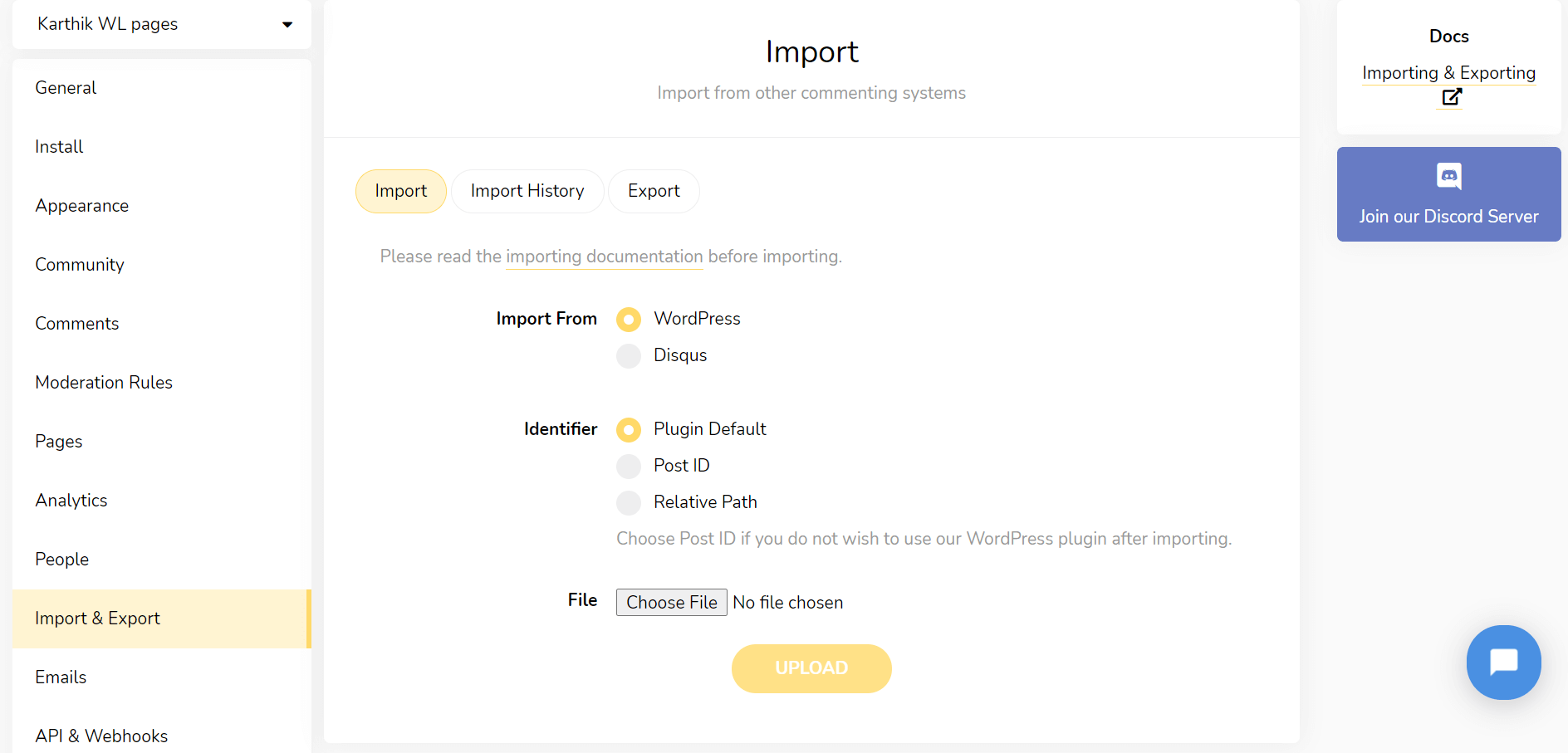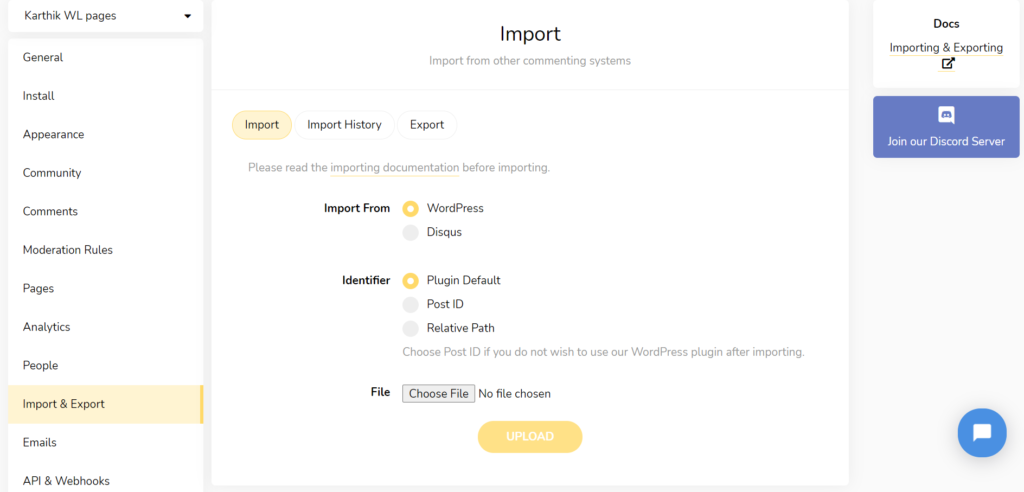 Hyvor talk's import and export feature eases your switching process without losing the comments. If you want to switch to Hyvor Talk comments from WordPress native comment section or any other plugin like Disqus, you can easily import previous comments into Hyvor Talk.
Likewise, if you want to switch back from Hyvor Talk you can export all the comments from Hyvortalk into a JSON file.
Are you still sceptical on choosing the Hyvor Talk plugin on your website?
Don't worry !!
We have made it easier for you. We created a comparison table between all WordPress comment plugins and you can compare and decide which to use.
Comparison Chart Of Top Five Comment Plugins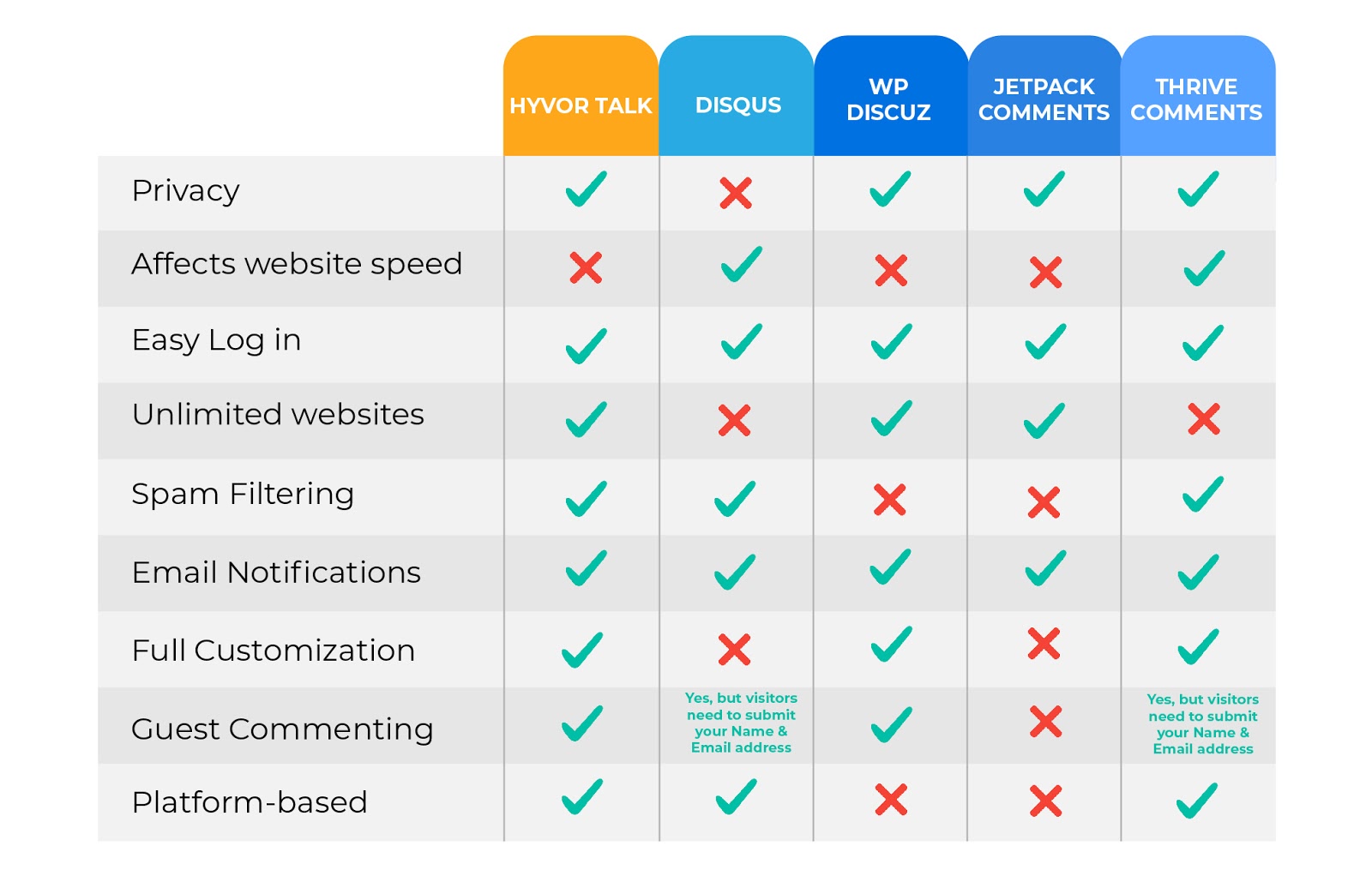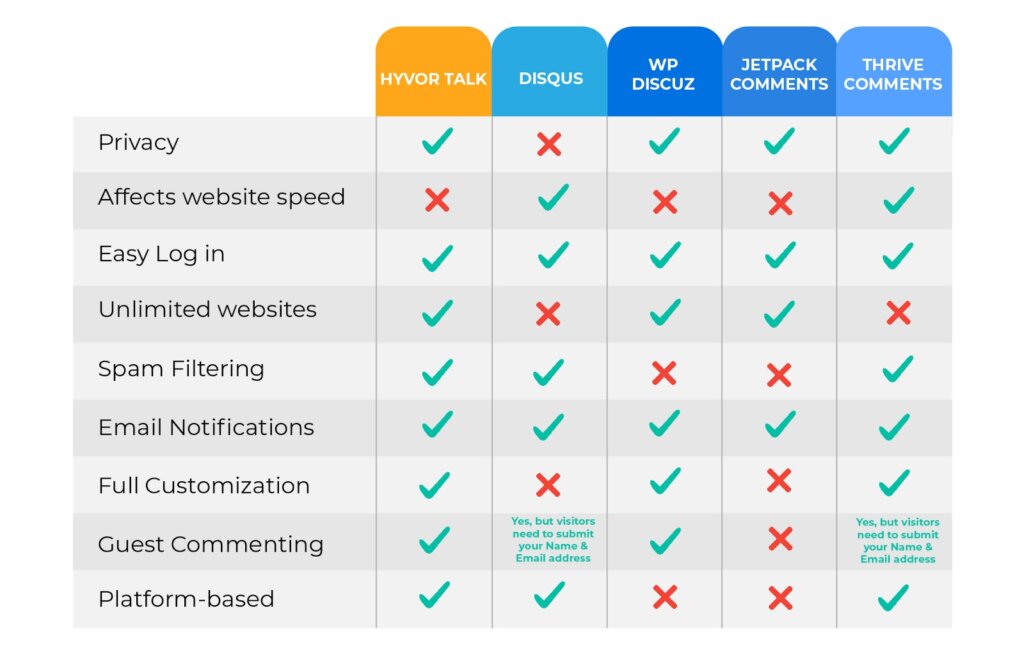 Platform based benefits: Console dashboard where you can manage multiple websites, platform-specific accounts for your visitors that helps your visitors to comment on another blog easily, mentioning in comments etc.
Although Disqus has an upper hand in features, it lacks privacy. They track your visitor's data & sell it to third parties. You can also get unlimited websites option only in a custom pricing model that costs more than $99 Per Month. But when it comes to Hyvor Talk, it is privacy-focused & you can get unlimited websites in its $5 Per Month plan. And Hyvor Talk's features are pretty much enough for most of the blogs/websites.
Even though WPDiscuz checks all boxes on par with Hyvor Talk, it falls short in platform-based commenting. Platform-based commenting helps your visitors comment on other websites without signing in, and they can mention other users in their comments, thus improving your website traffic. For spam filtering, you need to integrate with anti-spam plugins but when it comes to Hyvor Talk, it has inbuilt spam.
Thrive comments may provide good features but it affects your website speed. Website speed plays an important role in SEO, your traffic & user experience. So, it is not recommended to go after a comment section that slows down your website. And also, with Thrive comments you can get unlimited websites option in their premium plan too.
And when it comes to the Jetpack comments module, it is so basic in features. And likewise, WPDiscuz, it also lacks a Platform based commenting system.
In short,

Hyvor Talk is a rich feature plugin that comes in your budget and cares about your visitor's privacy.

Conclusion
As comments are one of the crucial elements in developing your blog/website's traffic and interaction with your customers. We want you to focus on the comment section to enjoy more benefits. To get more comments, you need a plugin that nullifies the downsides of the default WordPress comment section.
Hence, Hyvor Talk is the plugin that improves your user engagement thereby your traffic and SEO. We've also seen in the previous section that Hyvor Talk is way better when compared to the other commenting plugins such as Disqus, JetPack comments, Thrive Comments, and WPDiscuz in several factors such as privacy, lazyload option, affordability, features and sign-in options.
So, what do you think?
Lose your Traffic and SEO with that boring and non-engaging WordPress Default comment section?
OR
Use the Hyvor Talk commenting plugin that pushes your blog to the top of Google and drive more traffic?
If you're still doubtful about using this plugin, use Hyvor Talk 14-day free trial and make a decision.
Frequently Asked Questions (FAQs)
Are there any better alternatives to Disqus?
Yes. Hyvor talk, one of the top WordPress comment plugins, can be a better alternative to the most famous Disqus plugin. Hyvor talk makes it really easy for the website owners and bloggers in adding an attractive comment box to the website.
Also, Hyvor talk comes with a Reactions feature that allows people to engage and react to a particular comment.
Should we use Disqus or Hyvor Talk for a WordPress site?
While both Disqus and Hyvor talk are amazing WordPress commenting plugins, Hyvor talk stands out among the two mainly because of the privacy it offers. Disqus tracks the visitor data, shares it with third parties, and also includes affiliate links in the comments.
But Hyvor talk neither tracks the visitors' data nor does it place random ads and affiliate links in the comment section.
Get 10 Best Free Themes for your WordPress website