Are you struggling to get enough comments on your blog?

Do you get bored seeing the basic WordPress default Comment Section on your blog?

Do you want the comment section to look more attractive?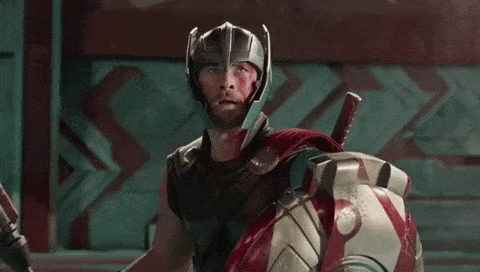 If your answer is YES to any of the above questions, then you're at the right place.
Before going further,

Do you know Comments can improve your SEO by increasing visitor engagement time & Keyword Density?
Yes, when people comment on your blog, Google crawlers acknowledge that your content is engaging and displays your content on better SERP positions. It also improves your Keyword Density as the commenters might use primary/LSI keywords while commenting.
Additionally, They act as a content treasure for you, and you can get new content topics ideas from the audience comments. Readers can get additional information from the comment section that you might've missed in your article. Plus, they can also write their opinions on the article.
So, in 2022, every blogger is focusing on comments and wants to conquer them to gain more traffic. And, I'm also sure you also want that, right?
Now another question you need to ask yourself is "how to get comments with this boring comment section on my blog."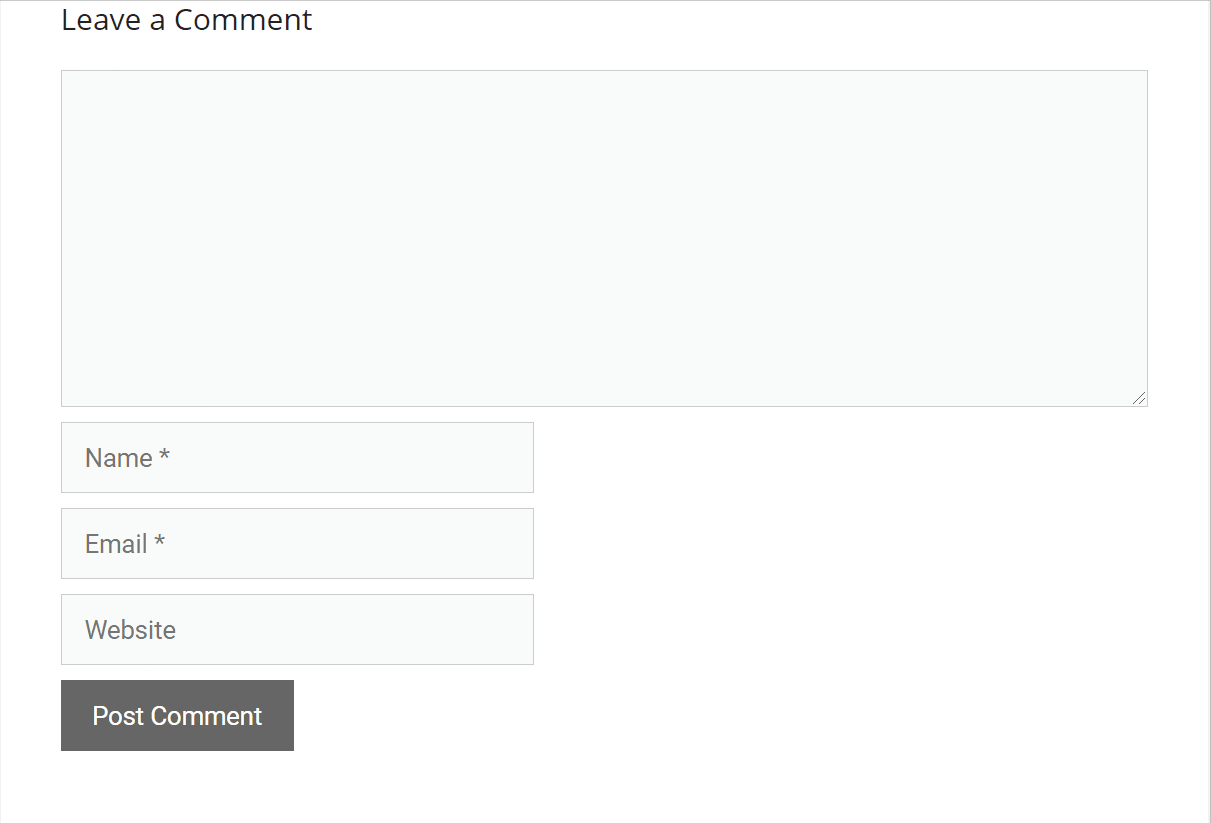 We accept that the WordPress native comment section is so basic & boring.

The major downside of this comment section is its design, it is not updated for ages. It won't stand out in the content, and readers may not notice the boring comment section amid attractive pop-ups, newsletter forms & trendy colours. And also you cannot change colours/font/layout for the comment sections.
After the design aspect, the WordPress comment section is not user friendly, it asks commenters to fill in a lot of details. Commenters feel a bit risky to give their email address as the marketers may start sending emails to their inboxes.
Additionally, the default comment section lacks some attractive features such as email notifications, comment reactions, Social login, weekly reports etc.
The sad part is you cannot work on these drawbacks of the default comment section even if you use popular themes.
But, there is a way !!!
Some powerful WordPress comment plugins help you to create a stunning & highly engaging comment section. You can use them to improve your comment section's design & functionality.
But there are so many comment plugins. Choosing the best among them will be a bit difficult, right?

Well, we are here to help.
In this blog, we'll discuss the best WordPress comment plugins to use on your website.
And also, things you need to consider while choosing a comment plugin for a WordPress website that'll help you to choose the best one that caters to your needs.
Things to consider in choosing the WordPress comment plugins:
1.Customization: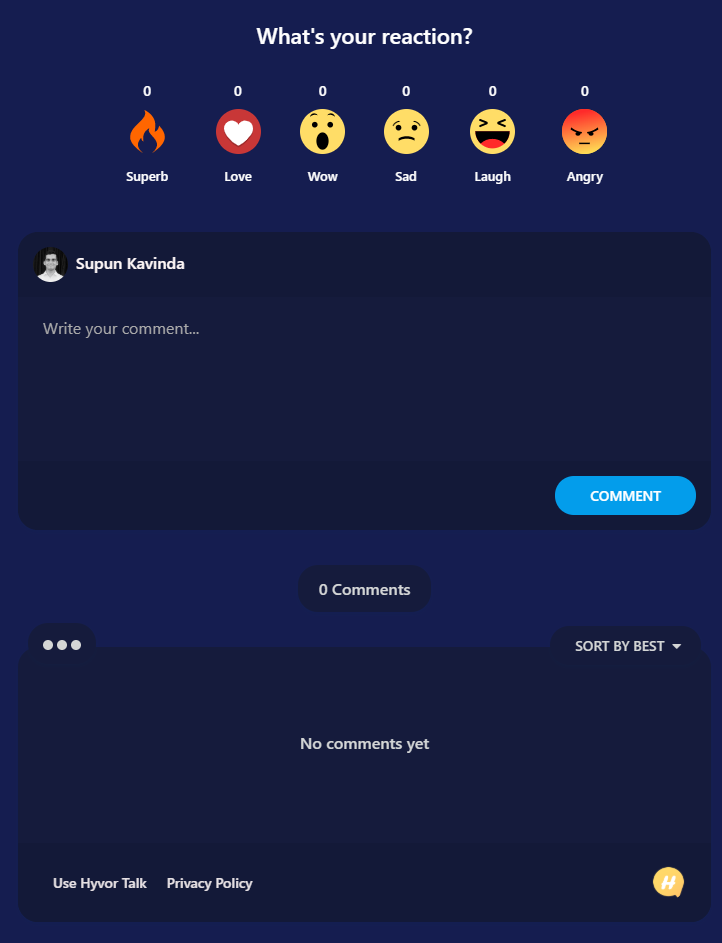 The plugins should help you to customise your comment action design and to create a stunning comment section. It should provide you with various fonts and colours that you use to design the stunning comment section.
2. Easy To Use: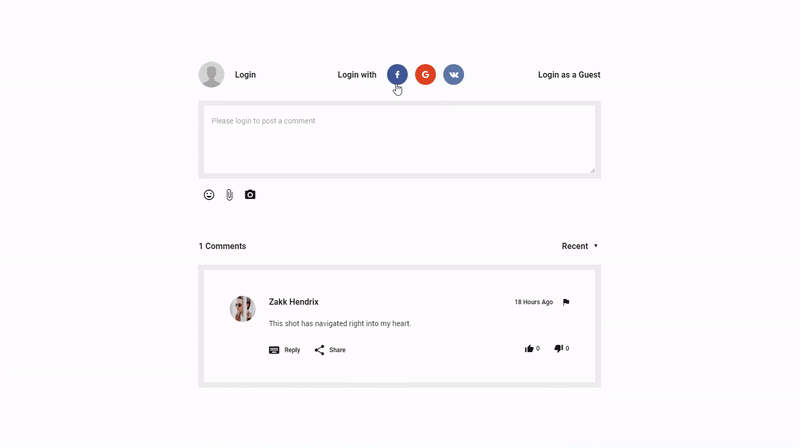 The plugins should provide easy login options for commenting rather than asking your visitors to fill many details. They should give social login or single login options so that customers will feel or urge to comment on your blog/website
3. Miscellaneous
Apart from design and ease to use, the plugins should provide other features that we've discussed in the previous section.
On top of that, the plugins shouldn't affect your site speed. They should have a lazy load feature that helps your site load fast. And also, they shouldn't create any privacy and security for you and your website.
So, these are the things that you need to consider while choosing the plugin. Now, without any delay, we'll look into the best WordPress commenting plugins that help you to create attractive comment sections.
Best WordPress Comment Plugins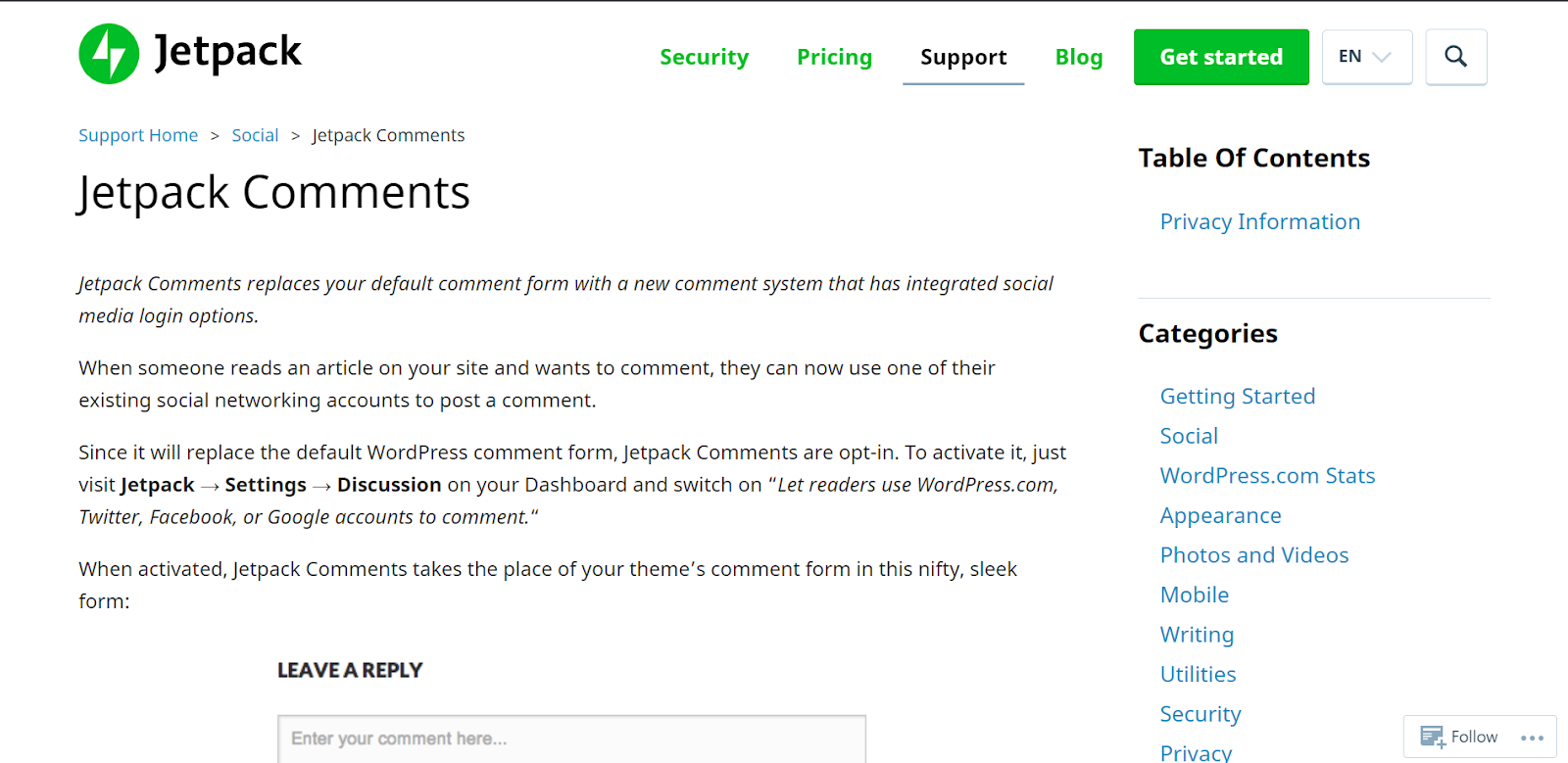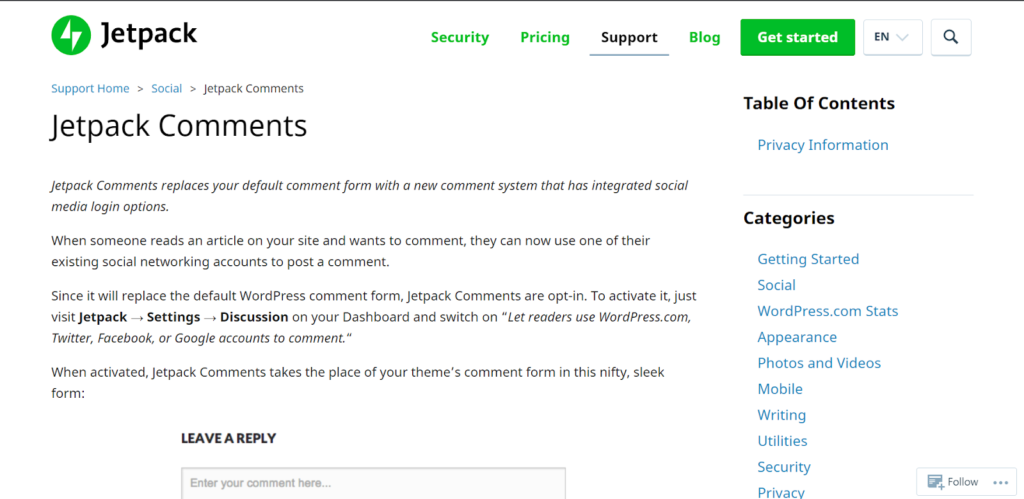 Jetpack, developed by Automattic the team behind WordPress is an all in one plugin that gives you more than 20+ features on WordPress websites. Though Jetpack is a premium plugin, you can get the comments section for free. Upon activating Jetpack comments module, it automatically turns off the WordPress default comment section for every blog.
With Jetpack comments module, you can add the social media integration that smoothens the registration process for commenting. Instead of filling all the details in the comment section, your visitor can simply log in with their social media handle and can comment on.
And also, readers can opt for a reply notification for their comments individually and allows visitors to like the comments. It encourages the commenters to subscribe to your blog by adding a subscribe button in the comment section.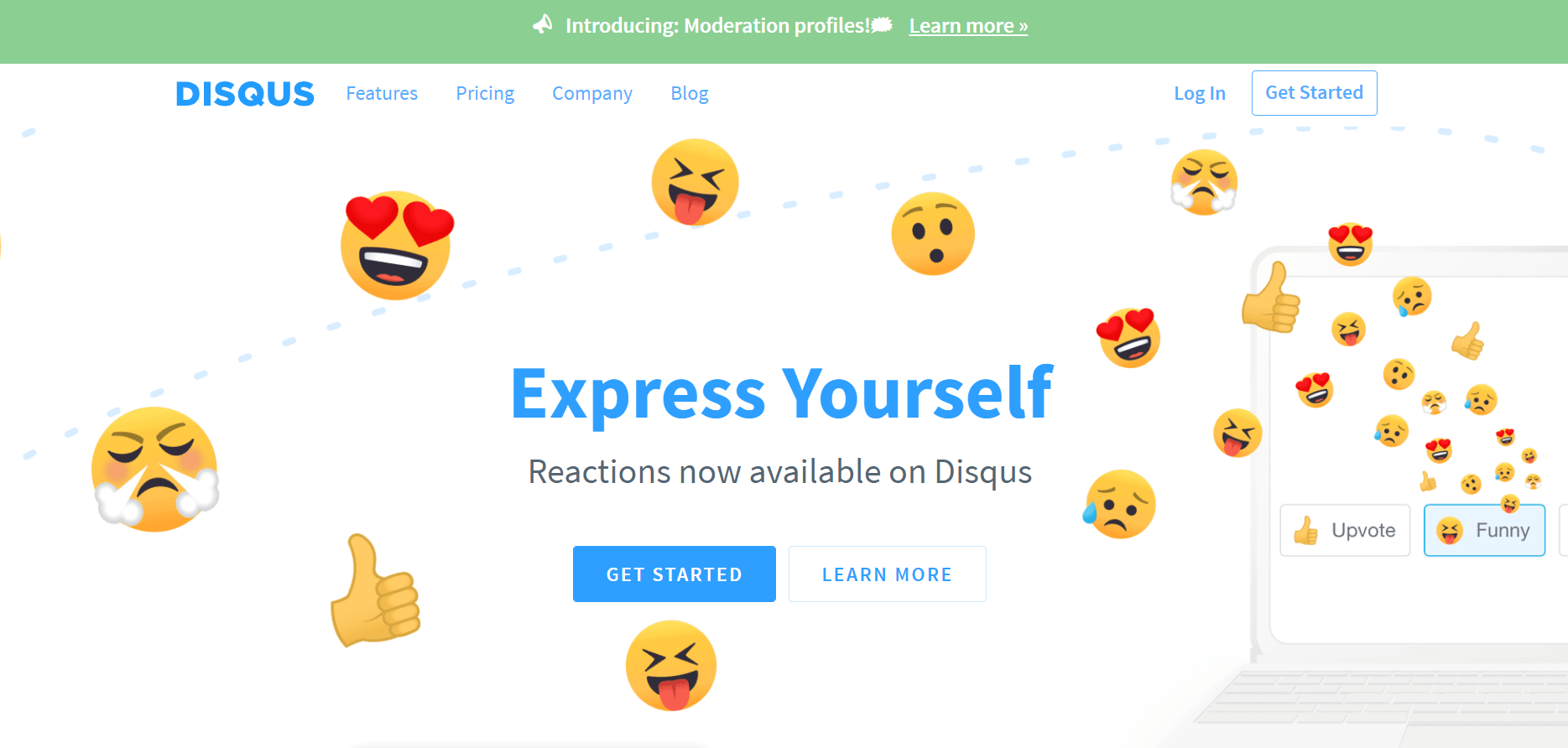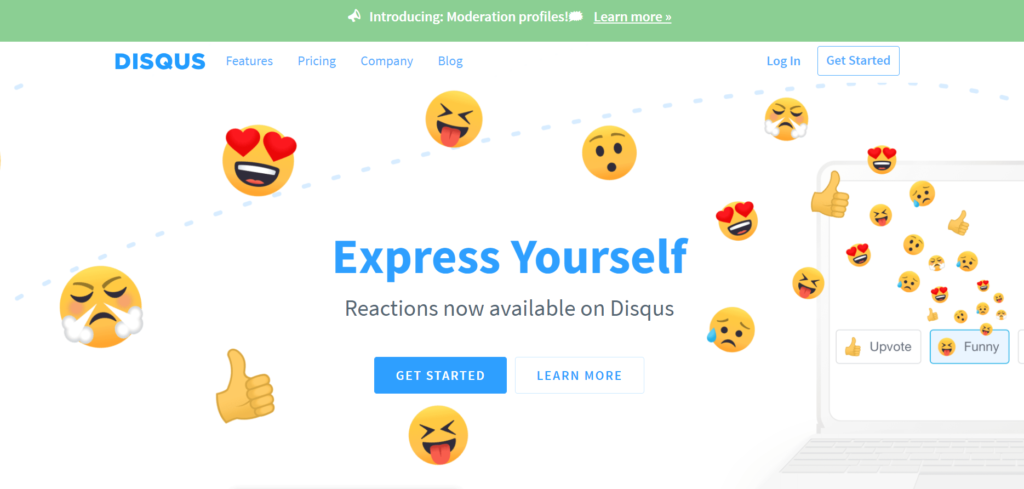 Disqus, the most popular and advanced commenting platform for WordPress, lets you add Comment sections on your blog as quick as a flash. It is known for its attractive customization and amazing features.
You can replace your native comment section with Disqus and also you can transfer the comments to your WordPress dashboard. This plugin supports nested comments, Social Login and real-time comments. Your visitors can reply to the comments from their Email and they also can use images and videos for replying. And also, your visitors can sort the comments based on the filters available.
They can follow other users and can see their comments history, so there might be a chance that people may land on your blog while seeing others comments.
The main problem with the comments is spamming, but with Disqus, your blog will be spam-free as Disqus marks users who spam the comment boxes.
Apart from all these comment features, Disqus suggests your blog to other users in their discover section. So, this will bring you more visitors to your blog.
Disqus might seem good in the beginning but there is a downside with Disqus. It inserts ads and affiliate links of their clients in the comment sections. That may spoil your comments section harmony and design.
So if you want to remove those ads and affiliate links you would need to upgrade to their premium version which is a bit costly. And also Disqus tracks your customers and shares their data to publishers and ad networks.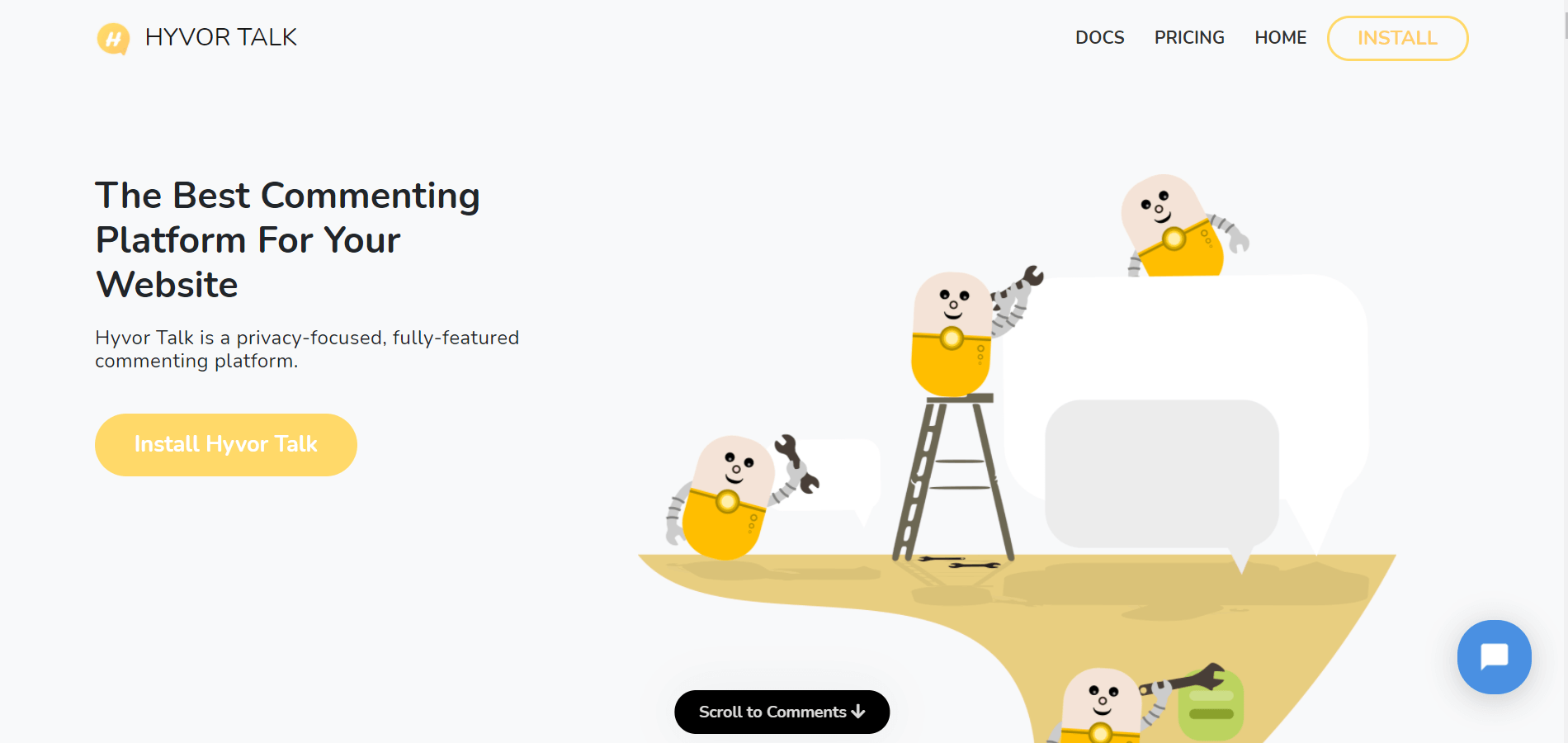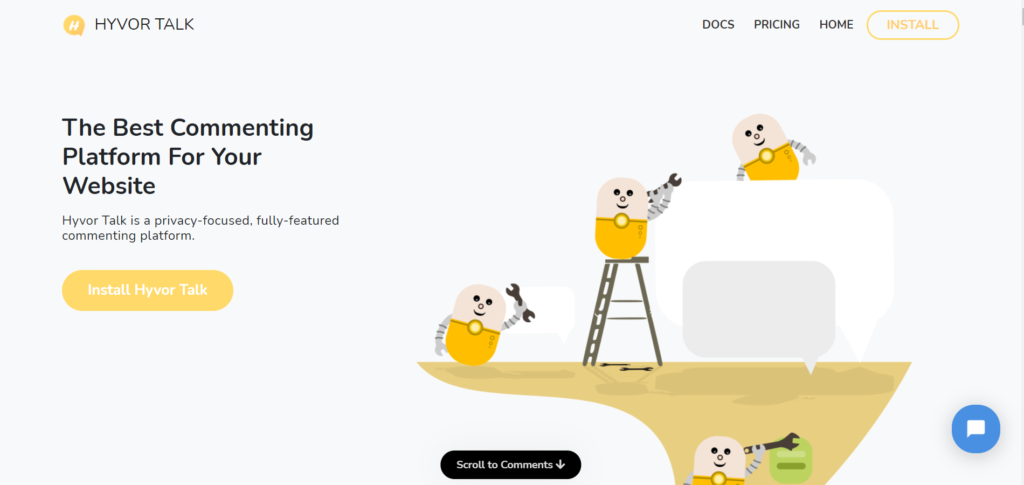 Hyvor Talk, the most powerful and secured commenting software that allows you to add comment sections on your blog. The best part about Hyvor talk is that it respects your privacy and doesn't add ads and affiliate links to your comment sections.
Hyvortalk has an inbuilt spam detector that looks out for spam comments and bans IP addresses if they feel more spam comments are coming from a particular IP address.
Commenters will receive email notifications if anyone replies to their comments. It allows your visitors to add reactions, emojis and likes for the comments and also they can mention others while commenting. They can attach images and Gifs into the comments as well.
It gives you analytics and weekly reports. You can use Hyvor Talk API and webhooks to easily access your data anytime anywhere. With Hyvor talk, you can show the number of comments as well, this pushes your visitors to comment more.
On top of that, Hyvortalk gives you a lot of font and colour options to customize your comment boxes. So, you can attract your visitors by lightning your comment sections.
Similar to all other plugins, you can move all the comments from WordPress to Hyvortalk. You can also export them and store on the local server. It supports loop comments, realtime comments and single login options for commenters.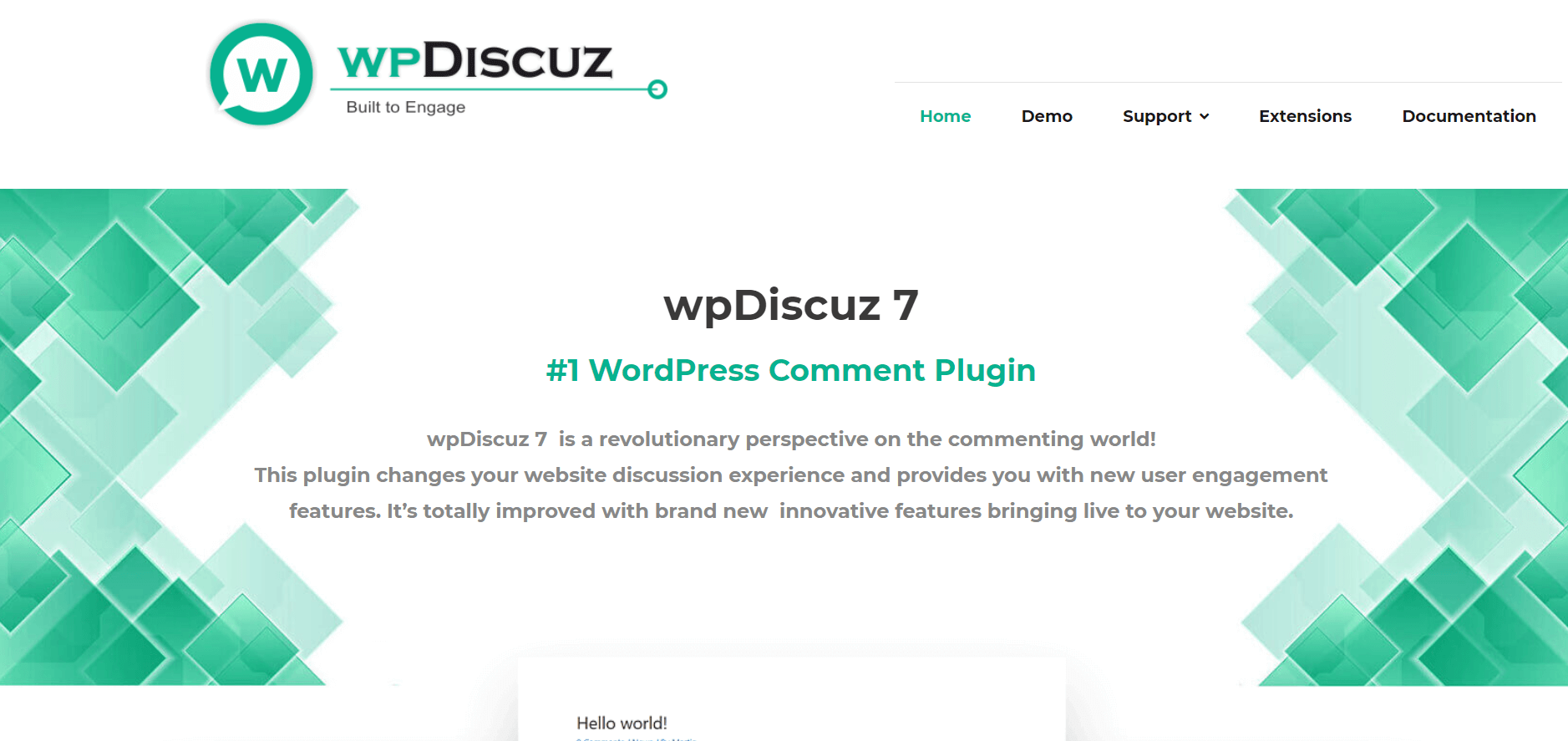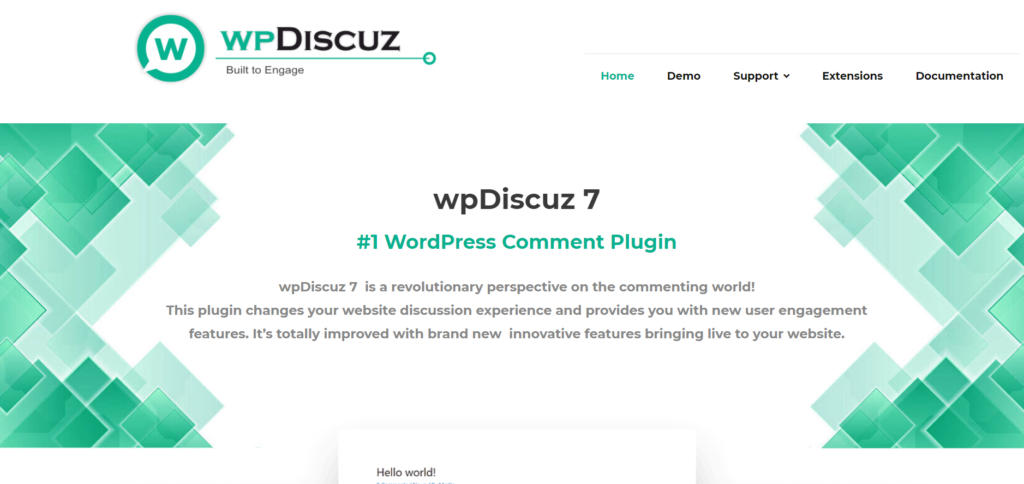 WPDiscuz, AJAX powered, super fast and a native WordPress commenting plugin that lets you add a comment section just by installing the plugin on your WordPress website. Unlike Disqus and Hyvortalk, all the comments are saved on your WordPress comments database itself.

This plugin offers lazy loading on your site which means that the comments are loaded only when the user scrolls down, so your comment section doesn't have any effect on your website speed. Similar to the other plugins, it allows your customers to use their social accounts while commenting and it supports real-time comments too.
One of the best things about this plugin is, it has an inline commenting option which means that your visitors can comment on the paragraphs/ lines of your blog/page. With this plugin, you can add a sticky comment bubble that encourages your visitors to comment.
WpDiscuz integrates well with the Akismet anti-spam plugin to remove spam comments. It also integrates with comments translation extension that translates comments into a specified language.
5. Thrive Comments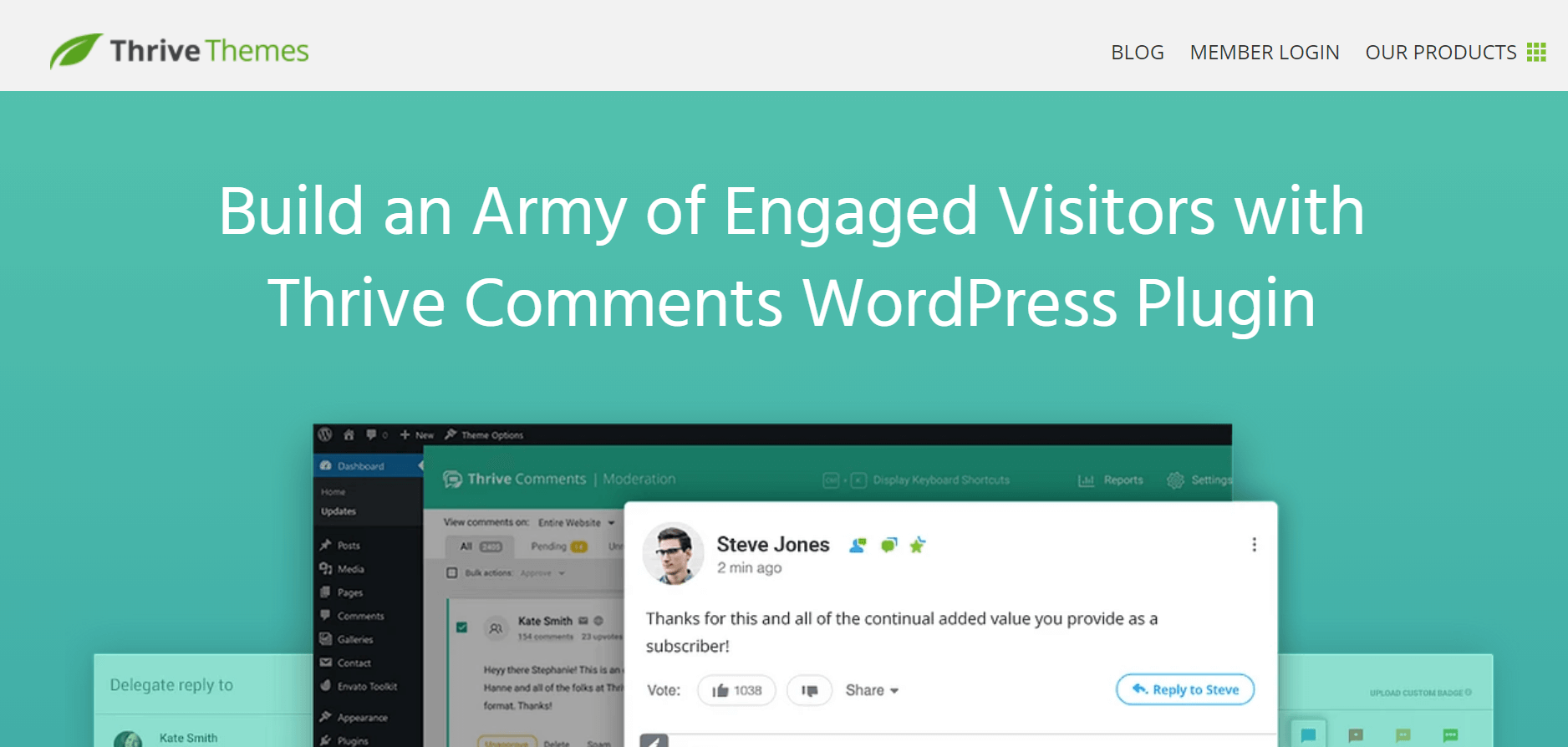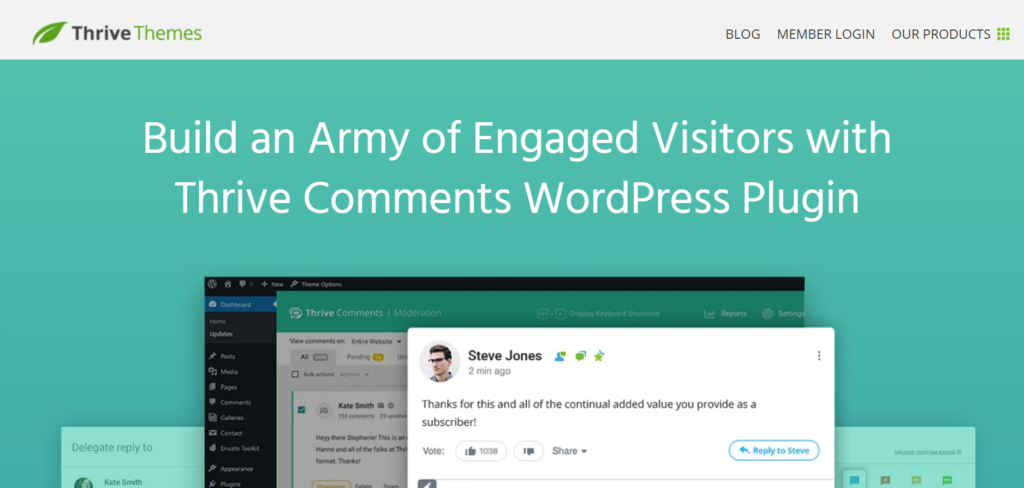 Thrive comments, one of the efficient and premium comment solutions for website owners allows you to add highly engaging and attractive comment sections on your website. It assigns badges to the comments based on the quality of their comments and it allows them to share the comments on their social media platforms.
Likewise other plugins, it supports social login, realtime comments and lazy load feature. It displayed featured comments based on their engagement, it allows your visitors to upvote and downvotes others' comments. It displays a comment button on the top and bottom of the comments' section so that they don't need to scroll up or down to comment on the blog.
You can add a Thrive comments section anywhere on your pages without any hassle. You can choose the default profile avatar for commenters and you can filter comments based on different categories. Furthermore, you can link keywords to your blog article and you can assign comments to other operators too.
Conclusion
So, that sums the list of best commenting plugins for your WordPress website. Reading about all these plugins and their features, you might be confused to choose the best one among them.
Am I Right? Don't worry !! We'll make it easier for you. We'll recommend the best one out of these five WordPress comment plugins.
Is it okay?
So, now we'll look into the commenting plugin that stands out from the other 4 WordPress commenting plugins
We recommend Hyvor talk commenting plugin to add comment sections to your website and to encourage your visitors to comment.
Do you even think Hyvor talk is best?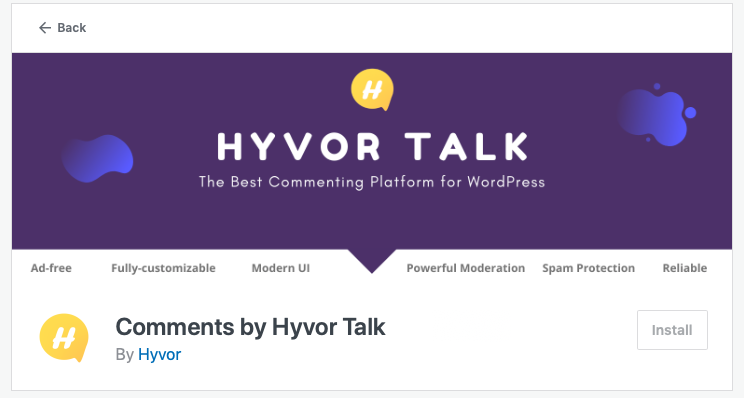 If not, please read this section till the end, you'll get to know why Hyvortalk is better than the other commenting plugins.
1.Privacy:
Do you feel that your privacy matters more than anything?
Yeah, Right. The same goes for your customers too.
Even though Disqus gives you some amazing features, at what cost?It tracks your visitors data, and shares the data with third parties. And also it places ads & affiliate links in the comment section.
Do you think that you need those extra features by putting your customer's data at risk? No, Right? Even we don't think that is right.
So the first reason why you should prefer Hyvor talk is it is totally secured. It doesn't track your visitors, doesn't add ads and affiliate links too.
2.Doesn't affect your website's speed: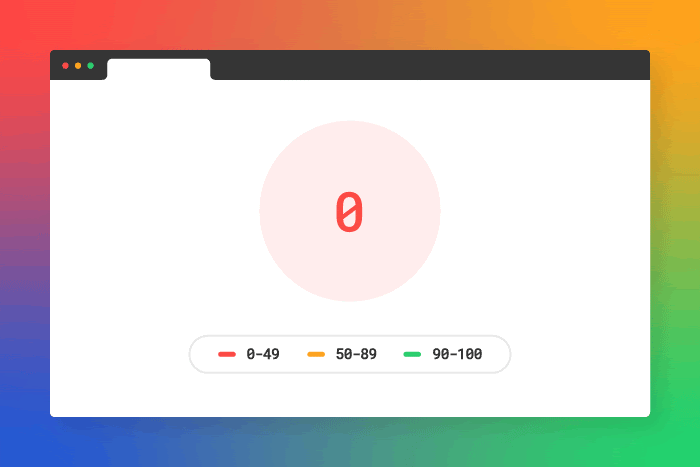 By now, you might've understood that comments are very important for a website. But, that doesn't mean that they need to slow down your website. You know what, 38% of visitors close your website if it doesn't load in less than 5 seconds. So your comment sections shouldn't make you lose traffic.
Although Thrive comments give you a ton of features and it is as secure as Hyvortalk, it slows down your site. You can use a lazy loading feature in Hyvortalk that doesn't slow down your website.
And also, Hyvor talk's features are enough for most businesses, It has a spam module, real-time comments, reactions widgets, Pre moderation, language translation, SIngle sign-in option and you can import and export the comments too. These features are enough for most of the bloggers/small business owners.
3.Miscellaneous
Jetpack's comments module is free but lacks a lot of important features like real-time comments, comments filters, spam protection, language translation etc.
WPDiscuz has good features but it WPDiscuz lacks in a platform-based plugin, so it lacks guest commenting, single sign-in option etc.
So, what do you think?
Isn't Hyvor talk the best comment plugin for WordPress that you can use on your blog?
We think the same. Hyvor talk comes within our budget, has a lot of features and moreover, it is highly secured. So, enhance your commenting section using Hyvor talk Commenting plugin.
With comments, your visitors can engage with one another, and with your posts. However, if they want to engage with you, the person behind the posts, then a contact form is the best thing to have on your website. Check our video tutorial on How to create a contact form on your WordPress website in no time.
And if you would like more such informational tutorials, subscribe to our YouTube channel.
Frequently Asked Questions (FAQs)
What is the best comment plugin for WordPress?
After comparing the top WordPress commenting plugins, we believe Hyvor talk is the best in business, owing to its privacy and how it doesn't affect the website speed. However, here is the list of the top WordPress comment plugins that can do wonders on your website,
Hyvor talk
Jetpack
Disqus
WPDiscuz
Thrive Comments
Who can comment on WordPress blogs?
The authority of who can and who cannot comment on a WordPress website lies with the admin of the website. If you prefer only registered users to comment on your posts, you can change the setting as necessary. In the same way, you can also allow any random visitor to comment on your posts too.
Get 10 Best Free Themes for your WordPress website