Hosting is one of the most essential steps that make your website accessible over the Internet. So, in the process of creating your website, you first need to be aware of the different hosting options available in the market. With thousands of hosting providers, there are also different types of web hosting available.
Web hosting can be shared, dedicated, or even cloud-based. So, even if you have already chosen a hosting provider to host your website, you still need to decide on the right type of web hosting. Because the right web hosting can positively impact your website and in turn generate more traffic.
But with the wide variety of hosting options and a lot of technical jargon involved, it may get quite confusing for you to choose the right type of web hosting. So, to help you with the decision, we have explained the five main types of web hosting, along with the best provider for each type.
These are the five main types of web hosting:
But before going into detail on the types of web hosting, let's first brush up on the basics. Let us first understand what hosting is, and then go on to discuss the various types.
What is Hosting?
Hosting is where your website's files are stored. That's pretty much it! All your files, including code and images, are stored on a server provided by the hosting provider. So, all the websites you have ever visited (including this one) on the internet are hosted on a server.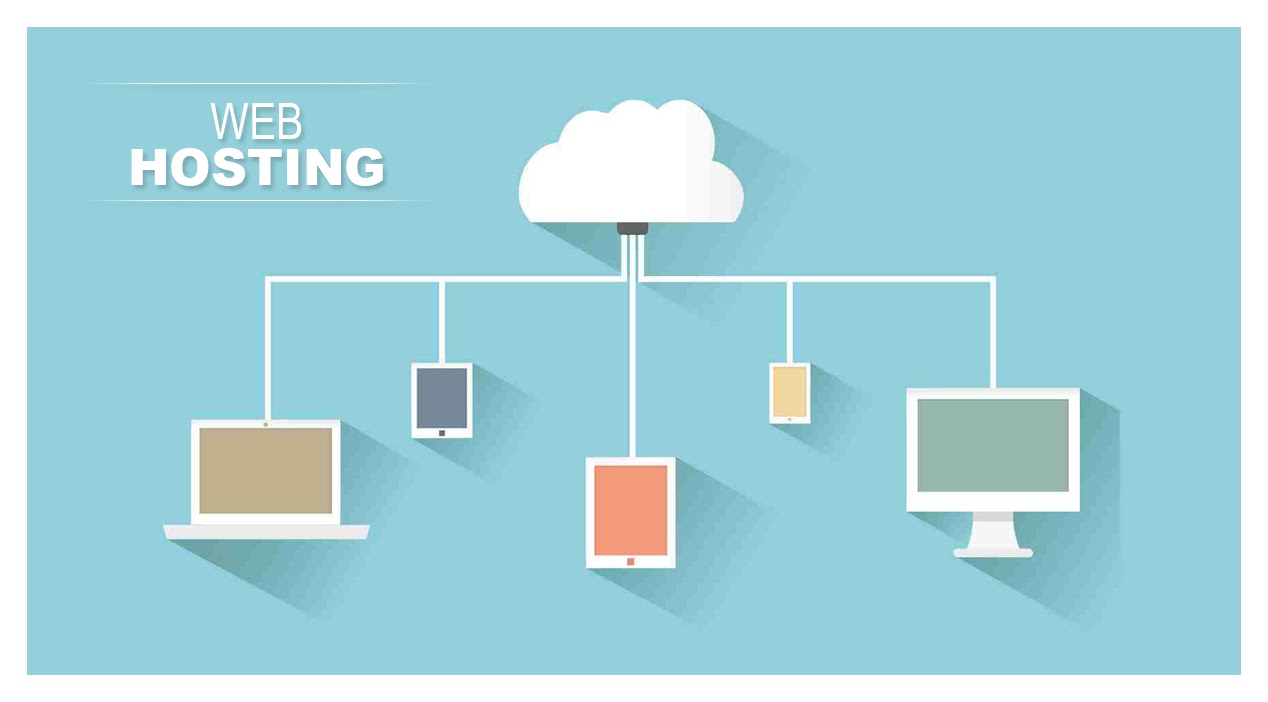 For all the non-techies, a server is just a physical computer or even a cloud acting as a virtual server. So, basically, a server stores your website files and delivers the content to the users who request it. So, a hosting server acts as the home for your website. And the amount of space and resources allocated to your website will depend on the different types of web hosting.
Now that you know what hosting is, let's understand the different types of Web Hosting.
Types of Web hosting
Dedicated Web Hosting
Dedicated web hosting is one of the best types of web hosting available in the market now as you can rent out an entire physical server from your hosting provider for your website.
So, the hosting provider provides a dedicated server for your website, meaning you have the server all for yourself, and only your website's files are stored on it. With a dedicated server, you get all the resources to yourself, and thus have full control over configuration and customisation options.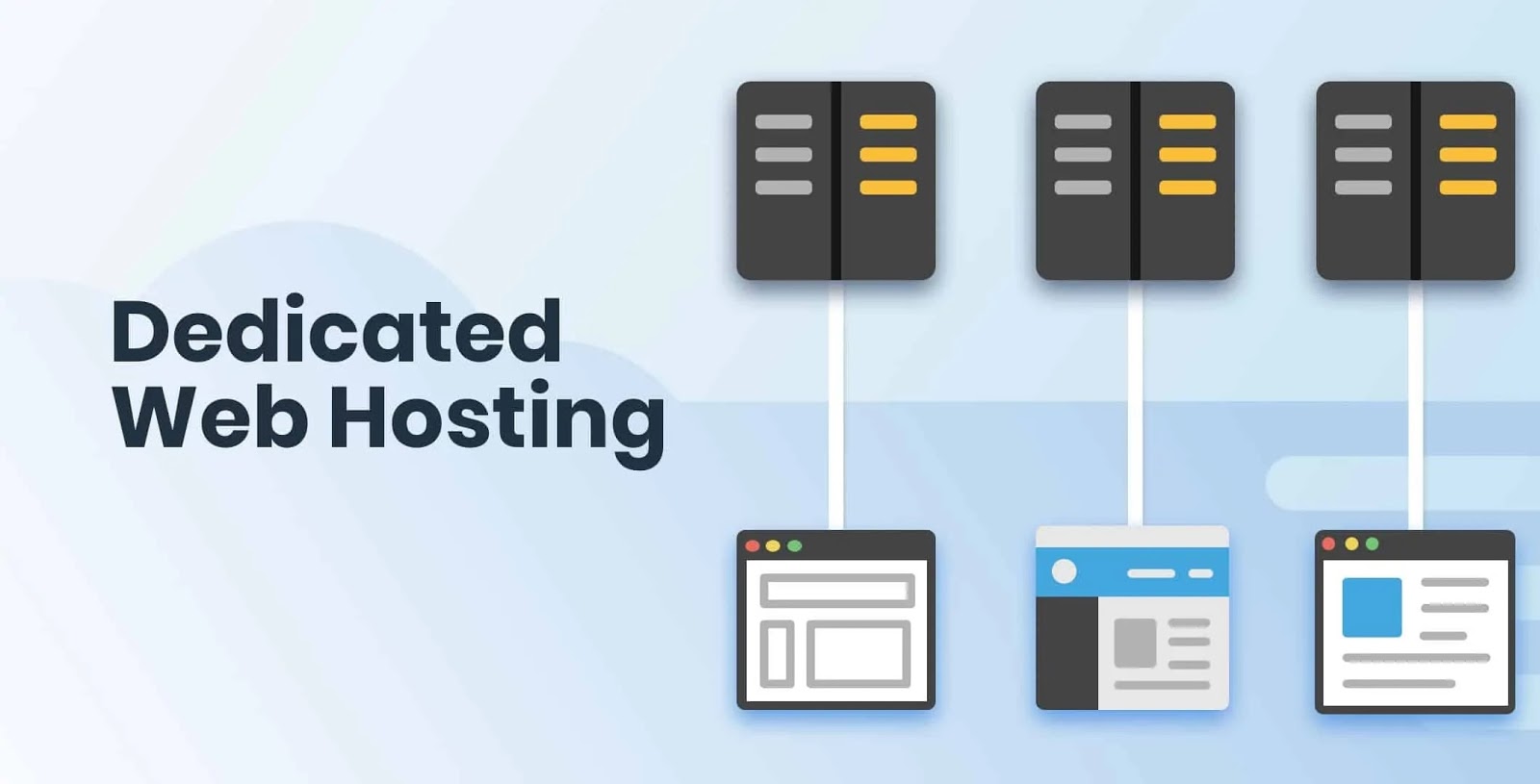 Pros:
Complete control – With a dedicated server, you get full control over all the resources of the server. This way, you can customise your website and utilise all the resources available at your disposal.
Better Security & Performance – Having a dedicated server means that the security for your website is high. And you don't need to worry about other websites affecting your website's load time or uptime.
Cons:
High-cost – Well, it's obvious that having a dedicated server for your website will cost you more than that of a shared server. So, dedicated web hosting may be ideal for big businesses with high traffic, but not for small businesses and individuals.
Technical knowledge – Though the thought of having a separate server for your website sounds impressive, sometimes it demands some technical knowledge. You will need a level of technical expertise to manage and keep the website up and running.
Best Dedicated Web Hosting Provider:
With specifically made for large businesses and enterprises, Bluehost offers a variety of Dedicated web hosting plans, with the standard plan starting at just ₹5,964/month. With multiple packages and consistent performance, Bluehost has grown to be trustworthy over the years.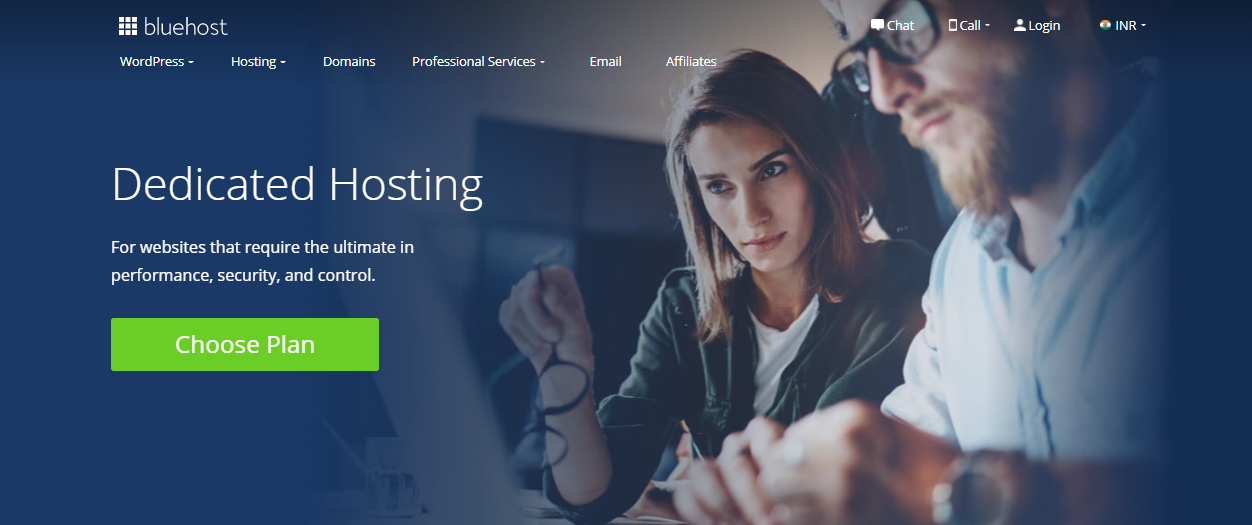 And Bluehost is well known for the 24/7 customer support they provide via phone and live chat. So, any queries regarding the hosting server will be resolved in no time.
Shared Web Hosting
Shared web hosting is one of the most basic types of web hosting. As the name suggests, in shared web hosting, your website is stored on a shared server. It means that multiple websites, including yours, utilise the resources of one server.
While it may not sound appealing to share a server with other websites, the cost becomes shared too. So, small businesses and individuals looking for affordable hosting options can make use of Shared WordPress Hosting.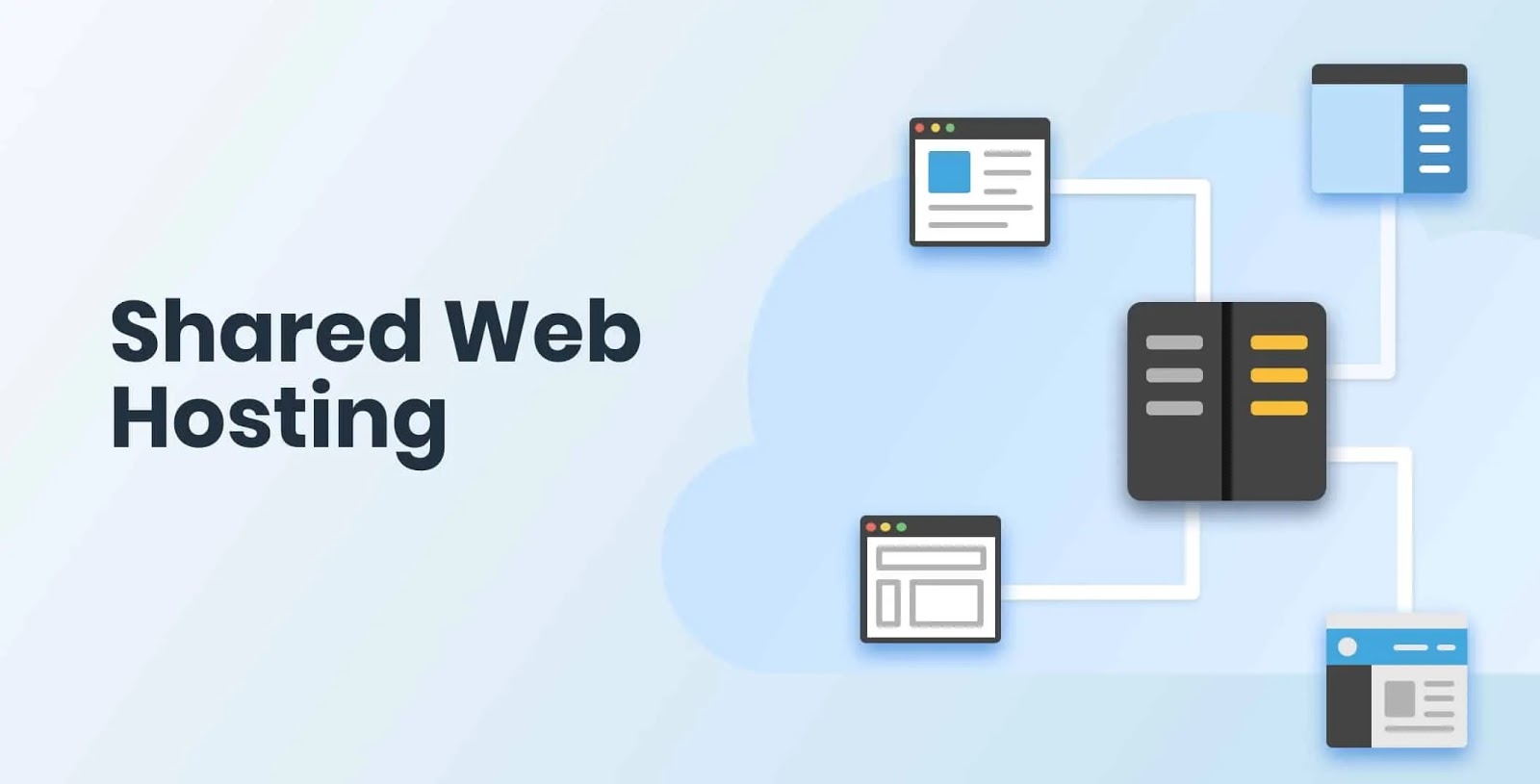 Pros:
Cost-effective – The main advantage of choosing shared web hosting is the reduced cost. As all the resources of the server are shared, the overall cost gets shared too. Thus, making it the ideal choice for individuals and start-ups.
Setup is taken care of – All the setup and maintenance related stuff will be taken care of by the hosting provider. So, you need not worry about every single thing and can simply proceed with building your website.
Cons:
Well, you SHARE the resources! – The obvious downside of using shared web hosting is that the resources are shared. While it may not be an issue initially, in the long run, it's always good to have separate resources for your website.
At times, one of the shared server websites may utilise more resources than usual, causing the other websites not to function properly. Even a slight increase in traffic for one website can impact other websites on the server.
Sharing the same server's resources may also affect user experience, as your website's load time and uptime are dependent on the resources available in the server.
Best Shared Web Hosting Provider:
If you are a beginner who is just starting out, then Shared Web Hosting is the best option for you. With plans starting from ₹59/month, there is nothing better than Hostinger in the Shared Web Hosting market.

With affordable pricing, free SSL certificate, and 24/7 customer support, Hostinger has grown to be more and more reliable over the years.
VPS Web Hosting
VPS stands for Virtual Private Server. You have your own space for your website in VPS hosting while still sharing a server with other websites. Confusing? Let me help you with that.
In VPS hosting, the server is split into several virtual spaces, thus allocating resources separately for each website. So, your website has its own virtual space even though it shares the same server with other websites.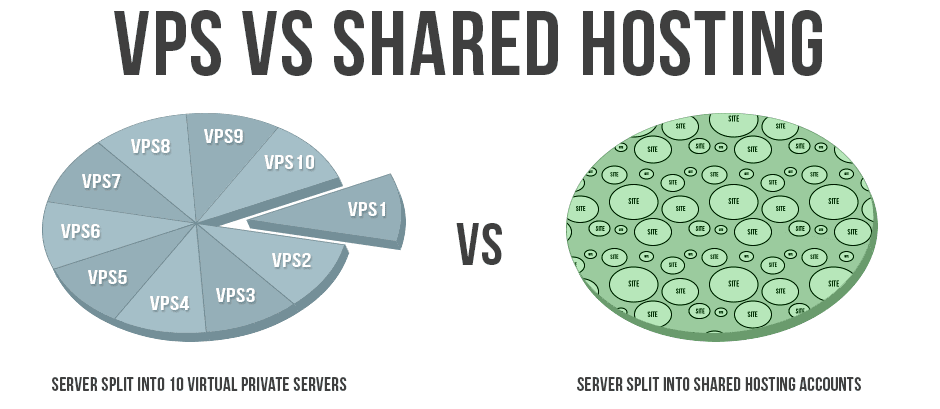 The considerable difference is that, in shared web hosting, there are no limitations on how much server resources a website can utilise. But, there is a particular limit set for every website in VPS hosting, making sure that the website doesn't exceed the limit set for space.
The virtual private server market size is projected to reach $8.3 billion by 2026.

Source
And also, in VPS hosting, the number of websites that share the server is considerably less than the shared web hosting. So, VPS hosting is the perfect balance between using a shared server, and a single dedicated server.
Pros:
Reliable – VPS hosting is much more reliable than shared web hosting, as your website has its own resources rather than being dependent on a set of shared resources.
By having a separate set of resources for your website, you need not worry about how other website's performance and resource utilisation may affect your website's load time or uptime.
More flexible – VPS hosting is flexible and opens up for more customisation options. You can customise your environment in your own virtual space without worrying about affecting other websites.
Cons:
Cost – Though you still share a server with other websites, the virtual space you get for yourself adds up in the cost.
More responsibility – You can't expect much support from your hosting provider regarding the setup and maintenance. So, you need to be much more aware and able to take care of things by yourself.
Best VPS Web Hosting Provider:
GoDaddy is a hugely popular name in the hosting market. They offer a variety of self-managed VPS Web Hosting plans starting from ₹439/month, which is quite affordable and has powerful enough features for your website.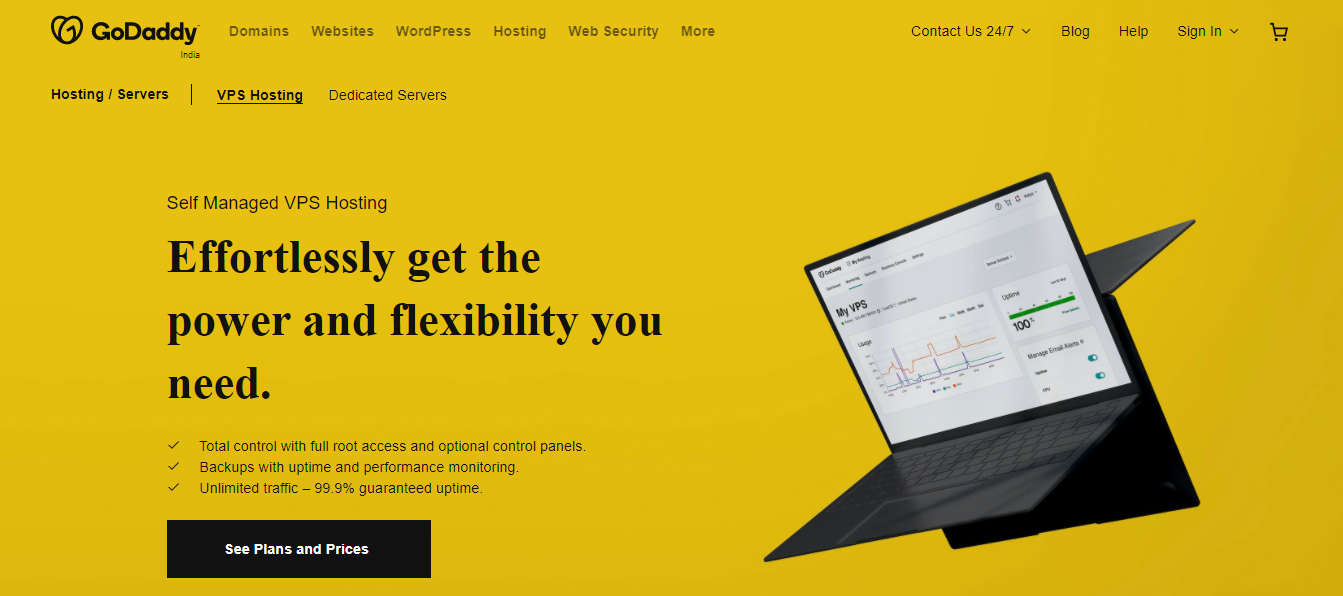 With 99.9% uptime and regular backups, GoDaddy is the perfect option for VPS Web hosting, as you can enjoy your virtual space while still being in a shared server.
Cloud Web Hosting
Cloud hosting is the latest type of web hosting in the market where your website files are stored across multiple servers. This contrasts with all other types of hosting, as the data is not stored on one server.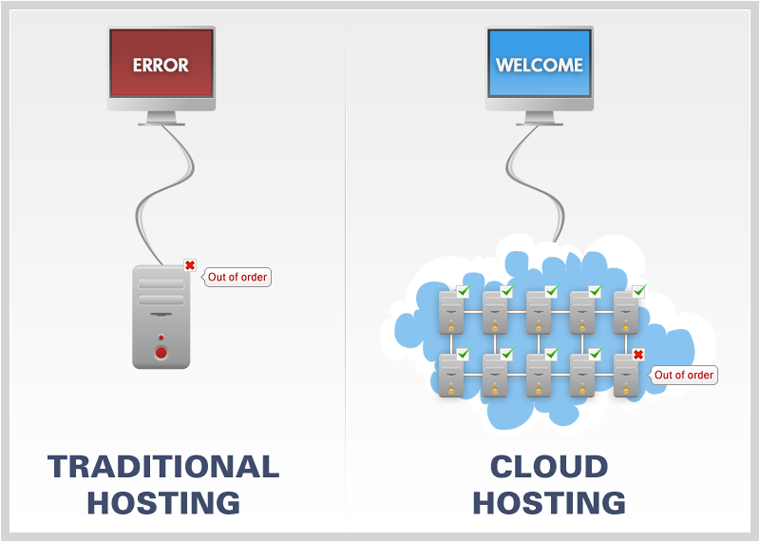 So, in cloud hosting, your website can utilise resources from all the connected servers. These remote servers are connected as one through a virtual machine, making it easy for you to control your data.
Pros:
Reliability – With cloud web hosting, you need not worry about your website's uptime, because even if one of the servers is down, others can pick up the task and make sure the website isn't affected by it. So, this makes cloud hosting more reliable than the traditional hosting that operates on one server.
Scalability – In traditional web hosting, be it shared or dedicated web hosting, scalability is always an issue. You may end up exhausting all the resources of your chosen plan, thus affecting your website's performance. With cloud web hosting, as multiple servers are involved, scalability becomes easier.
Cons:
Unpredictable cost – The one disadvantage of opting for cloud web hosting is that the cost can be unpredictable at times. Most cloud hosting providers prefer a pay-as-you-go method of pricing over the fixed price. So, in case of any sudden spike in traffic, which may result in more resource utilisation, the cost can be higher than usual.
Because of such unpredictable costs, cloud web hosting is mostly recommended for big enterprises and not for individuals or small businesses.
Best Cloud Web Hosting Provider:
Powering over 1.5 million websites worldwide, DreamHost is the best cloud web hosting provider in the market now. With solid customer support, they also provide generous storage and bandwidth for your website.

Managed WordPress Hosting
Managed WordPress hosting is made exclusively for the popular Content Management System, WordPress. Here, managed means that the hosting provider takes care of all the setup and management for your WordPress website.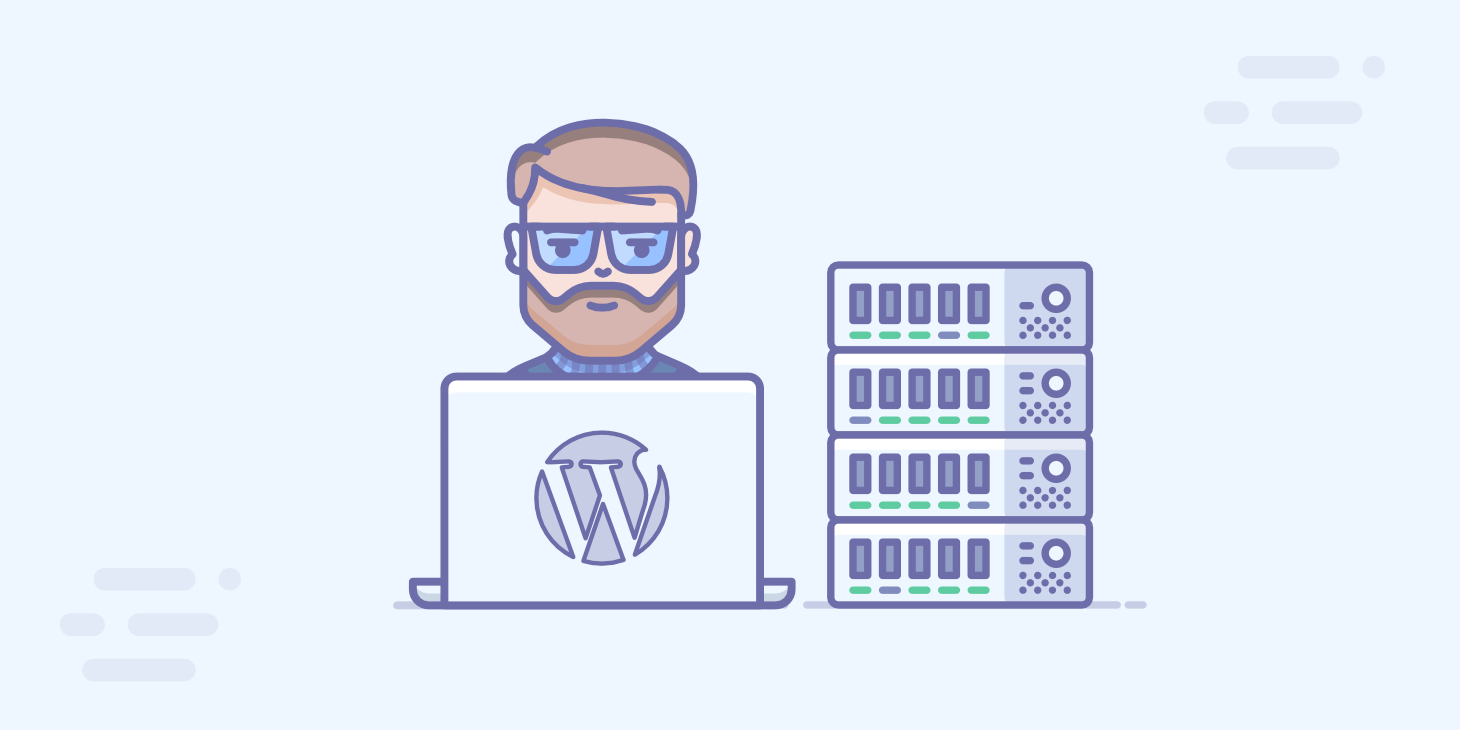 A managed WordPress hosting is different from the other types of web hosting, as it is tailor-made with keeping all the features of WordPress in mind. It's basically like adding extra features on top of regular hosting, especially for WordPress.
Now you may wonder whether you can use this to host any non-WordPress websites. Well, managed WordPress hosting is WordPress-specific (and relatively expensive), so using it to host other websites doesn't really make any sense.
Pros:
Speed & Performance – In managed WordPress hosting, everything is optimized for WordPress. So, hosting providers will fine-tune to provide the best load time and speed for your WordPress website.
Better support – A hosting provider who doesn't provide managed WordPress hosting will not be the best option to solve your WordPress website's query. But with managed WordPress hosting, you get WordPress-specific customer support.
Cons:
Price – Managed WordPress hosting typically costs more than that of any usual web hosting. Considering how everything is managed and set up for your WordPress website, the cost won't be an issue for any non-techie person.
Best Managed WordPress Hosting Provider:
Being the fastest WordPress hosting provider, WebSpaceKit is the most ideal choice to host your WordPress websites. They come up with four different WordPress hosting plans starting at just ₹349/month.
Regarding the free domain provided by hosting providers, Web Space Kit takes it up a notch by also providing users with a free SSL certificate and Business Email. It is to be noted that they provide daily backups for your WordPress website.
Conclusion
Apart from getting your website live on the Internet, web hosting is also responsible for other aspects of your website like website speed, performance, and security. So, by choosing the right type of web hosting, you are halfway through your website journey. Now that you know the basics of different types of web hosting, you can choose the right one for your website that satisfies your needs.
If you already have a website and are not satisfied with your hosting provider, you can easily migrate your website to a new hosting provider. Check our video tutorial to learn how you can migrate your site.
If you don't have an existing website, you can start from scratch. Whether you are a tech geek or not, website creation has become relatively easy nowadays with the help of website builders. WordPress is one such website builder that lets you create any website of your choice.
And that is why we have created an Exclusive WordPress course to help you build a website from scratch. But there are thousands of YouTube tutorials that can help with website creation, right? Then, why enroll in a course?
Well, one of our subscribers who learned from the course has put it well for us!

While there are several WordPress tutorials out there on YouTube, nothing beats a well-structured course. So, to help you learn WordPress in a structured format, and create your own professional website, we have made this Make a Pro Website course.
An exclusive course for beginners like you, that will help you create your own professional website in less than 7 days. Did we say there is no coding? Yeah! You will learn to build professional websites on your own, with no coding whatsoever.
So, Enroll in our course and learn how to build a professional website from scratch.
Frequently Asked Questions (FAQs)
What are the different types of hosting?
There are five main types of web hosting that are commonly used now in the hosting space,
Dedicated Web Hosting
Shared Web Hosting
VPS Web Hosting
Cloud Web Hosting
Managed WordPress Hosting
Which type of hosting service should I choose?
That totally depends on the needs of the website. Say, you are developing a static website that isn't resource-intensive, then Shared web hosting will do. But in the case of websites with huge traffic, expensive Dedicated or VPS hosting is recommended.
However, if you are creating a WordPress website for the long run, then Managed WordPress hosting is the right solution.
What type of web hosting should I use for WordPress WooCommerce?
For a WordPress eCommerce website, the best bet is to go with Managed WordPress hosting. Because they will take care of everything behind, allowing you to solely focus on the business.
Also, if your business scales up, they will be flexible and accommodating compared to the other types of hosting. So, a managed WordPress hosting from a hosting provider like WebSpaceKit is the best choice for WordPress eCommerce websites.
Which type of hosting is best for an individual site?
Shared web hosting will be the ideal solution for an individual site considering it won't utilize much of the shared resources. A shared web hosting will be affordable and a bit easy on the pockets compared to resource-intensive types like Dedicated or VPS hosting.
What is the difference between web hosting and WordPress hosting?
As the name suggests, web hosting refers to hosting in general for all kinds of websites on the Internet. WordPress hosting is specifically meant for websites that are built using the Content Management System, WordPress. However, both refer to the process of allocating space to store the website files on the servers.
Get our 5 tips on choosing the best Hosting provider