Began in the late 90s, blogging has made its way to becoming an integral part of online culture nowadays. Blogs initially started off as personal online journals of people all around the world. And, this has now changed to improve personal brand and also to improve business.
Nowadays people blog for all sorts of reasons, like writing their personal experiences, making money, driving traffic to their websites, engaging customers, etc.
It's 2022, and if you have not started a blog already, it should be the top priority for you. To get you started, here's a step-by-step video tutorial on How to Make a Blog.
In this article, we will have a detailed look on
What is a Blog?
A blog is a website where content gets updated regularly. That's all there is to it. But beginner bloggers often wonder, Is a blog the same as a website? If not, how different is it from a website?
The main difference between a blog and a website is that a blog's content is updated often and, in most cases, websites are static with very few updates. A website content usually consists of separate pages for details such as contact, products, and services.
Blogs focus on content, usually called blog posts. Blogs will usually display these posts in an order where the newest post appears first, and so on. Blogs often have a comments section below the blog posts. These allow for interaction with users.
You may have heard of a news blog, tech blog, or even a celebrity blog. But as you will see further in this article, a blog can be on any topic.
Importance of a blog
A blog is the best way to connect with your audience/clients/customers. It gives you the perfect platform to not only showcase your work but also allows your audience to know more about you, your product, or your website.
In fact, 81% of customers trust information from blogs when they want to stay informed on a certain topic or solve a specific problem.

Source
There are several benefits of having a blog. Here are a few main advantages.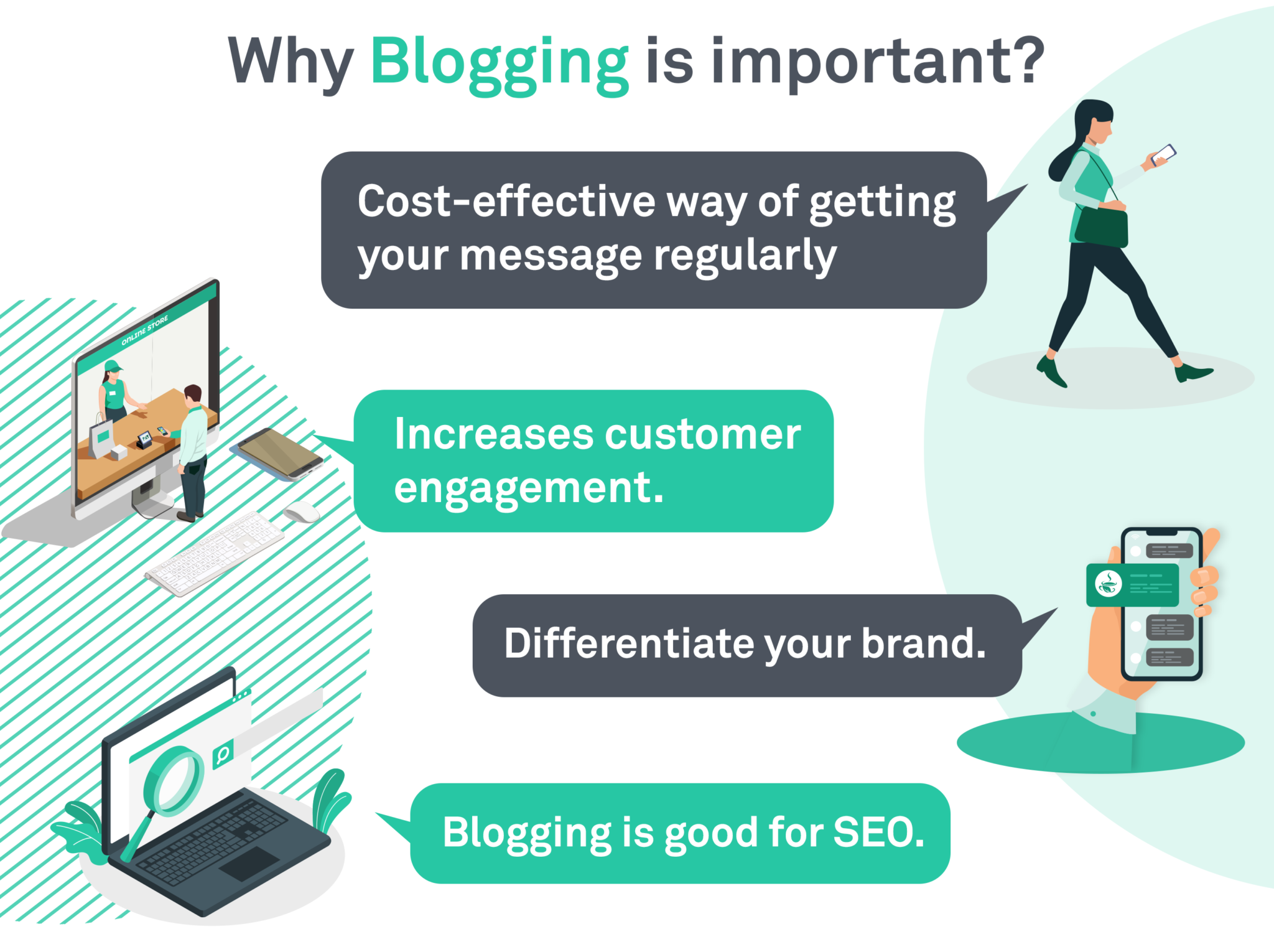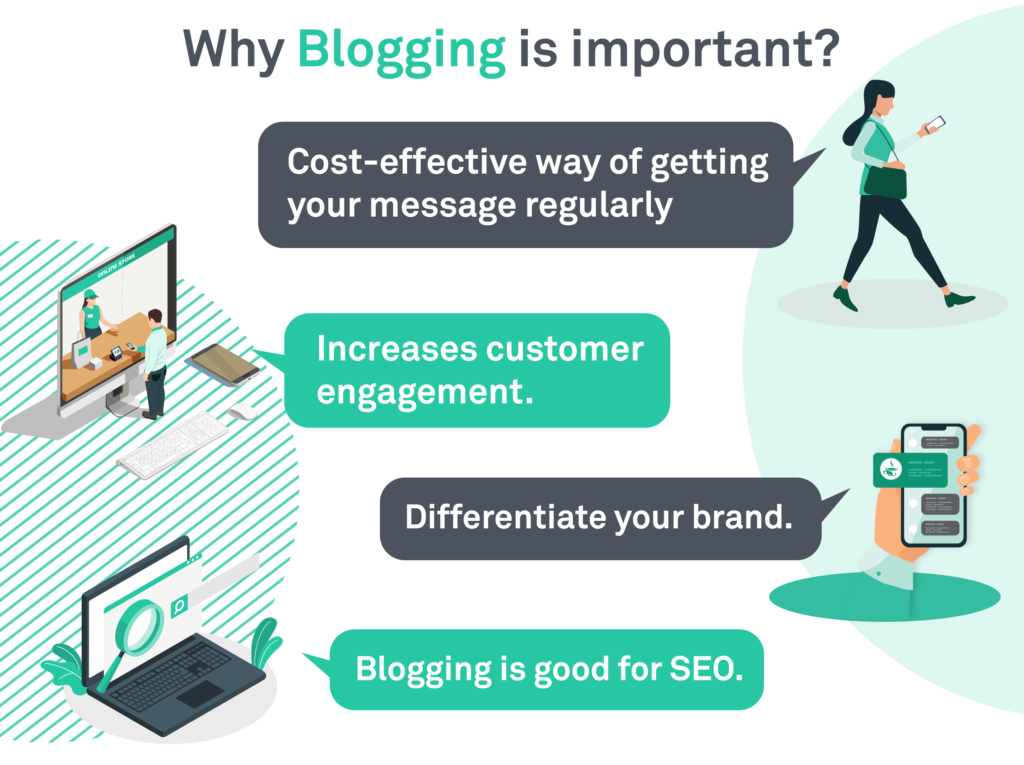 Cost-Effective – Blogging is a cost-effective way of getting your message regularly. The main investment will usually be time rather than money.


Increases customer engagement – They give visitors an opportunity to voice their opinion about the content that you are producing. Visitors can ask questions and give feedback as well. A two-way conversation will help to build social proof, thereby increasing conversions.

Differentiate your brand – By having a blog, you can let your readers know more about you. It becomes easier for your readers to differentiate your brand. Often, it is difficult to judge the personality of website owners. Blogs allow these to be presented easily.


Good for SEO – Blogging is good for SEO because it helps with a number of things that are important ranking factors. When you have a blog that's updated regularly with blog posts that are high quality and on topics relevant to your audience, it can make a huge difference to how your overall website performs in search engines.
What is the main purpose of a blog?
Blogs are an asset to your business. They aid your marketing strategy and help deliver your message loud and clear to your audience.

They provide answers about you, your products/services and can also address frequently asked questions. Overall, blogs will help in improving your business visibility by driving traffic to your website.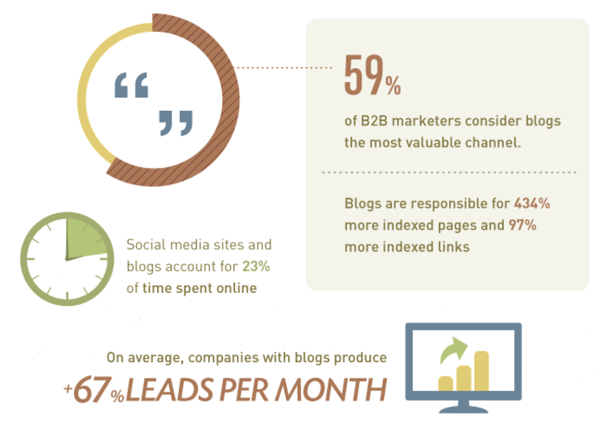 How a blog will help you bring traffic to your website
The basic idea behind blogging is to provide the audience with value-rich content. Apart from that, website owners typically use blogs as a way to drive traffic to their websites.
Here are 2 main ways in which a blog can help you increase traffic to your website:
Blogs get updated regularly, and every new blog is another opportunity to make your website even more visible. Now, your website will start appearing on search engines like Google for a wide range of search terms. So, this will bring more people to visit your website, eventually increasing the traffic to your website.

A blog can also help increase your social media performance. If your content adds value, is engaging and compelling, it will prompt users to share the content on social media. It makes your content reach a wider audience, which eventually increases your social media engagement and reach. The social signals you receive will also help boost your search engine rankings. This is another way in which a blog helps increase traffic to your website.
5 things to remember while writing a blog
How do you make sure that your blog posts are engaging and value-adding? Here are a few tips to remember when writing a blog,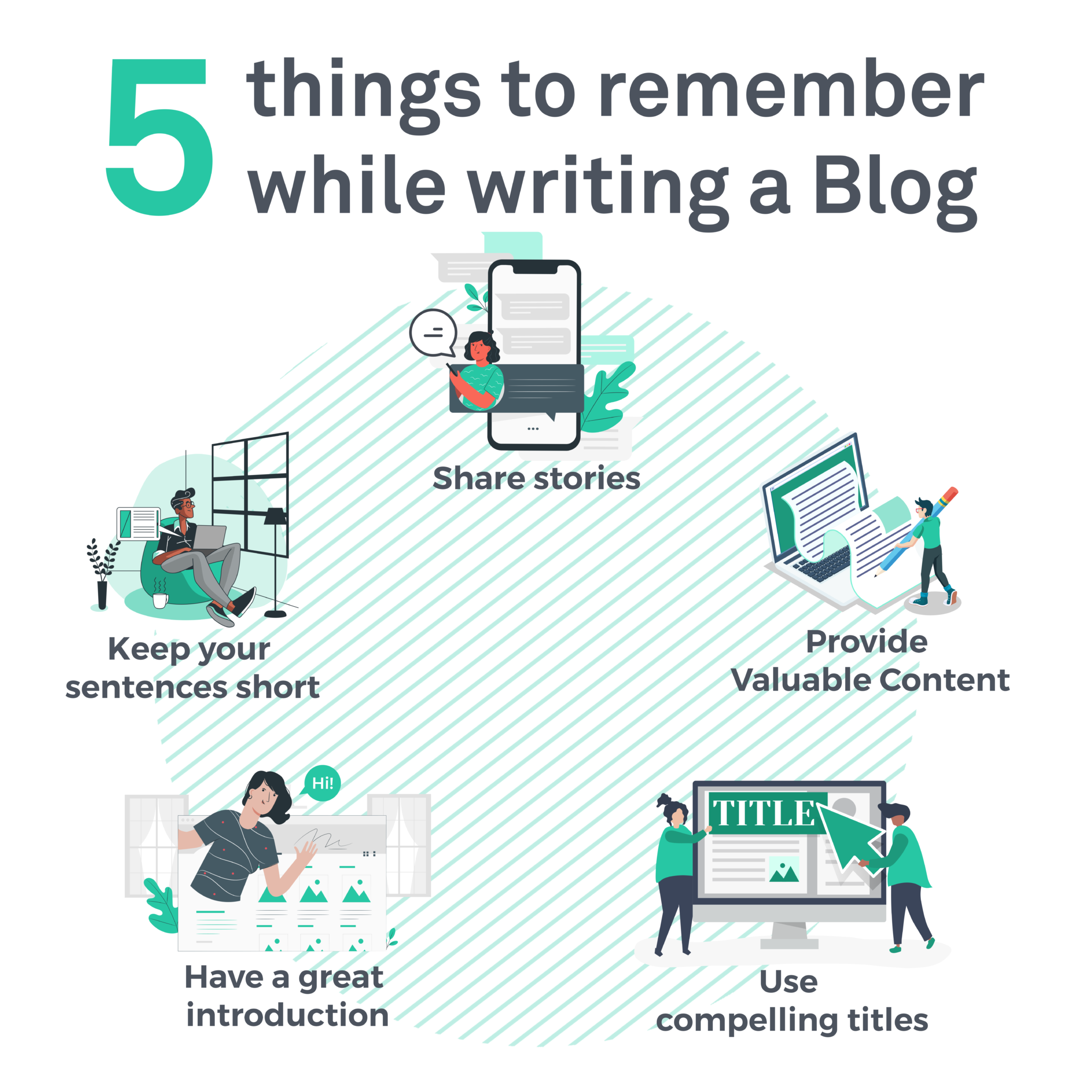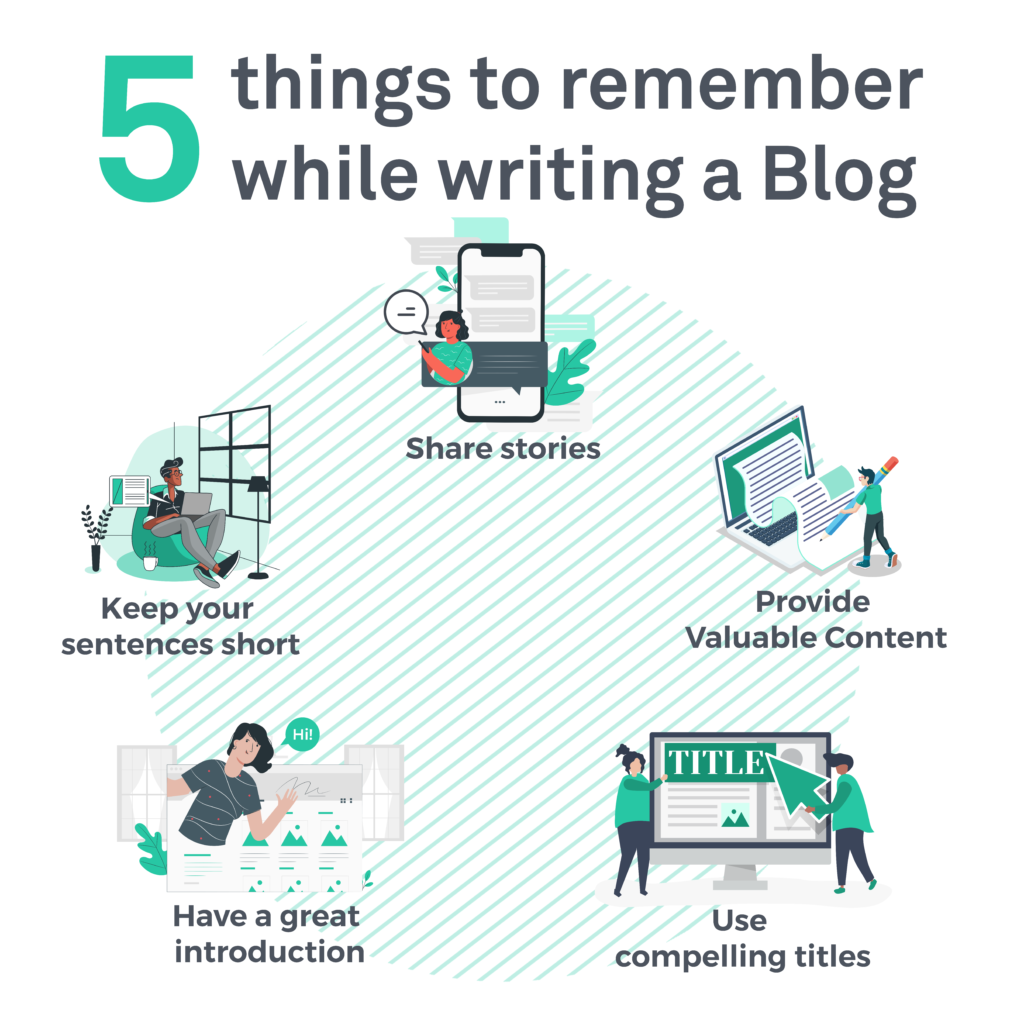 Share stories – Want to give visitors insights into you and your business? Share your real stories, show people how you started and how you got to where you are now. People always love reading stories. Inspire your readers to share their stories and connect with their passions. Stories tend to inspire people, they help you to easily share perspective and provide value. This will help create a better brand image for your business.
Provide valuable content – If users were looking to be entertained, they would most likely be on social media. Other than just getting entertained, users also want to be enlightened and informed. If you can brand yourself as an information hub and add value to people's lives, they will keep coming back for more. Tutorials are a great example of valuable content.
Use compelling titles – The titles of your articles are probably the most important part of it. Give it some time and encourage users to read more by using a compelling title. Often people don't read beyond the title. Give them reasons to go beyond the title. Generally, titles should be short and sweet. You should also use focus keywords in the titles and make them eye-catching.
Have a great introduction – It is important to get to the point right away. You should be able to hook the reader with your first sentence. The introduction should immediately inform the reader of what they will achieve with the time they spend on your article.
Keep your sentences short – Shorter sentences, shorter paragraphs, bullet points, and subheadings are a must for keeping readers engaged. Without this content can be hard to follow, especially on mobile devices.
Why blogging is important for your business?
Blogs help in establishing your business as a brand and helps you set apart from your competition. They make your visitors aware of what is happening with your business right now and can also be used to give more insights into your products/services.
According to a recent inbound marketing report, nearly 80% of companies that use blogging as a part of their marketing strategy reported acquiring customers through their blogging efforts.

Source
It is important to create content that adds value for users by providing answers to questions they have. If the content is of interest to your visitors it will start establishing you or your brand as an expert in your niche and improve your business.
Conclusion
Blogs are definitely an asset to your business. They help drive more and more visitors to your website and engage them with content. This increase in traffic will eventually have an impact on the increase of your business sales.
So, if you want to have an organic way of driving traffic to your website, and adding value to your business, blogging is the way. And with this article, you will understand how important blogging is.
To drive more traffic to your blogs, you need to have a separate page for the blogs on your website. Watch our video tutorial on How to create a separate page for your blog posts.
For more such tutorials on blogging and website creation, subscribe to our YouTube channel.
Frequently Asked Questions (FAQs)
How do blogs help a business?
Blogs establish your business as a brand and make your business stand out from the competition. With blogs, you will be able to add value and solve people's problems which will make you an expert in the niche. This will eventually result in trust and more sales when it comes to business.
Will blogs bring traffic to websites?
Yes. In fact, every new blog is another opportunity to make the website even more visible. With every new blog, the website will rank for more search terms, which will eventually bring more and more traffic to the website.
How to write quality content for blogs?
You need to choose a particular niche and then work on the content based on that niche which will bring in more traffic. However, here are some basic tips on how to produce quality content,
Use Compelling Titles
Keep the sentences short
Share stories
Can I make money through blogs?
Yes. Blogging has always been an extra source of income for most website owners. You can start by placing ads on the website, and then including affiliate links in the blogs promoting other company's products. You can also sell your own product via blogs.
However, to make any sort of money with blogs, you first need to have a considerable audience engaging with your content.
Learn the Top 5 Ways to Monetize your Website